Garden awnings, canopies and shades
Garden Awnings & Canopies
Garden awnings are a brilliant way to transform your garden into a space you can use all year round, providing shade in the summer, and cover when it's colder too. Leamington blinds have a beautiful range of awnings that are perfect for homes and businesses alike.
Get a FREE Quote
Awnings styles & ideas
From classic striped patterns, to modern colours and designs, you're sure to find something that's perfect for your style.
What you get with Leamington Blinds
Highest quality made to measure awnings at a fantastic price
Free measuring and fitting within the Warwickshire area
5 year warranty on your products and installation
Bespoke options such as electric controls and blackout fabrics
Friendly service from a trusted family business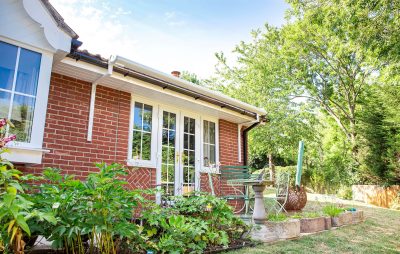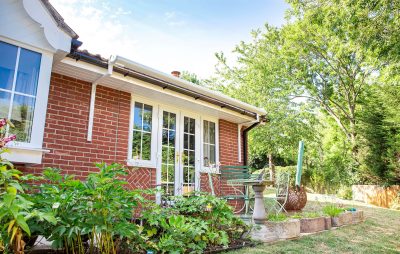 Get a free quote
Get in touch for a free, no-obligation quote for awnings for your home or business.
Get a FREE Quote
Testimonials
See what our customers say about their experience with Leamington Blinds!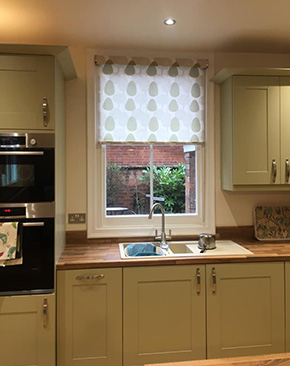 So pleased that I chose Leamington Blinds for the blinds in my kitchen. The choice of design was excellent, all the options on what the different sorts of blinds are was well explained.
They came quicker than estimated and were fitted quickly and efficiently.
All the staff were friendly, the booking of appointments easy, the guys who came to measure, the fitters - everyone
Superb service from the Leamington Blinds team. They are all very friendly, professional and did a superb job. The blinds look great in my apartment.
Highly recommend.
Would definitely recommend this company - the process was really easy from initial quote through to installation and quality of shutters is really good too. Thanks to everyone involved!
Very good blinds! very happy with the service, they even managed to fit it earlier than initially planned.
Excellent awning fitted as soon as it was possible. Very good selection, fitting just as I had requested, and the clearing up was first class.
Very pleased with Leamington Blinds - and just in time for the hot weather!
Great service. Very polite. Blinds of great quality at a very reasonable price
Very impressed, fair pricing and top quality service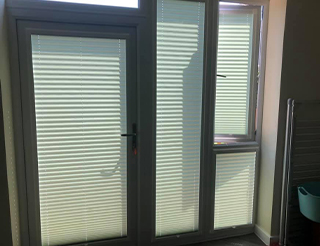 So happy with our perfect fit blinds! They make such a difference to our patio doors.
Amazing quality and competitively priced (actually half the price of another local blinds company). Really appreciated Karen fitting us in so quickly after restrictions lifted. Fantastic service fitted within the hour.
Thanks ever so much. Will be recommending!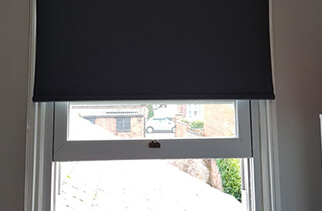 Fantastic service from start to finish! Sam the fitter did a fab job with my blinds makes such a difference to the room
Jamie and his team were the ultimate professionals from beginning to end. From the quote, measuring up, product knowledge, installation and covid 19 complient we had full confidence in this company. We were kept informed regarding delivery and installation date, never having to chase for an update. The blinds are of the highest standard and fitting perfect with no issues afterwards at all. The whole house was left clean tidy after installation. Jamie is very professional and personable and could not do enough to ensure we were happy with our choice of products. We would highly recommend Leamington Blinds, fantastic company!
We are delighted with our shutters from leamington blinds. Excellent quality of product. We received excellent customer service from the initial survey through to the final installation.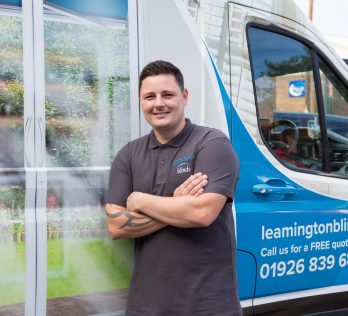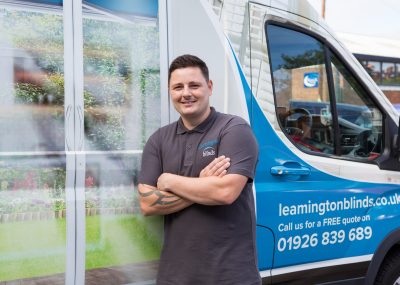 Awnings and canopies are a great way to make your garden a space to enjoy all year round. Because they're retractable, with both manual and automatic options, you get a really flexible outdoor shading solution.
Jamie Phillips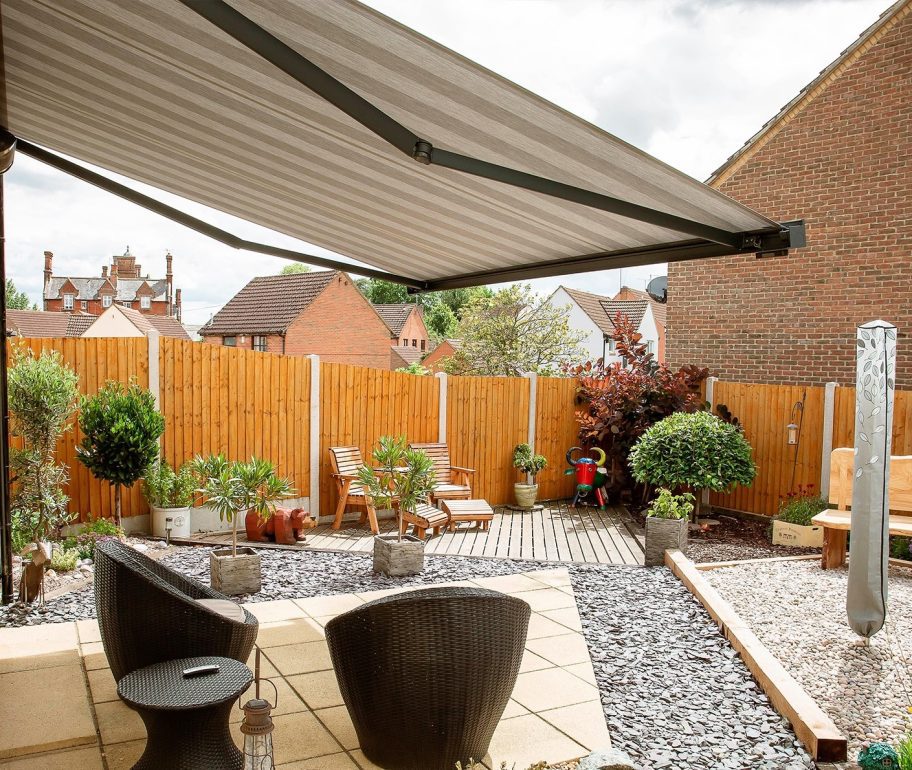 Ordering your garden awnings & canopies
It's easy to order your awnings with us, and our four step process includes free measuring and fitting too.
Get a FREE no obligation quote
Fill out our quick and easy form to get a free quote for your choice of garden awnings.
Book an appointment to measure
One of our friendly team will come out to take full measurements and show you some samples too
Select from our beautiful range of awnings
Choose from our fantastic range of materials, finishes and styles to find the ideal match for your home
Arrange your FREE installation
Our expert fitters will make sure your awnings are perfectly positioned and looking wonderful
Awning colours and patterns
See our range of awning colours and patterns, or get in touch with us for samples.

















Awnings Features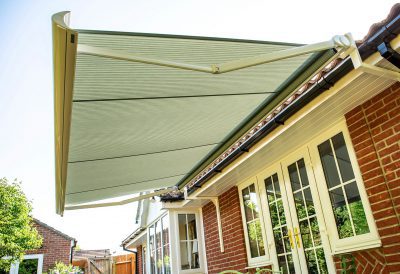 Made to measure
All our awnings are made to measure for a perfect fit - taking into account any possible obstructions when opening or retracting
Hard wearing materials
Your awnings need to be sturdy and weatherproof while still looking fantastic! Our range of canopies include TEXgard coating for outstanding water repellency and are certified to UV standard 801, with a minimum 95% UV block
Designs and colours for every style
Find a wide range of modern and classic awning designs, colours and styles, with hundreds of different options
Electric & manual retraction options
Whether you'd prefer manual operation, or electric awnings that can be opened or retracted at the touch of a button, we can install exactly what you need
Optional wind and light sensors
Wind and light sensors can provide you with automatic retraction if the wind is too strong, or automatic opening when the sunlight reaches a certain level. This option means that your awnings automatically provide you with the optimal shelter at all times.
Lighting and heating options
With LED lighting and infra-red heating options built into your awnings, you can make your garden the perfect place to be whatever time of day, all year round.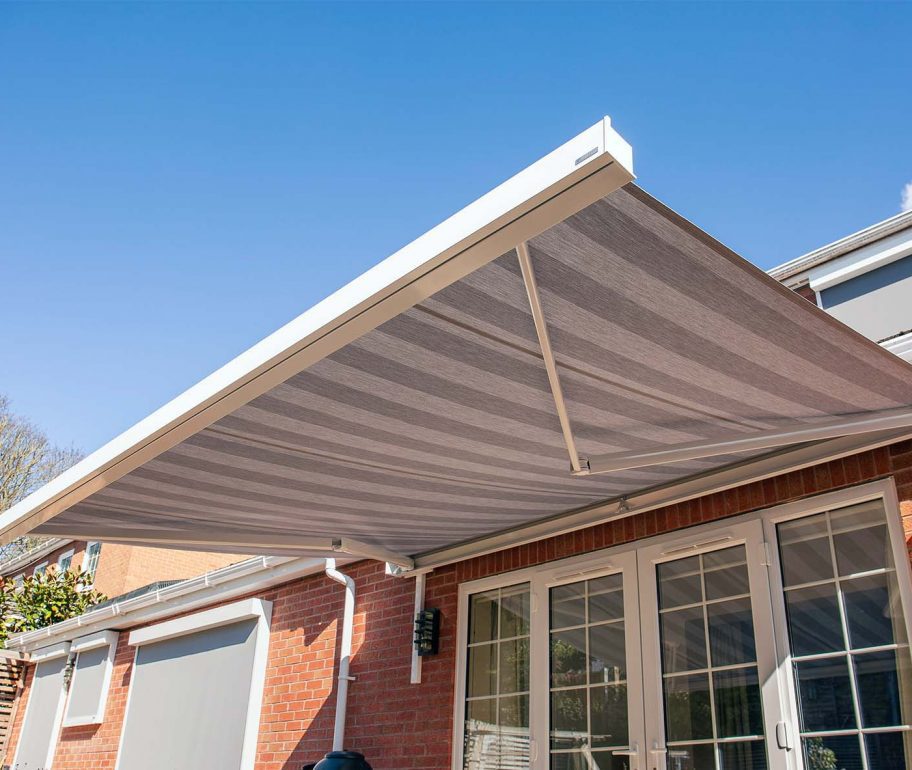 Additional canopy options
You'll be surprised how many useful options can be included with your garden awning or canopy. Here are a few of our most popular add-ons:
Electric awnings
Motorised awnings mean you can open or retract just using a remote
Lighting & heating
With LED lighting and infra-red heating options, your awnings can make your garden useful all day and night, all year round
Wind and light sensors
Smart sensors can make your awnings automatically provide shelter when the sun gets too bright, and automatically retract if the wind gets too strong
Leamington Blinds can help you choose the perfect features and additional options for your awnings or canopy.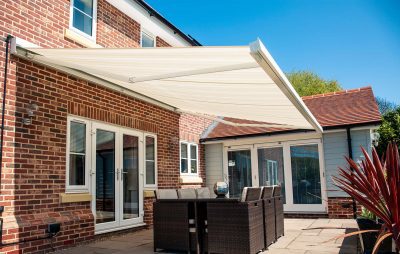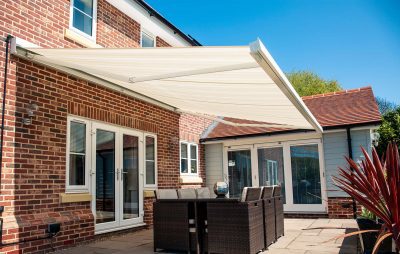 100% free with no obligation
Get a FREE quote
Ready to get started with your free, no obligation quote? Just fill out our quick and easy form.
Get a FREE Quote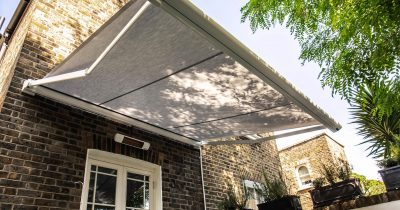 Not sure what you need?
If you're not sure which of our fantastic products is right for you, or you need a bit of advice deciding what you want, our Blind & Shutter Quiz can help!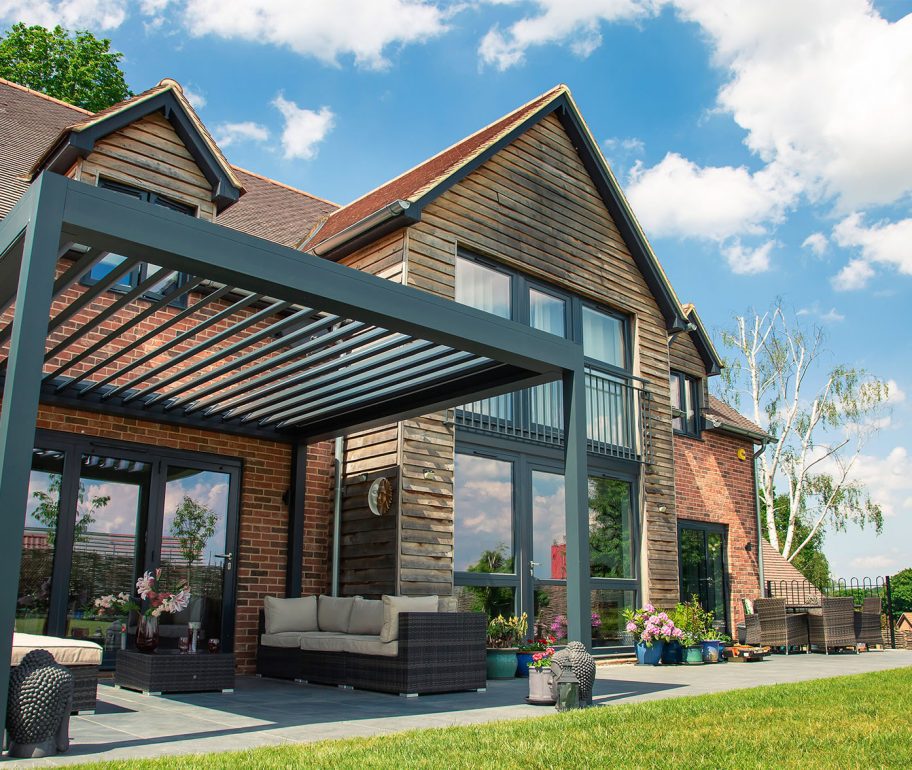 Outdoor pods & verandas
Not sure that a canopy is quite the right choice for you? Leamington Blinds have a wide range of alternative outdoor shading options that might be a perfect choice.
Outdoor pods
These amazing stand-alone pods essentially give you another room within your garden!
Verandas
Verandas are a permanent solution providing shade, shelter and protection
If you'd like help choosing the right outdoor shading option, get in touch with our friendly team for some advice.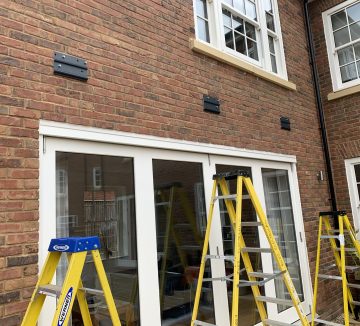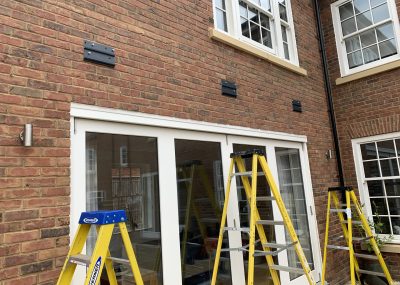 Awnings installation
Professional installation of your awnings ensures that they will be perfectly positioned with the right pitch, and able to easily extend and retract without any obstacles.
At Leamington Blinds, our expert fitters provide free measuring and installation for awnings across Coventry, Warwickshire and Rugby.
And all our awning products and services are protected by our free 5 year warranty – including the installation of any electrics for motorised awnings, heating or lighting – so you can have complete confidence in our service.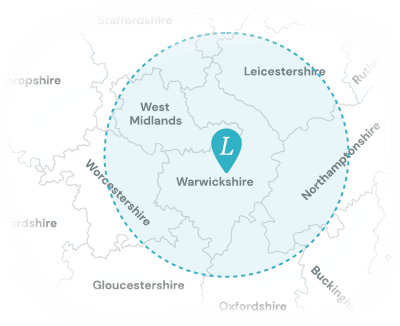 Serving customers across Warwickshire
Leamington Blinds supply, measure and install blinds, shutters and outdoor shading for people across the Warwickshire area, including Rugby, Coventry, Warwick and Stratford-upon-Avon. We can also supply blinds and shutters direct to you if you're outside the locations we serve.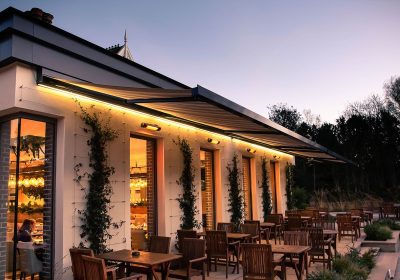 Commercial awnings
Awnings and canopies are also fantastic options for shops, bars, restaurants and other businesses.
Classic awnings have always been a great way to shelter window shoppers as they look through your displays, and canopies are becoming more and more popular in hospitality as customers spend more time outside.
Leamington Blinds not only provide our high quality awnings at fantastic prices, we also include free fitting for clients in the Warwickshire, Coventry and Rugby area, installing complete solutions with lighting and heating if required.
Installations
Have a look at some of our recent installations.