Outdoor Living Pods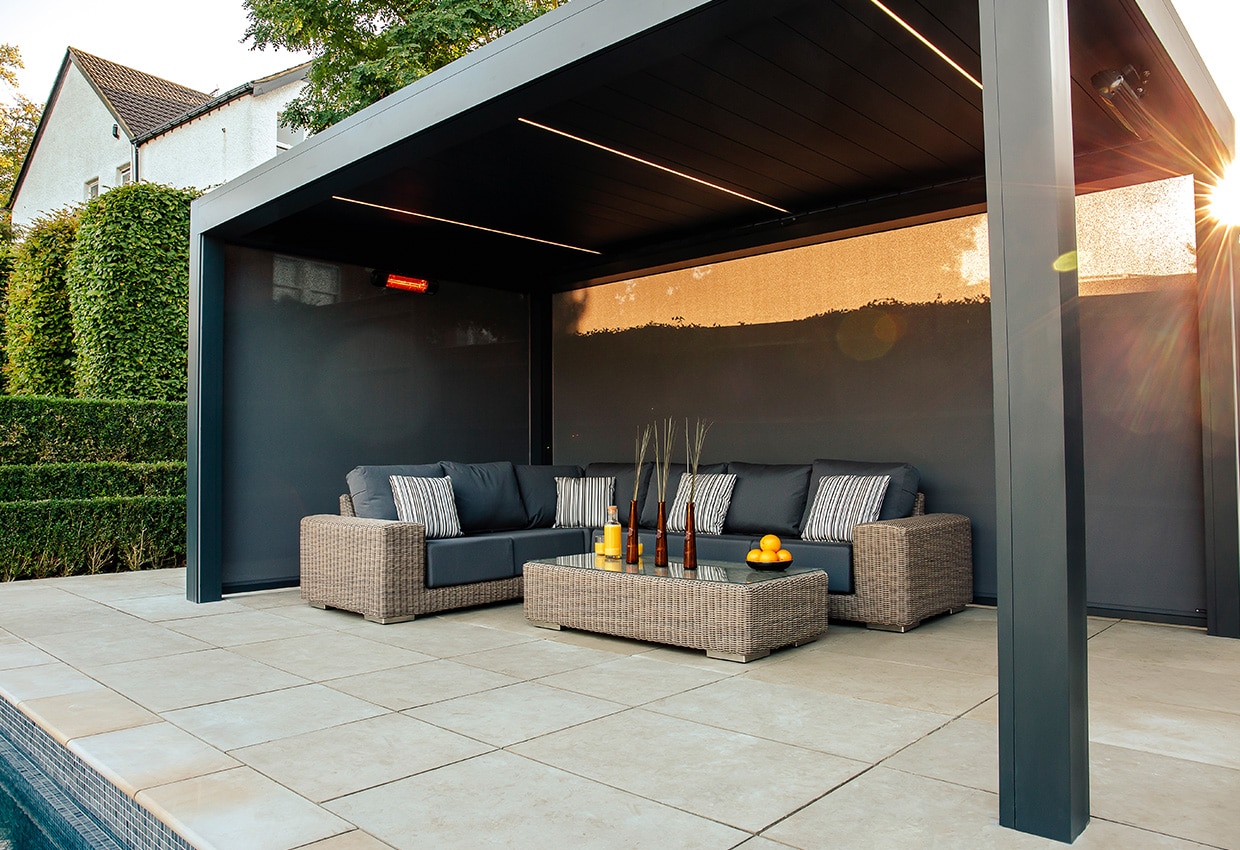 Outdoor Living Pods From Leamington Blinds: The innovative rotating louvered roof provides a flexible, adaptable, all-weather outdoor living space that gives you complete control of the elements 365 days a year.
Water, wind and snow tight when closed, the aluminium louvers rotate fully at the touch of a button, stopping at the desired position to provide sun or shade along with ventilation from heat build-up beneath. An invisible guttering hidden within the structure framework provides effective drainage of water from the roof. Additionally, on our Prestige model, the roof slides completely open for the ultimate open-air alfresco experience.
Optional heavy-duty roller blinds to the sides, lower to prevent strong breezes and driving rain thanks to the clever locking mechanism that seals the fabric within the side guides, all whilst maintaining the view thanks to the unique mesh fabrics. And optional ambient dimmable LED lighting within the framework and/or roof louvers and instant infra-red heating mounted to the cross beams mean that even when the light level drops or the chill starts to creep in, you can continue to use the Outdoor Living Pod comfortably.
Finished in an endless array of stunning textured finishes, the Outdoor Living Pod brings a touch of class to any location and its all aluminium and stainless steel construction ensures it will withstand the bumps and knocks of any environment.
Key Features
Rotating louvered roof
Up to 7m length x 4.5m depth (can be linked)
Motorised remote control operation
Integrated windproof side screens (optional)
Optional LED lighting & infra-red heating
100's of hardware & screen fabric colours
Freestanding, lean-to or roof only
From £9,500 inc vat, installation & 5 year guarantee
As part of our comprehensive service, we carry out high-quality installations for all our clients who want sun protection whilst they relax in their outdoor setting. So if you're looking for a leading supplier to provide and install your outdoor livivng pod, then look no further! Contact our experienced team today for more information.
01926 839 689