Enjoying the outdoors is a brilliant way to spend your summertime. But with the unpredictability of the British climate, it can be difficult to know whether your next barbeque will be taking place in scorching sun, a stiff breeze or even a little drizzle.
That's why so many people are looking for ways they can enjoy their outdoor space whatever the weather, with outdoor shading solutions like verandas, awnings, pergolas and even living pods.
But knowing what options are out there, and which is the right one for you can get really complicated.
So in this guide we'll talk you through all the different ways that you can get a bit of shade and shelter in your garden. From the differences between pergola, verandas and canopies, to the best options for different parts of your outdoor space.
Different types of outdoor shading
Let's start off our guide by talking about all the different names and terms you might hear when you're looking to add some summertime shade to your garden.
Awnings
Awnings are probably the most well-known type of garden shading, although a lot of people associate them more with shops than they do with homes and gardens.
Awnings are usually fitted to the side of a building inside a case, or cassette. They can then be opened out from the wall, and are usually held in position by strong metal arms that keep the material in place.
A more advanced type of awning is often called a pergola awning, which includes slim but strong lead rails and posts for additional support, making a more secure, weatherproof area. These are a bit like a garden lean-to canopy, using a similar framework to a veranda, but and awning-style material for the roof.
You can also get completely free-standing awnings, which are also sometimes referred to as canopies.
Your traditional shop awning is usually a striped, wind out awning that comes out to cover a shop window, or outside display. These classic shop front canopies are usually pvc or coated canvas to keep the awnings waterproof and hard wearing.
But you'd be amazed at the range of modern awning designs that are available today as well. Not only can you get really stylish colours and designs, you can also get electric awnings that you can control by remote, or even with an app from your phone.
Modern awnings provide UV protection from the sun, and can even come with additional features, such as LED lighting or ultra safe infra-red heating, meaning that you can use them all day and night – whatever the weather.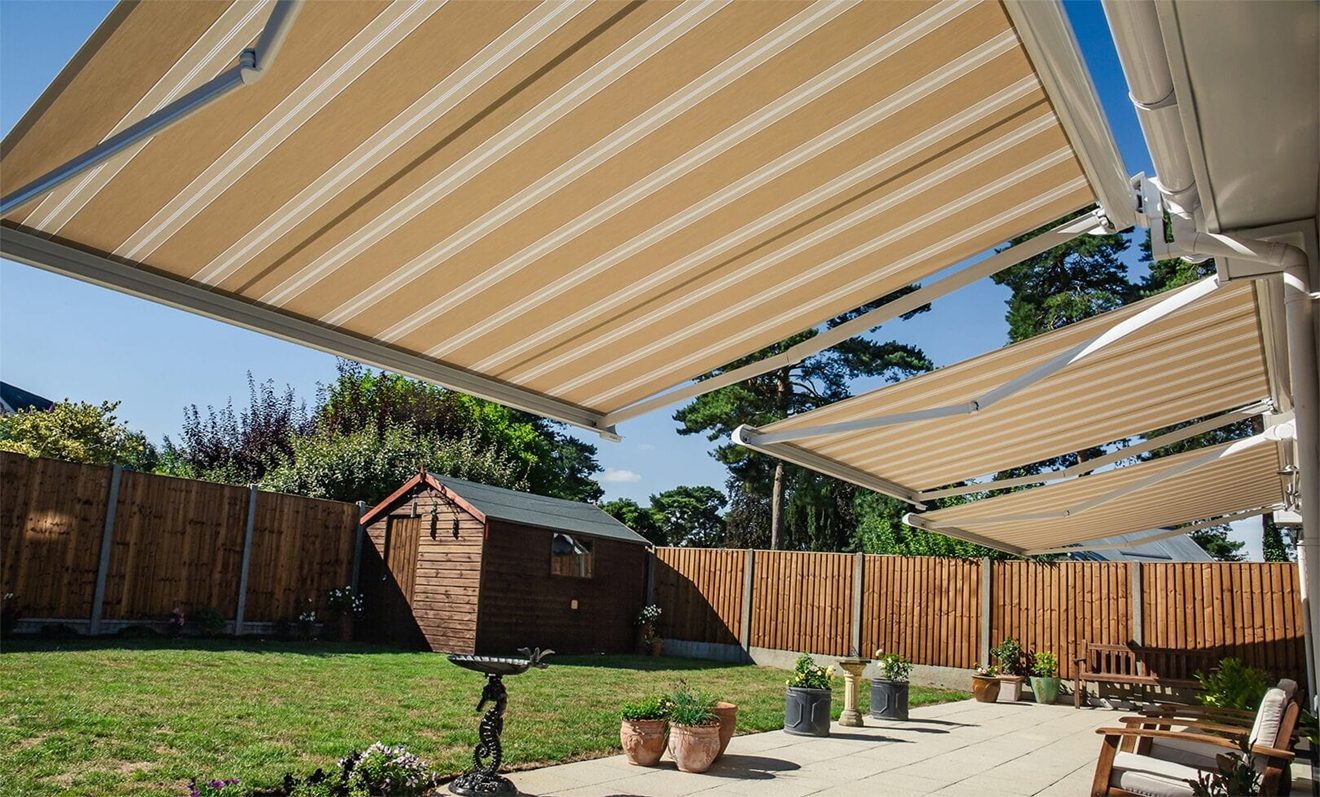 Canopies
A canopy is often used as another name for an awning, but it's also used as a more general term for a covering, so it often crops up in descriptions of other types of shading and shelter – often just to describe the roof element.
For example, a veranda can be described as a lean-to with a canopy, and you can often see free standing canopies that are a lot like umbrellas or parasols.
Pergolas
Pergola is actually a term that a lot of people find confusing, any you might find it's used to describe a few different styles of garden structure.
Strictly speaking, a pergola is an open framed structure that plants can grow up (whether they do or not is another matter!).
That's why things like verandas and living pods can also be known as pergolas. You may hear people describe things like gazebos as pergolas too, and sometimes you can even hear them called free standing awnings.
So, it can be a bit complex to get the terminology right!
At Leamington Blinds, we like to think of pergolas as a permanent frame that can provide shelter and shade in different ways.
A lean-to pergola with a solid roof is what we call a veranda, and is typically attached to the side of your house.
A metal garden pergola with a louvred roof is what we call an outdoor living pod, and can be free standing or attached to your house.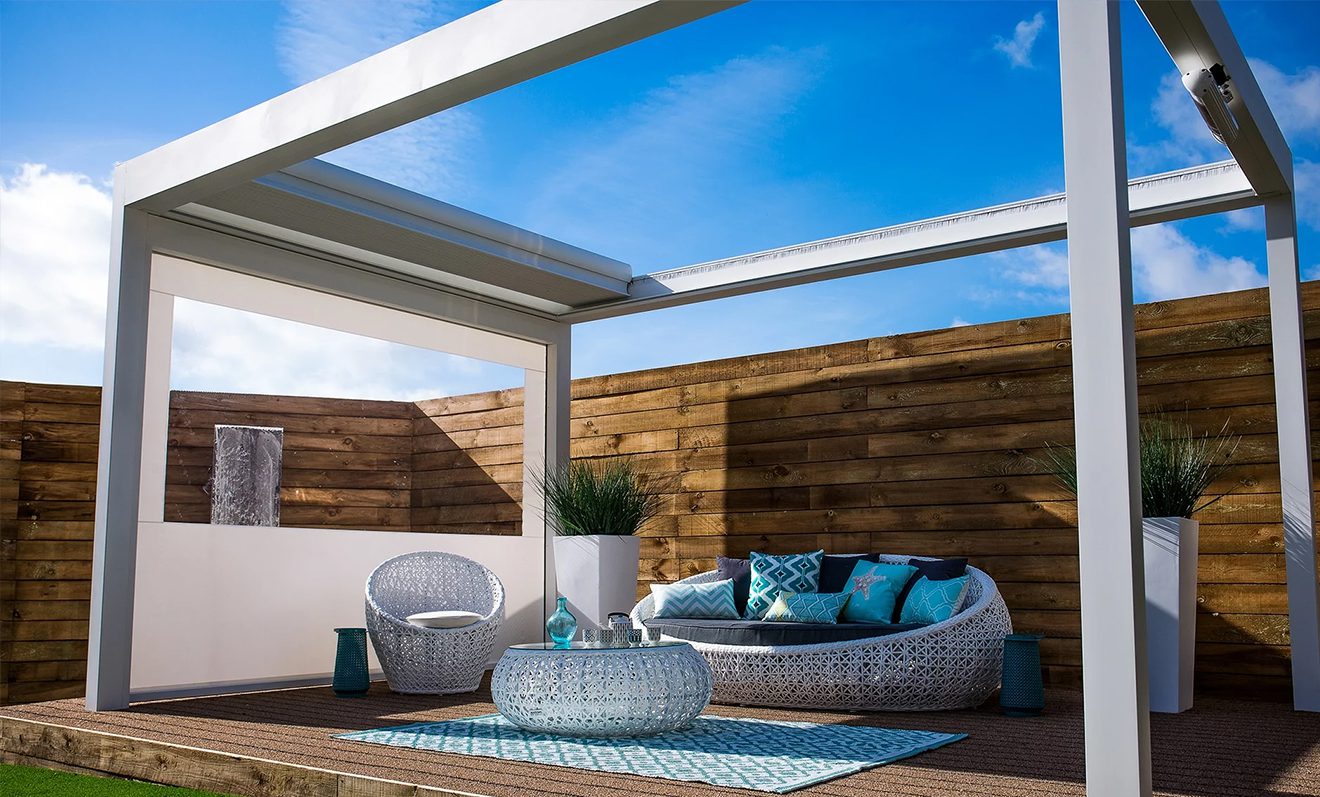 Verandas
As we've just mentioned, a veranda is a permanent roofed structure that is typically attached to the side of your house. They typically have a solid roof in glass, perspex or even metal.
You see lots of verandas creating sheltered walkways over side alleys, but also at the back of houses, creating a modern lean to pergola style of shelter, complete with a glass roof.
Verandas are becoming more and more popular as an alternative to conservatories, as many people find them more usable (and much less expensive!).
That's because modern patio verandas are incredibly flexible, as you can add side panels, screens and even sliding glass doors to create exactly the space you want.
A glass veranda with sides is almost like creating your own garden room, and the siding is usually available as zip screens, which can be opened or closed whenever you want, or solid panels in glass, pvc or even aluminium for strength and security.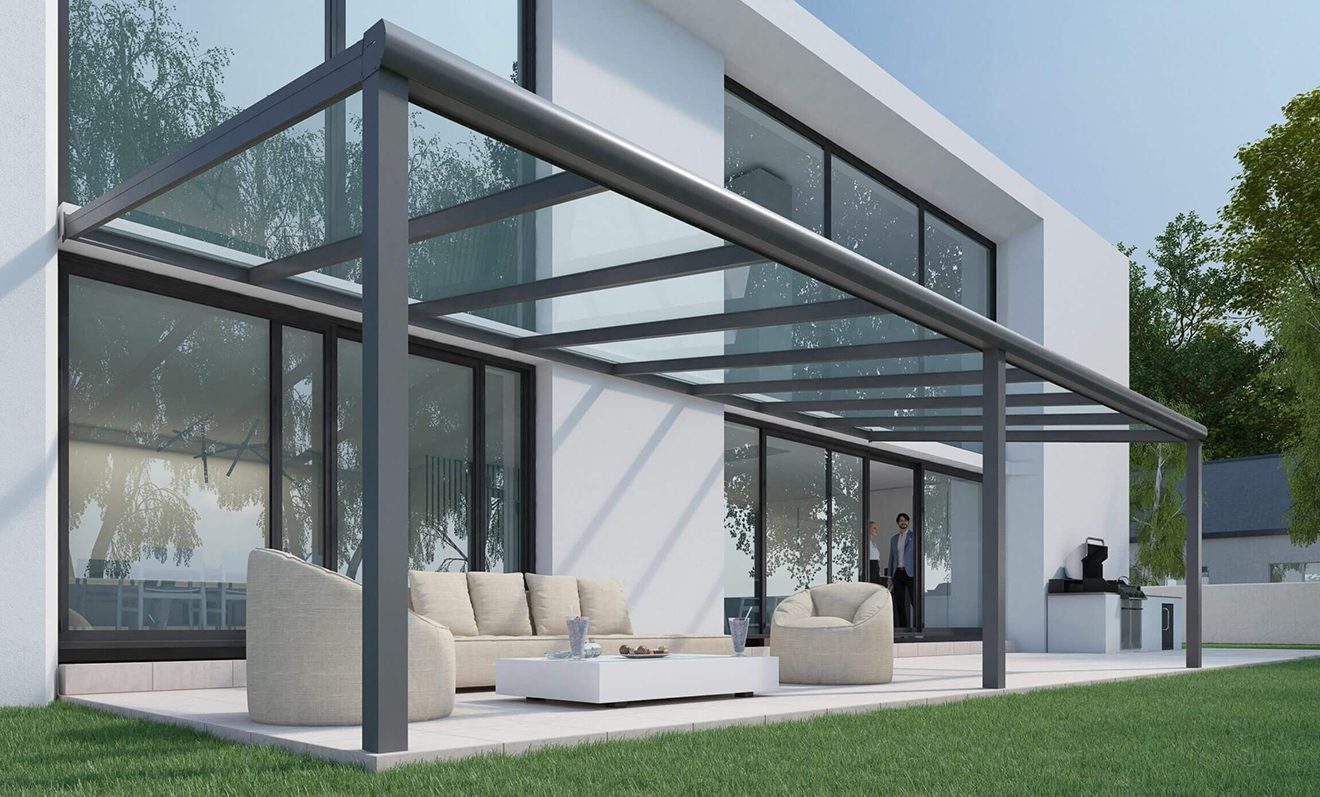 Living pods
Outdoor living pods are free standing metal framed pergolas with a louvred roof, and often side panels too. They're incredibly versatile and can almost create a whole new room in your garden.
Typically, a living pod is an aluminium pergola with a retractable roof, which is louvred so that you can have it completely open, completely closed, or find the right balance of sunlight and shade through its slats.
Because of its robust framework, an outdoor living pod creates a protected outdoor space that can be as flexible as you like. You can even choose an outdoor living pergola with side panels, which gives you the ability to create an area that's almost like an indoor living space.
Especially when you consider that you can add LED lighting and infra-red heating options into the mix too.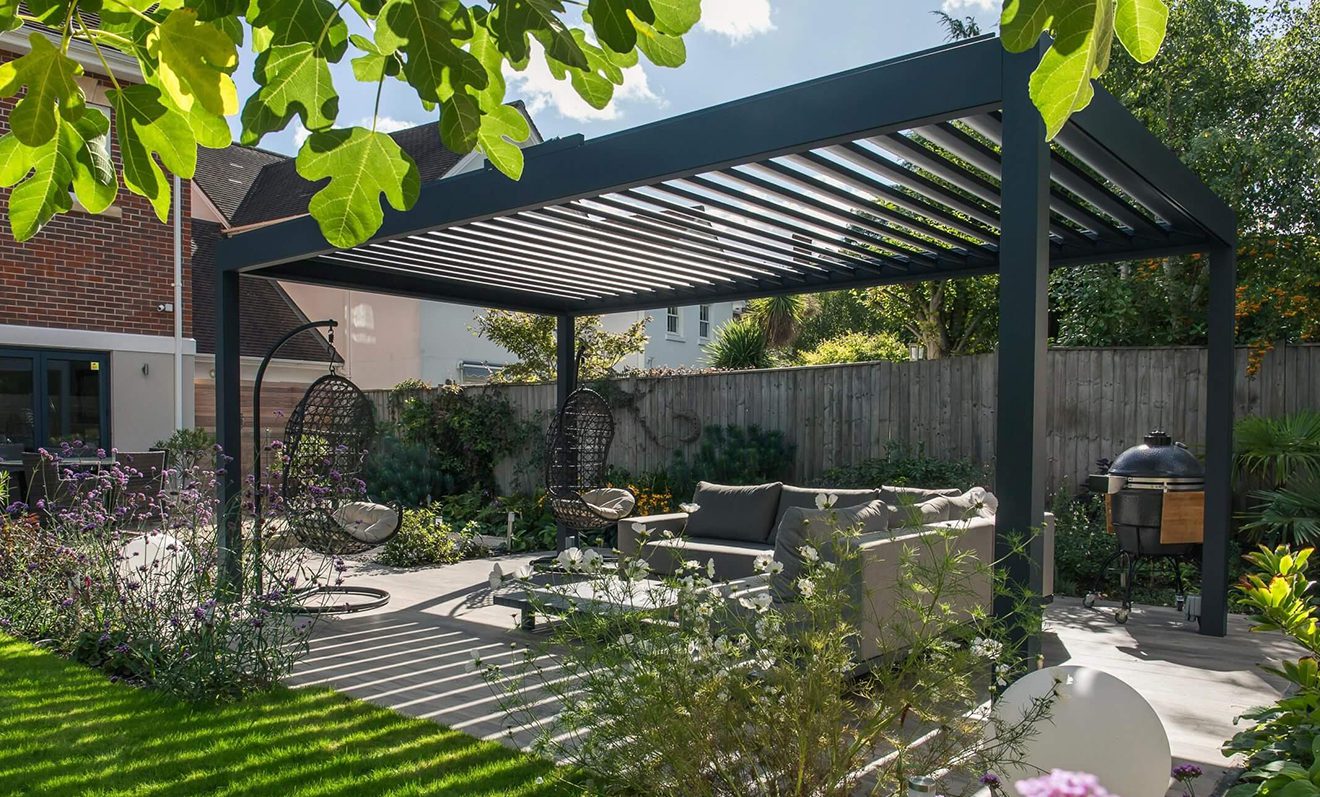 What's the right choice for my garden?
Now we know all about the different types of outdoor shading – how do you choose the right one for you? Well, it all depends on what you're looking for, so let's go through some of the key features that you might want from your garden shading option, and uncover the best fit for your needs.
Temporary shading
Not everyone wants a permanent fixture in their garden, and would rather have the option to choose between sunshine and shade whenever they want.
Often the best option here would be to have custom awnings, as these can be opened or retracted any time you like, giving you a lot more control and flexibility.
Of course, most awnings are fixed to a wall, which makes them an excellent shading choice for decking and patios, but not so great if you're looking for temporary shade away from the house.
If you want something freestanding, another good option to consider would be an outdoor living pod.
Technically, these louvred pergolas are permanent, but that only applies to the framework itself. In terms of the shading, that can be as flexible as you like, as the roof is not just adjustable to let in as much or as little light as you like, it's also completely retractable.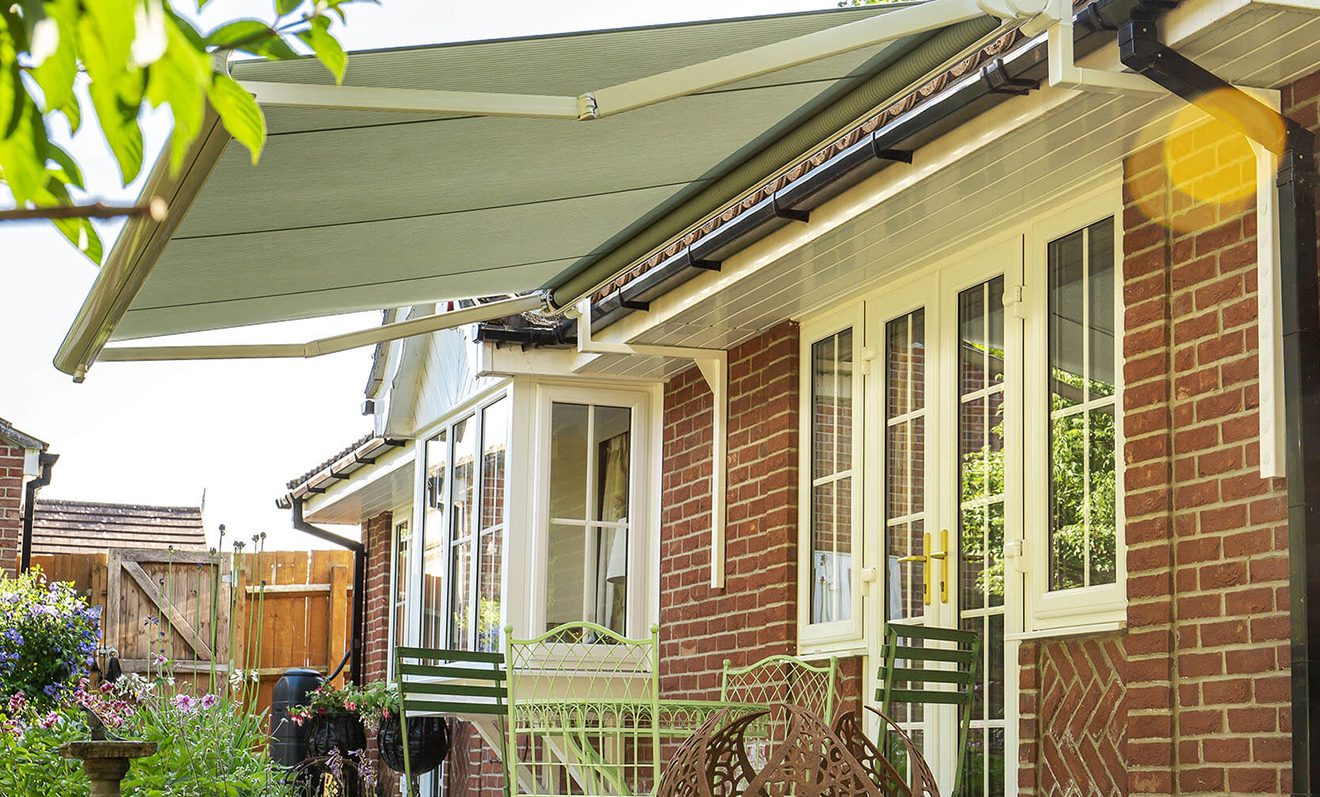 Weatherproof pergolas and verandas
Sometimes outdoor shading isn't actually about sunlight – it's about providing shelter from the elements.
In these cases, an awning is probably not your best option. Because they open out from a single place (usually from your wall), they're less robust when it comes to windy conditions, and don't have any sides to provide extra shelter.
Also, because awnings are made out of material such as pvc, they usually are rainproof, but are less sturdy than a solid glass, pvc or louvred roof that you might find on a veranda or a living pod.
If you're looking to create a sheltered area next to a building, then a great option is to install a veranda. Veranda roofs are usually made of glass or pvc, providing a solid barrier to the rain, and usually come with inbuilt guttering to ensure the water drains properly too.
Verandas are a popular choice if you're creating a weatherproof walkway, either between buildings or down the side of your house.
They're often used by schools and companies that have multiple buildings on site, and need people to be able to move between without getting soaked!
But if you're looking for something that doesn't rely on the support of a wall, then a freestanding pergola, or an outdoor living pod could be the best option.
Because living pods come with a fully louvred roof, as well as siding options, you can make them incredibly resistant to both wind and rain.
Shaded entertaining areas
The most common reason someone's looking for garden shading, is because they want to use their outdoor space for entertaining.
Of course whether you're looking for hot tub awning, decking verandas or a full garden pergola with a retractable roof, probably the biggest consideration when you want to create an entertaining space in your garden, is ensuring there's light and warmth.
The good news here is that today you can get fantastic lighting and heating options for almost any type of garden shading, including awnings.
The most popular type of lighting for pergolas, verandas and awnings is LED lighting. These low energy, bright lights don't get too hot, and consume less energy than standard bulbs, and they work well in both the heat and the cold, so they're ideal for outdoor use.
When it comes to heating, by far the best option is infra-red heating. Infra-red heaters can be installed in almost every type of garden shading, including awnings, and can provide targeted, low-cost heating in an instant.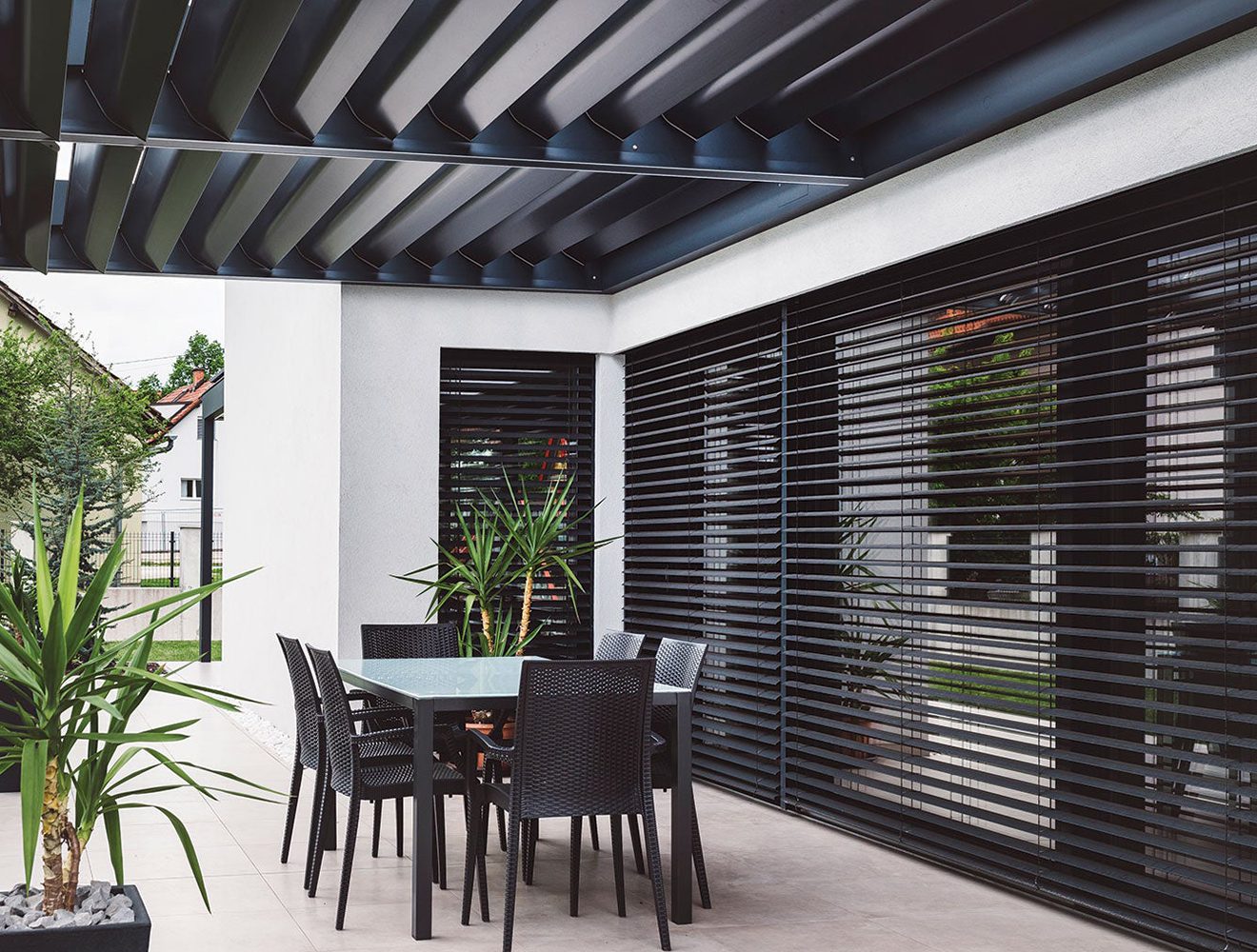 Outdoor living rooms
If you really want to make the most of your outdoor space, then you can add a veranda or pergola to your garden that essentially creates a whole new room that you can enjoy.
Verandas are a really great way to achieve this, and at a fraction of the cost of a new conservatory too!
A modern veranda comes with a huge range of customisable options, including glass side panels and even sliding doors, so they can become incredibly close to a full conservatory style room.
But if you're looking for a garden veranda that's not attached to your house, then an outdoor living pod could be your answer.
These structures can include retractable side panels for additional shelter, and are versatile enough that you can have a solid roof, no roof at all, or to make use of the louvres to create the perfect balance of light and shade.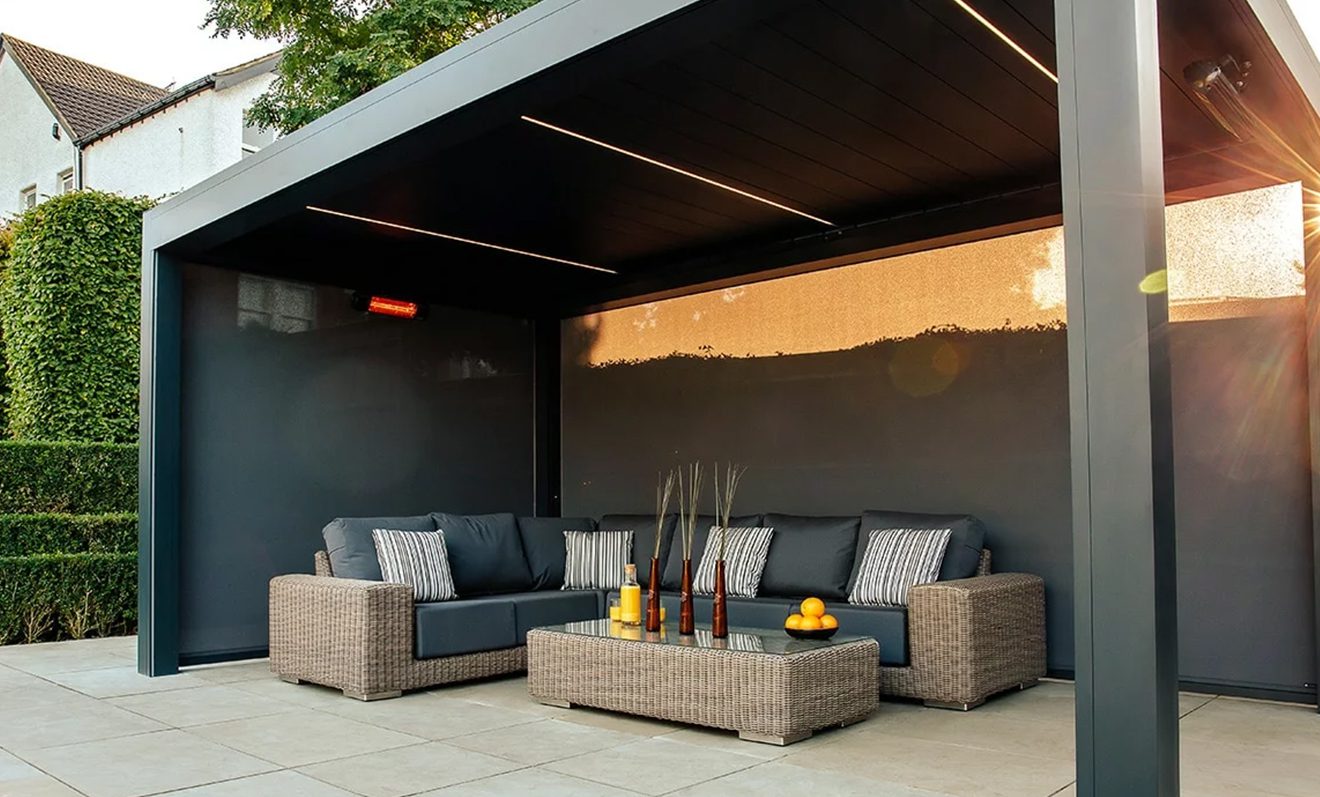 Shades for decking, patios and hot tubs
Patios and decks typically start at your back door, so they're usually in the prime position for you to protect them with an awning or veranda.
For a more flexible option, an awning may be your best bet, as you can retract it whenever you like. Hot tub awnings are particularly popular, as they mean you can make the most of the sun when it's out, but still enjoy a dip in the winter, with the awning providing you a bit of protection from the elements.
Pergola, veranda, awning or pod?
Now you've got the full story on all the different types of garden shades, it's all about what the best options are for you.
And whether you need a decking pergola, a fully equipped outdoor living pod, or electric full cassette awnings, we've got everything you need right here at Leamington Blinds.
---
Get a quote
If you'd like to find out more about our outdoor shading options, just fill out the form below, or give us a ring and one of our friendly team will be happy to help!
"*" indicates required fields