Your bedroom can be so many things, a sanctuary of sleep, a haven of relaxation, a hub of preparation, or just a space to call your own. So finding the best blinds for bedroom windows is a great way to add that perfect finishing touch.
In this article we'll talk about the different features of bedroom blinds that might make them perfect for you, as well as the different styles and designs you might want to consider.
Bedroom roller blinds
Roller blinds for bedrooms are probably the most popular choice, not just because they're affordable and come in a wide range of designs, but also because you can enhance them with a range of features.
For example, most roller blinds can be motorised, meaning that you don't have to go and physically raise or lower them by a chain, instead, there are a range of different controls available.
The most common type of electric blind is controlled by a remote, which is simple and straightforward to use.
But we're also seeing a rise in popularity for smart blinds. These blinds are operated via an app, which you can control from your phone, or even from a smart home hub such as Google Nest or Amazon Alexa.
Smart roller blinds can also be programmed to automatically raise or lower at different times of day, which can provide extra privacy, security and even help you save energy.
Bedroom venetian blinds
The reason venetian blinds are a great option for the bedroom is because they provide privacy. The adjustable louvres of venetian blinds mean that you can angle them for the perfect balance of light and privacy, without compromising on either.
That's why venetian blinds can often be the best bedroom blinds if you're using your bedroom during the day, whether that's for study, relaxation or work. They give you the flexibility to manage and even direct the angle of light, making them perfect for avoiding glare or direct sunlight.
And venetian blinds come in a lovely range of colours, materials and styles, from natural wood finishes, to hardwearing aluminium or even upvc or vinyl.
Another really popular way to use venetian blinds in your bedroom, is to pair them with an over recess roller or roman blind, or curtains. This gives you the ideal combination of privacy and light control, with the additional benefit of a backout effect.
These combinations also give you much better insulation for your windows, and can help you stay warm during the winter, as well as keeping out glaring sunshine when it's hot.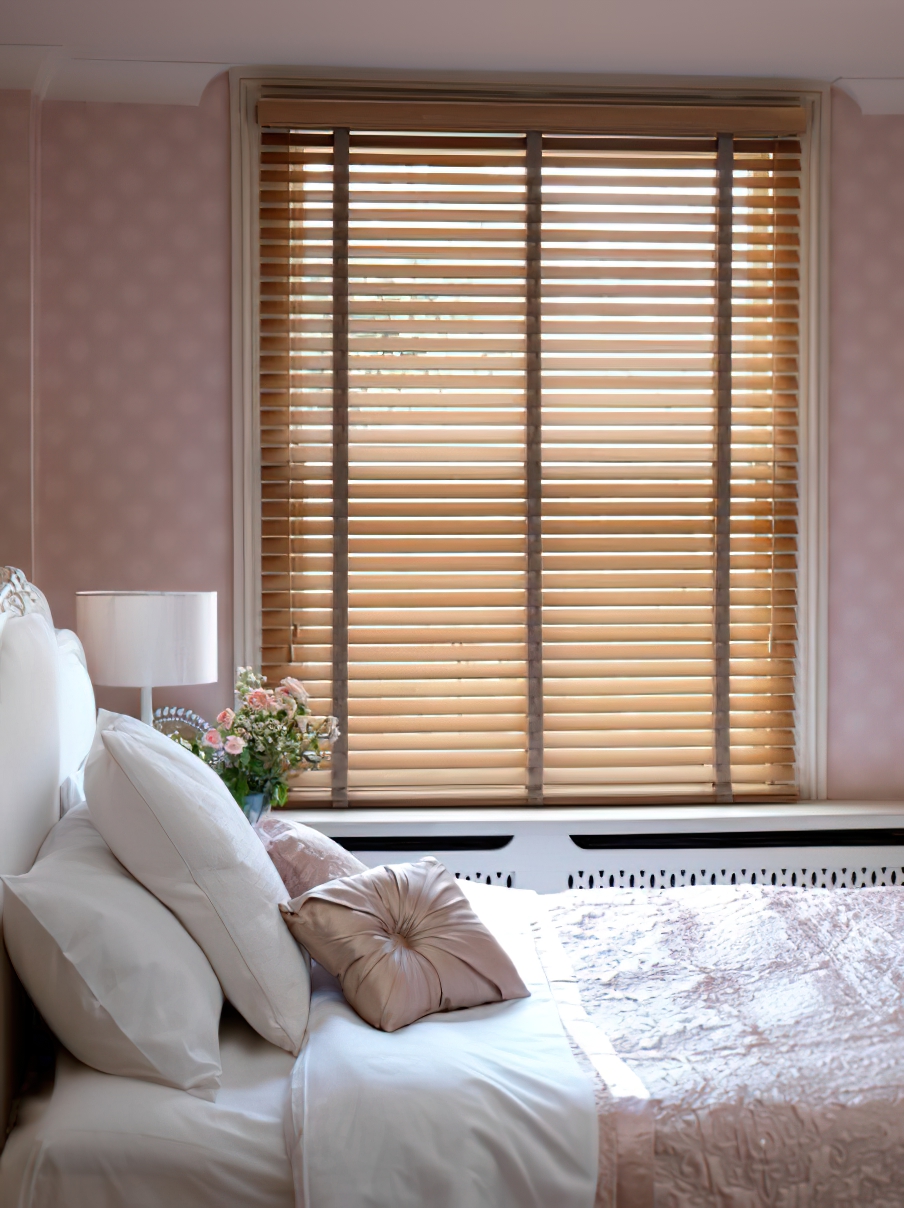 Bedroom wooden blinds
If you're looking for a really stylish, elegant finish for your bedroom, then wooden bedroom blinds could be your answer!
Wooden venetian blinds are probably one of the most popular blind styles around at the moment, and are very often chosen as an alternative to shutters. That's because they offer a similar finish for a fraction of the price, and can also be more practical, as they need a lot less room.
Wooden venetian blinds come in a lovely range of finishes, from classic white and modern grey, to natural finishes. And of course, they provide the same standard of privacy and light control as any other venetian blind.
And if you love the look of wooden venetian blinds, but you're looking for something a little more durable, then you might want to consider faux wood blinds instead.
These are the same as wooden blinds, but they're made in upvc, with a lovely wood-effect finish. Meaning that you can get hard wearing, easy clean blinds without needing to compromise on that gorgeous finished look.
Blackout blinds for bedrooms
Unsurprisingly, blackout blinds are often considered the best blinds for bedroom windows, but not all blackout blinds are created equal! Standard blackout blinds are a great option for people who want to block out the majority of light, but if you need complete darkness, then total blackout blinds may be the right option for you.
Lots of different blinds can come in blackout fabrics, so you'll have a lot of different options to choose from in terms of style, colour and pattern.
If you're looking for bedroom blackout blind ideas, roller, perfect fit or roman blinds are probably the most popular choices, but if you're after a really robust light blocking blind, you may want to consider total blackout blinds.
The main difference between standard roller and total blackout blinds is that a total blackout blind has zipped edges down both sides. That means no little cracks of light around the edges of your blinds when they're lowered – making them ideal for those of us who need perfect darkness for sleep!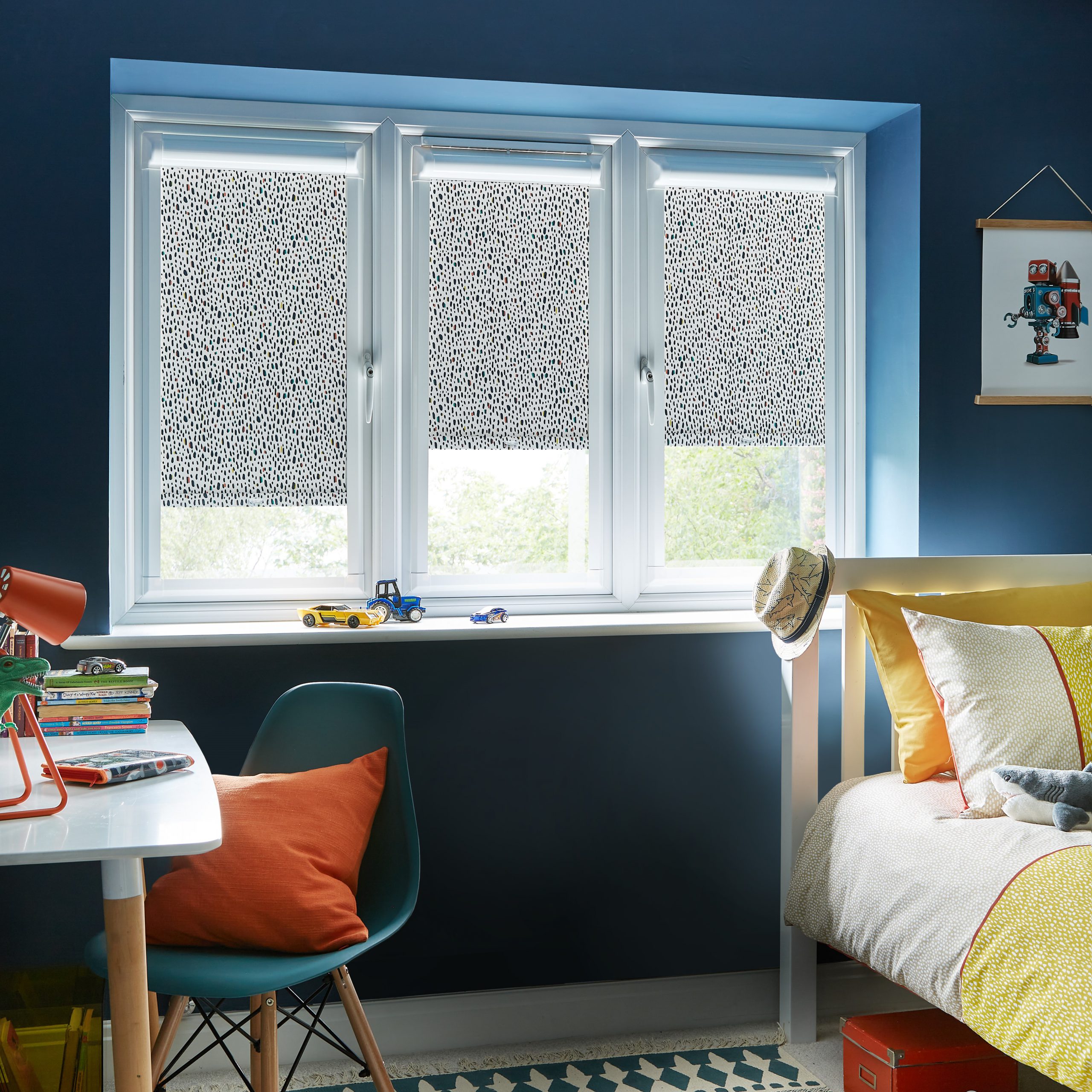 Children's bedroom blinds
Looking for the perfect blinds for your child's bedroom can be a bit more tricky, as they're often looking for something a little bit special!
That's why lots of parents go for roller blinds, where you can find a huge range of different patterns and styles.
Or, you could go one step further, and create specially printed blinds just for them!
Another benefit of using roller blinds is that you can easily make them into blackout blinds – which can be essential, especially if you're looking for bedroom blinds for babies or very young children.
Creating a calm, dark space can really help kids drop off to sleep easier, which is a big reason that roller blinds are a popular choice for kids' bedroom blinds.
Bedroom vertical blinds
You might think that vertical blinds aren't a great option for bedrooms, as their fantastic versatility for privacy and light control does come with the downside of not providing a blackout option.
However, many people choose vertical blinds for exactly this reason, combining them with blackout curtains, or over recess blinds. These combinations give you the very best of all worlds, with your vertical blinds giving you flexibility, and your other blinds or curtains providing the blackout feature on top.
By combining different blinds and curtains in this way, you also get a much higher level of insulation and energy control.
That means you lose much less heat from your windows in the winter (meaning lower energy bills), and you can even use them to block out sunshine during the summertime, preventing your bedroom from getting too warm and uncomfortable.
Roman blinds in bedrooms
Roman blinds always give a really elegant finish to any room – particularly your bedroom, as they have a really sophisticated style.
Roman blinds come in lots of different patterns, designs and colours, so it's easy to find the right option for your bedroom. It's also very easy to get blackout roman blinds, with an extra lining to help keep the light out.
As well as blackout features, roman blinds are also easy to motorise, meaning you can get electric roman blinds that can be controlled by remote or even through an app.
They're a really popular choice to use in combination with other types of blinds and curtains too. Often roman blinds are used as an over the recess blind, with an alternative blind (for example a venetian or vertical blind) behind it.
This combination gives you the best of both worlds, with a flexible, adjustable blind on the window, but with your luxurious, elegant roman blind providing the finishing touch to your bedroom's style.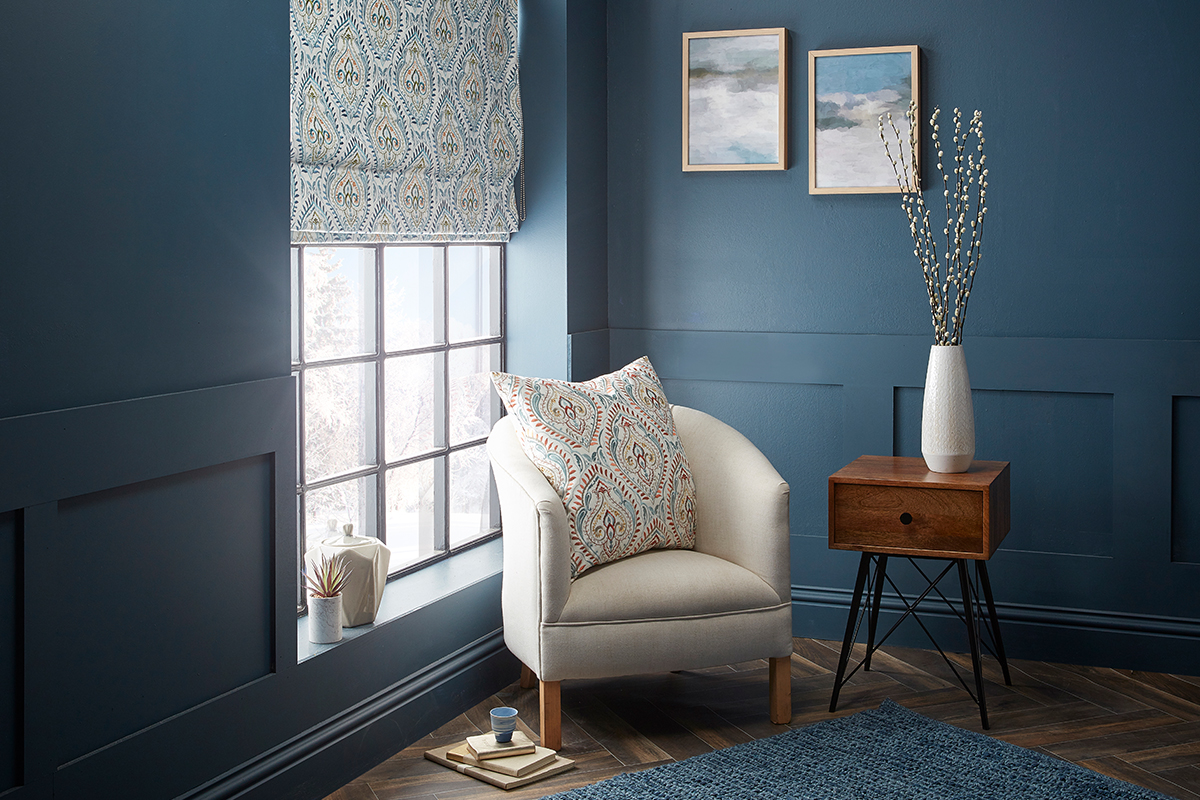 Modern bedroom blinds ideas
If you're looking for something a little more modern for your bedroom, you may want to consider outdoor window blinds as an alternative.
External blinds are a fantastic finishing touch on a modern property, and are a high tech solution that provide security, automatic reactions to light, smart controls and a huge amount of kerbside appeal too!
Outdoor blinds come in a lovely range of stylish colours, and are all motorised and operated by remote or by an app.
Not only does that mean you can manage your blinds from your phone or a smart home hub, you can even set them to automatically react to changes in temperature or to change at different times of day.
Having heat-sensitive controls are particularly good for external blinds, because they provide you with a huge level of heat protection by keeping sunlight off your windows. In fact, they can keep off 97% of the sun's heat, keeping your room up to 18 degrees cooler.
This can be incredibly helpful for your bedroom, aiding sleep and preventing hot, restless nights during the summer.
By setting temperature controls, your blinds will automatically lower when a room gets to a specific heat. This can be really helpful if you have a baby or young children, as you can use your blinds to stop them from becoming overheated in a too-warm room.
Day and night blinds for bedrooms
Another great choice for bedrooms are day and night blinds. These versatile window shades mean that you can give your room the perfect combination of light and privacy.
With their alternating transparent and opaque strips, you can use them to let light through the panels, or to have them block out light completely.
This is a great option for anyone who has a ground floor or overlooked bedroom window, as it gives you a great level of privacy without needing to have your blinds down all day.
The stylish stripes also make a great feature for your window, and come in a wide range of designs and colours.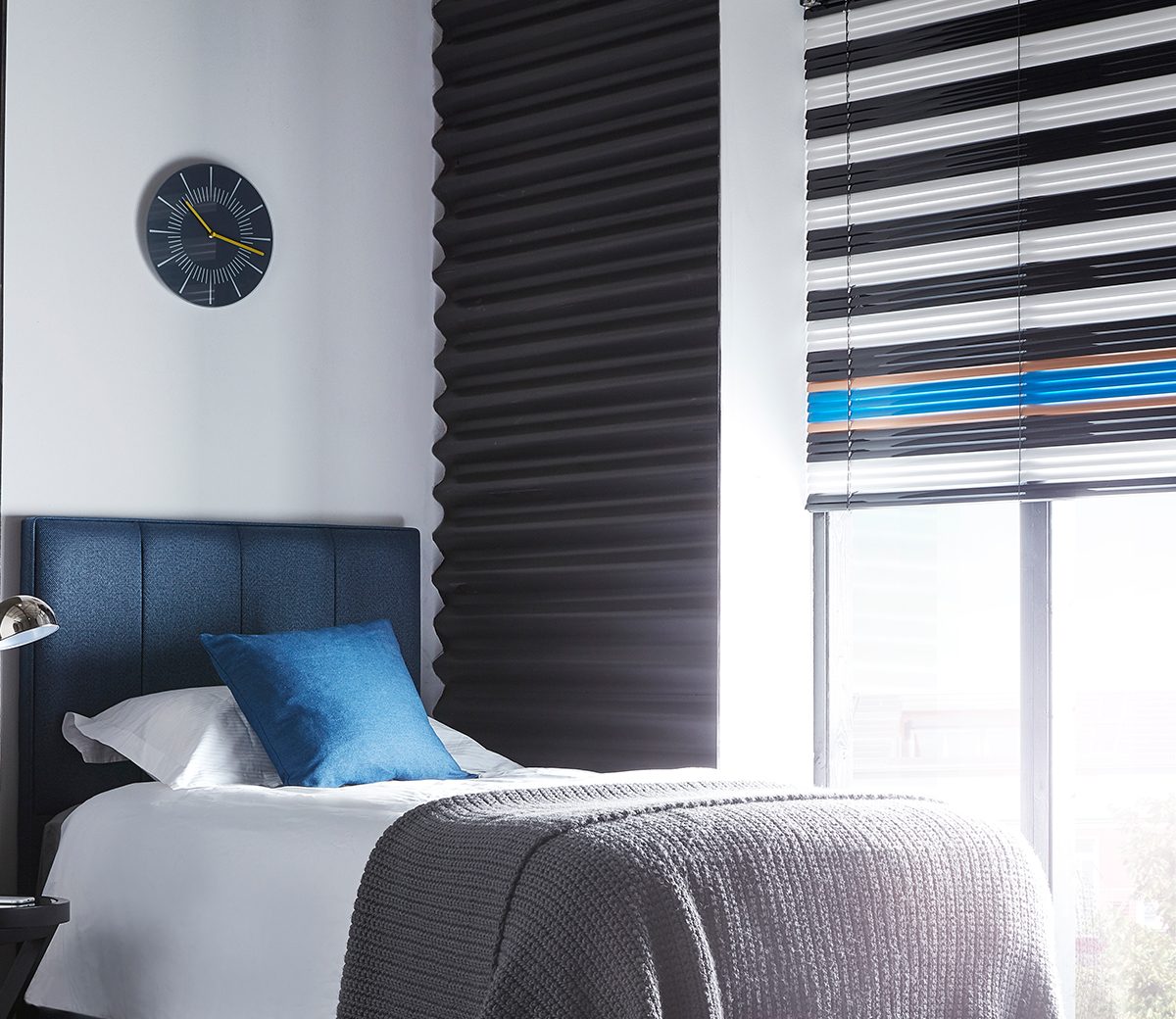 Our favourite blinds for bedroom ideas
At Leamington Blinds we provide all of the above blinds, all with free fitting and measuring for customers in the Warwickshire area.
That can make it difficult to choose a favourite! But here's our expert opinion on the best bedroom blinds, and who they're most suited for:
Total blackout blinds – for a complete blackout effect.
Standard blackout roller blinds – the affordable, flexible option.
Faux wood venetian blinds – ideal if you use your bedroom for more than just sleeping. These blinds are hard wearing and easy to clean, but with the beautiful look and feel of real wood.
Roman blinds – if you're going to use a combination of blinds, these make the perfect partner.
Outdoor blinds – these make the ideal choice for rooms that get a lot of sun, or if you find your bedroom too warm to sleep in the summer.
But of course, we're more than happy to help, whatever blinds you choose! And if you're having trouble deciding, maybe take a look at our blinds and shutters quiz to see if you can find your perfect option.