With winter underway, you are probably feeling the cold and cranking the heating up. But did you know that much of your heat is lost through your windows?
You could be spending unnecessary amounts on your bills, when you could save money and save energy with new, energy efficient blinds. It's a great way to help keep the heat in without spending a fortune on new windows.
---
Do thermal blinds work?
When you're looking for thermal blinds for windows, there are actually a wide variety of different types and styles that can be considered "thermal".
For example, some blinds come with an additional lining for extra insulation and some provide insulation because of the way they are structured.
That means that most blind types can be improved or enhanced so that they can be better for keeping the warmth in, but some blind types will naturally perform better than others.
So, let's take a look at some of the best kinds of blind for keeping warm this winter.
Thermal blinds
Do thermal blinds really work? It is estimated that specially designed thermal insulation blinds or even standard blinds with a thermal lining or layer of insulation can reduce heat loss by up to 40% from your home, making them a great investment for properties with a large amount of glazing.
Thermal blinds come in a huge range of different styles, as all you really need is a thermal backing or fabric to turn a normal blind into a thermal window blind. Here is a selection of some of the best thermal blind styles available.
Thermal roman blinds
Roman blinds are a stylish option and also a popular choice for keeping a room cosy. Roman blinds are available in a variety of fabrics, including thick materials – ideal for keeping heat in a room – and specially designed thermal materials.
What's more, the Roman style also lends itself to layering two blinds on the same window which offers both a luxurious aesthetic and improved insulation.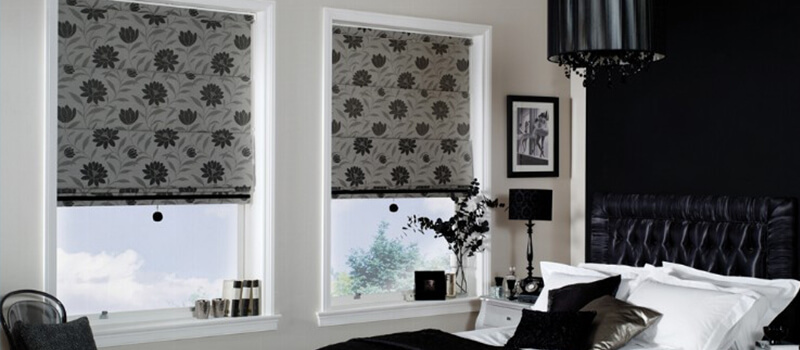 Thermal roller blinds
Insulated roller blinds are a kind of roller blind which has been made from a particularly insulating fabric. They are a step up from blackout roller blinds which are also made from a thick, mildly insulating material. 
The thermal material may come in a single layer or multiple layers back-to-back, depending on your requirements. To make sure this kind of blind is as effective as possible, you should opt for a made to measure option so as to reduce the gaps around the blind which draughts could still creep through.
Thermal vertical blinds
Vertical blinds can be transformed into heat saving window blinds by making them in an insulating fabric. However, we wouldn't suggest that these are the best blinds to keep heat in, as the gaps between the louvres can let heat out – even when the blinds are fully closed.
Perfect fit thermal blinds
Perfect fit blinds are one of the most versatile styles, and can come as roller, roman or even venetian blinds. This means they're also a great choice for winter – particularly if you're looking for velux thermal blinds, or thermal conservatory blinds. Because perfect fit blinds sit within the frame of your window, they're a great choice for tilted or skylight window blinds to keep heat in.
The most effective type of perfect fit blind to minimise heat loss through your window, is the duette, honeycomb or cellular blind. 
These are incredibly effective insulating blinds for windows as they have a pocket of air within them that acts as an insulating barrier. Not only does this make them great at keeping the warmth in during the winter, but it also helps keep the heat out during the summer months too.
Thermal blackout blinds
Blackout blinds are often considered to be "thermal" because the thicker material or additional fabric does make them more robust than normal blinds, which naturally makes them better at keeping the heat in.
But it is important to specifically look out for thermal blackout blinds, so you know for certain you're getting the best of both worlds.
One of the biggest bonuses of choosing blackout thermal blinds, is that it actually enables you to choose from a wide range of different styles, including roller, roman or pleated blinds – as it's the material that matters, not the blind style itself.
Thermal honeycomb blinds
Duette blinds, also known as honeycomb, pleated or cellular blinds, are specially designed to boost the thermal efficiency of your windows. The blinds trap small pockets of air in their unique honeycomb design which creates an insulating layer between your room and the window. 
This works to prevent heat loss in winter and also heat gain in summer, making these one of the most energy efficient blind styles.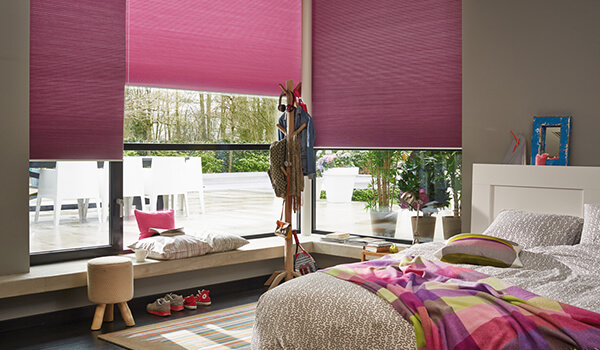 Thermal blinds for conservatories
Your conservatory is probably the biggest problem when it comes to losing warmth in the winter. Because there is so much glass, it's incredibly difficult to prevent heat loss, and even more important to insulate your conservatory windows as much as possible.
Perfect fit winter blinds are one of the best options for this, and it's also with considering thermal conservatory roof blinds, as so much of your energy will be going straight out of your conservatory roof.
Thermal blinds for patio doors
Another big cause of heat loss is through patio doors or French windows. Making sure you have the best blinds for patio doors can save you a huge amount on your energy bills.
If you have sliding glass doors into your conservatory, installing insulating blinds can also help prevent losing heat into the room itself. That can also make a big difference to how much heat loss your conservatory generates.
Do wooden blinds keep heat in?
Wooden blinds, including faux wood blinds are a really popular window covering, but if you're after insulated window blinds, they're not a particularly great choice.
While they're made from thick, insulating materials, you can't really describe them as thermal venetian blinds. That's because a lot of the benefit from the thicker material is offset by the gaps between louvres and the gaps around the window frame. These provide less of a barrier and can let the cold air through.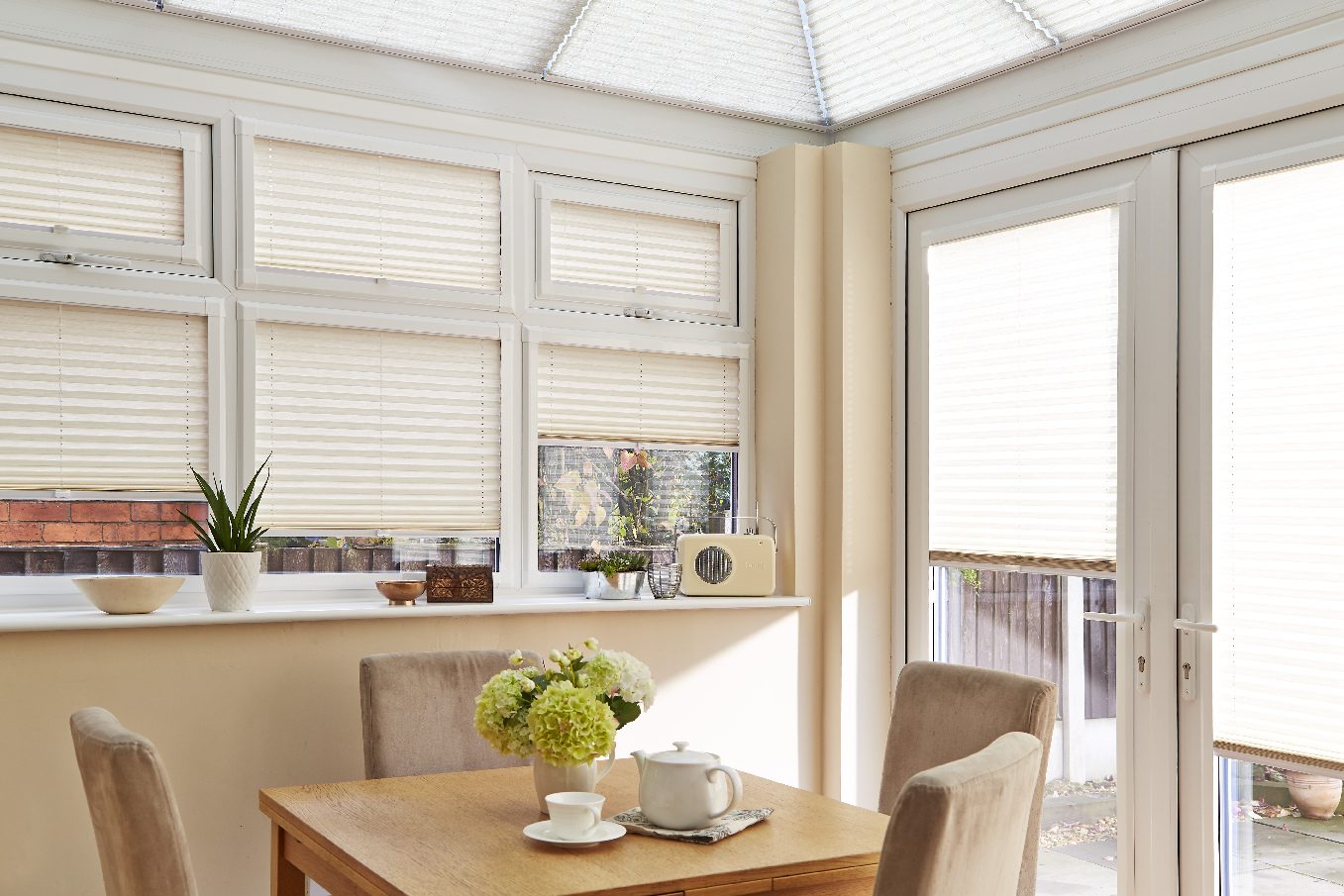 Blind combinations for extra insulation
One of the most effective ways to keep in the heat is to have a combination of window shades.
Popular choices include doubling up of blinds, for example having perfect fit blinds within your window frame, and roman blinds outside the recess. Another popular combination is blinds and curtains, or shutters and curtains.
By doubling up your window covering, and having blinds or shutters both inside and outside the window recess, you're much more likely to keep in the warmth.
Reducing heat loss with smart blinds
Not all the best solutions are actually about the style or material of blind you choose. You can also make a big difference by choosing smart blinds.
Almost all our blind styles can be transformed into smart blinds, which means that the blind has an electric motor that can raise or lower the blind. This motor can be controlled via an app on your smartphone, which means that you can control your blinds from anywhere.
It also means you can set your blinds to be raised and lowered at set times, or manage them through a smart home hub, like Google Nest or Amazon Alexa.
This gives you the ability to lower your blinds as soon as it starts getting dark – regardless of whether you're actually at home. So you don't have to worry that your house is getting colder while you're still out at work.
The best insulating blinds for winter
When you're insulating your home, your choice of window covering can make a big difference. But having any kind of window shade will certainly help!
If warmth is one of your biggest priorities, then Leamington Blinds can help you decide the style and type of blinds or shutters that will work best, whether that's thermal blackout roller blinds, shutters with roman blinds on top, or any of our other fantastic options.
Our experienced team can offer you professional advice and guidance when it comes to choosing the ideal window covering for your needs.
With our extensive range, which spans many styles, materials and colours, we have something to meet all interior decorations and rooms of the home. Once you've found your perfect blinds, our skilled team can also carry out a professional fitting for you, ensuring your new blinds function smoothly.
---
Enquire online
If you have any enquiries, contact our helpful team today.
"*" indicates required fields