The best blinds for sliding glass doors and patio windows
When you're looking for curtain and blind ideas for patio doors, it's easy to get lost in all the different options available to you. But this handy guide helps you work out what type of shades will work best for your windows and doors.
Roller blinds for large patio doors
If you're looking for roll down blinds for french doors, your classic roller blind can be a great option.
Roller blinds are one of the most customisable styles of blind, they come in a huge variety of patterns, materials and colours, and you can even include features like blackout fabric or remote control.
But when you're shopping for roller blinds for large patio doors, the wider your windows, the more difficult it becomes.
Because roller blinds are usually longer than they are wide, there are far more off-the-shelf options for smaller windows and doors.
But if you have large sliding glass doors, finding a roller blind option can become tricky – and even expensive. That's because the material needs to be produced on a much wider roll if you aim to have one single blind.
A good alternative is to have multiple blinds for large windows. This can give you a lot more flexibility with your window shading too, as you can have each blind on an individual roller, so they can be at a different lengths whenever you like.
If this is the right option for you, it's always best to get custom blinds measured and fit specifically for your patio doors.

Roman blinds for french doors
If you choose roman blinds for sliding doors, you're likely to run into the same pros and cons as for roller blinds.
Roman blinds offer a similarly large range of choices and styles, and just like roller blinds, become more difficult to source the wider your sliding doors are.
But once again, a great option to get this look is to have multiple roman blinds at the window. 
One downside with this option is that you're likely to have some gapping between blinds, and it becomes essential to have them measured and fit perfectly so these gaps aren't too wide, overlapping or at an angle.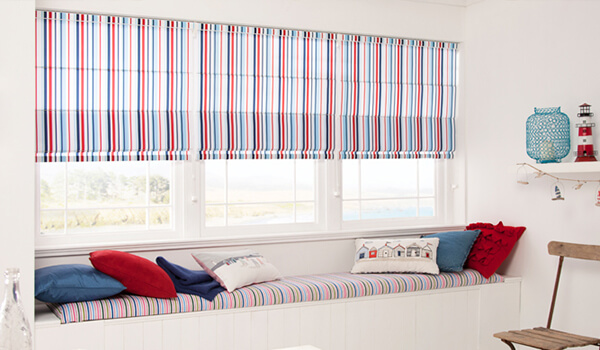 Perfect fit blinds for patio doors
One fabulous option when you're looking for the right blinds and shades for sliding patio doors, is to consider perfect fit blinds.
Because perfect fit blinds are installed within your window frame, they give you complete flexibility, no matter how wide your windows are.
If you choose perfect fit you can have a huge range of different styles including roller, roman, or venetian blinds for your sliding patio doors. This option really opens up the possibilities for you in terms of blind type.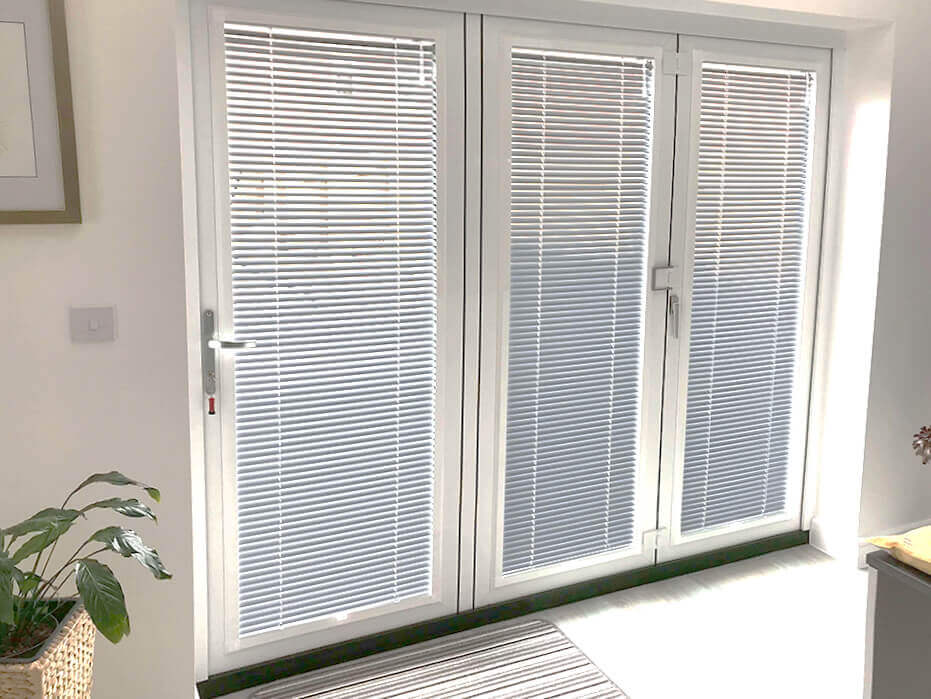 External blinds for patio doors
An exciting option to consider for your french doors and windows, is external blinds. These stylish outdoor blinds give an incredible finish to your home, and also provide a great level of insulation.
Wide doors and windows often let out a lot of heat in the winter (and do the opposite when it gets warm!), but external blinds keep the heat in when it's cold, and keep the sunshine off the glass in the summer. They're one of the most eco-friendly options when you're choosing blinds for your home, and are a wonderful alternative to indoor blinds for bifold doors or french windows.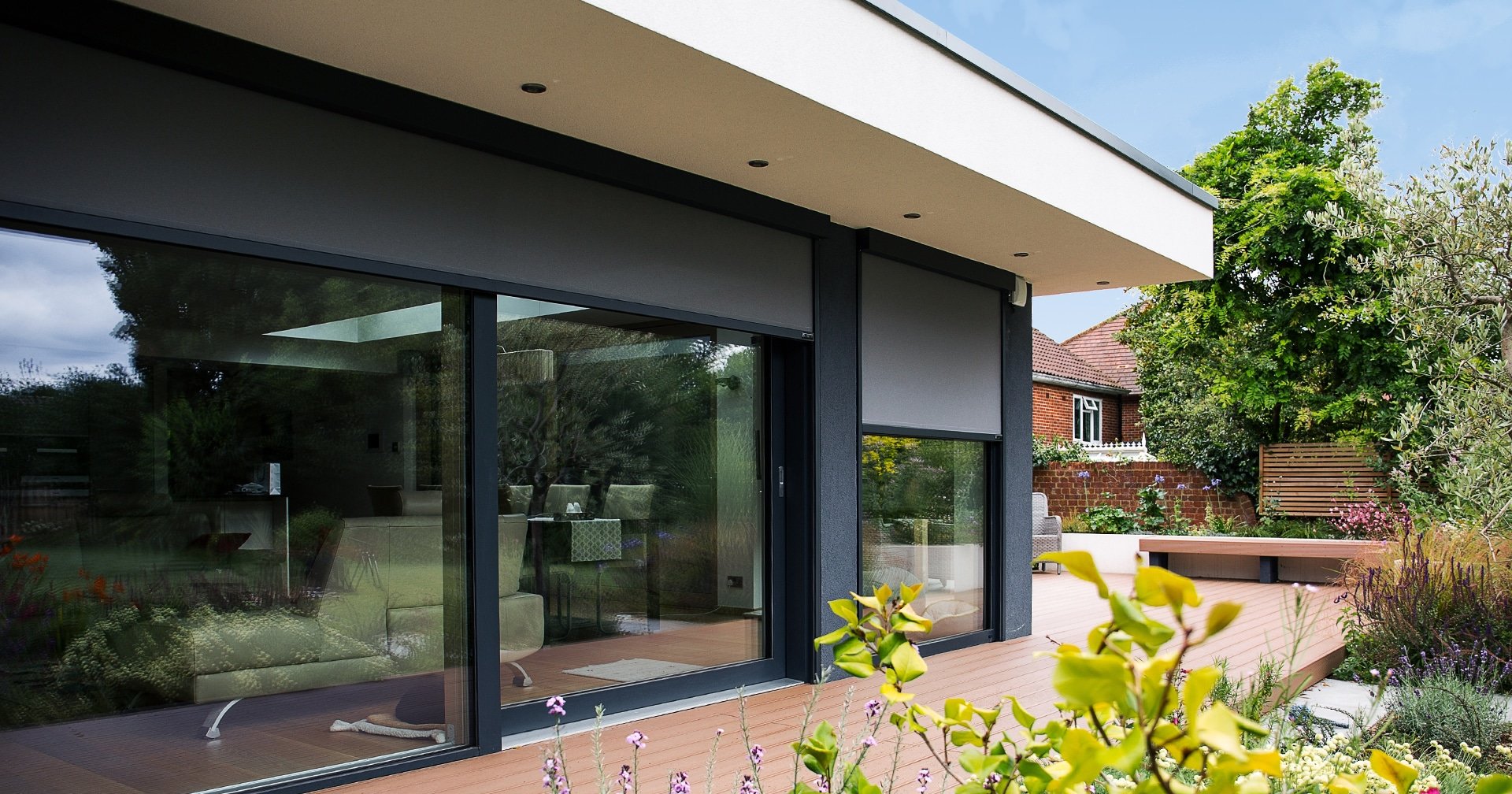 Vertical blinds for sliding doors
Let's finish our guide with one of the most popular types of blinds for patio doors: vertical blinds.
When you've got wide windows or sliding glass doors, vertical blinds are a great choice. When it comes to a choice of vertical vs horizontal blinds for french doors and windows, vertical is a much more practical option. 
Horizontal blinds are often best for windows, but when it comes to french or patio doors, they do become a little impractical. In most cases, it's a good idea to have blinds that go in the same direction as your windows and doors so they don't open and close in different directions, which can make things awkward!
One thing that does sometimes put people off this style of  window blind, is that they can feel a little bit like you're in the office. That's mainly just because most offices have big expansive windows, so one of the most obvious shading options is vertical blinds!
But today, there are so many modern vertical blinds for sliding glass doors, you have a wide choice of styles and colours and can find something that's going to look elegant and stylish in any room.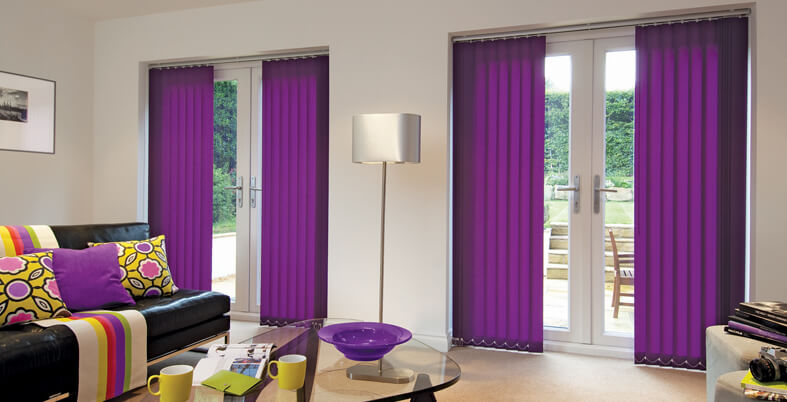 The best blinds for sliding glass doors
So, when you're looking for the best blinds and shades for sliding patio doors, our recommendation is for simplicity, style and ease of use, vertical blinds, or perfect fit are going to be excellent choices.
Vertical blinds are perfectly practical, easy to install on wide windows or french doors, and can give you a great finish in a great range of fabrics and colours.
Perfect fit blinds open up a huge range of different options, from roller and roman to concertina blinds. By installing the blinds within your window frame, it means that every blind is perfectly set to each window to give a precise finish.
But for an incredible look that saves energy too, external blinds are the obvious choice for a modern, stylish home.
Want to know which blinds are best for your patio doors and windows? Get in touch with us today to get a quote and some expert advice.
Get a quote for Bi-Folding Door / Patio Door Blinds
To receive your quote for installed, made to measure Bi-Folding Door / Patio Door Blinds, fill out the form below.
14th December 2020