Horizontal and vertical blinds are two classic styles that are known for their versatility, light control and for privacy.
They're regularly featured as some of the most popular blinds styles. But how do you decide which is going to be better for you?
In this article we'll talk about all the pros and cons of horizontal v vertical blinds and help you make the right choice for your windows at home, or at work.
Vertical window blinds – the facts
Vertical window blinds are louvred blinds with slats that run vertically. This is why they're sometimes known as vertical venetian blinds, because they have the same slatted style, but the louvres run vertically (top to bottom) instead of horizontally (side to side).
They run on a track that's managed by a cord or chain, and the vertical slats can be angled to control the light.
These blinds are known for being highly durable, practical and long-lasting.
But a new option in vertical blinds is the allusion blind. 
This new style is one of the most popular options for sliding glass door blinds as the vertical panels are not connected to each other by a chain. That means you can step right through the blinds, making them perfect for doors!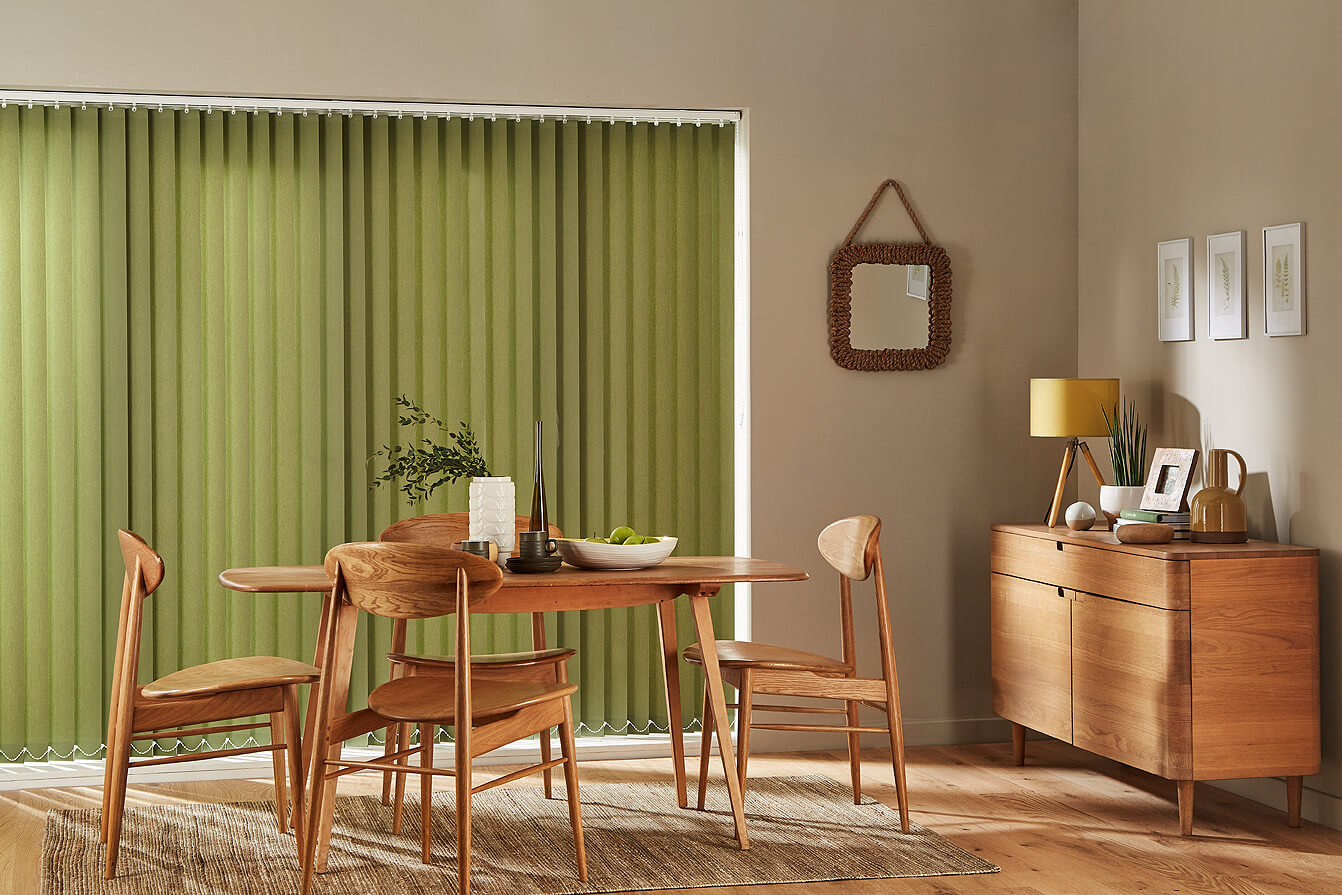 Horizontal window blinds – the facts
Horizontal blinds come in a much wider range of styles than vertical blinds do, because the vast majority of blinds hang horizontally.
This means that pleated, roman and even roller blinds are technically horizontal blinds. But generally speaking when people talk about horizontal blinds, they really mean venetian blinds.
That's because venetian blinds have similar louvres to vertical blinds, they just hang across instead of down.
Vertical or horizontal blinds for large windows
Large windows have very different requirements to small windows, and the right choice of blind will depend a lot on the style of window you have.
For example, when you're choosing the right blinds for patio windows, vertical blinds are often the most popular choice.
That's because vertical blinds are great for wide windows, like french or sliding doors. Because they hang down the window, not across, they're a lot more versatile for partially covering the area.
For example, keeping the blinds across a window area but leaving the door uncovered. Or with allusion blinds you don't even need to worry – as you can step straight through!
However, if you have long, narrow windows, vertical blinds may be the better option.
That's because you only really get the flexibility that louvred blinds offer if the slats are running across the shortest measurement of the window.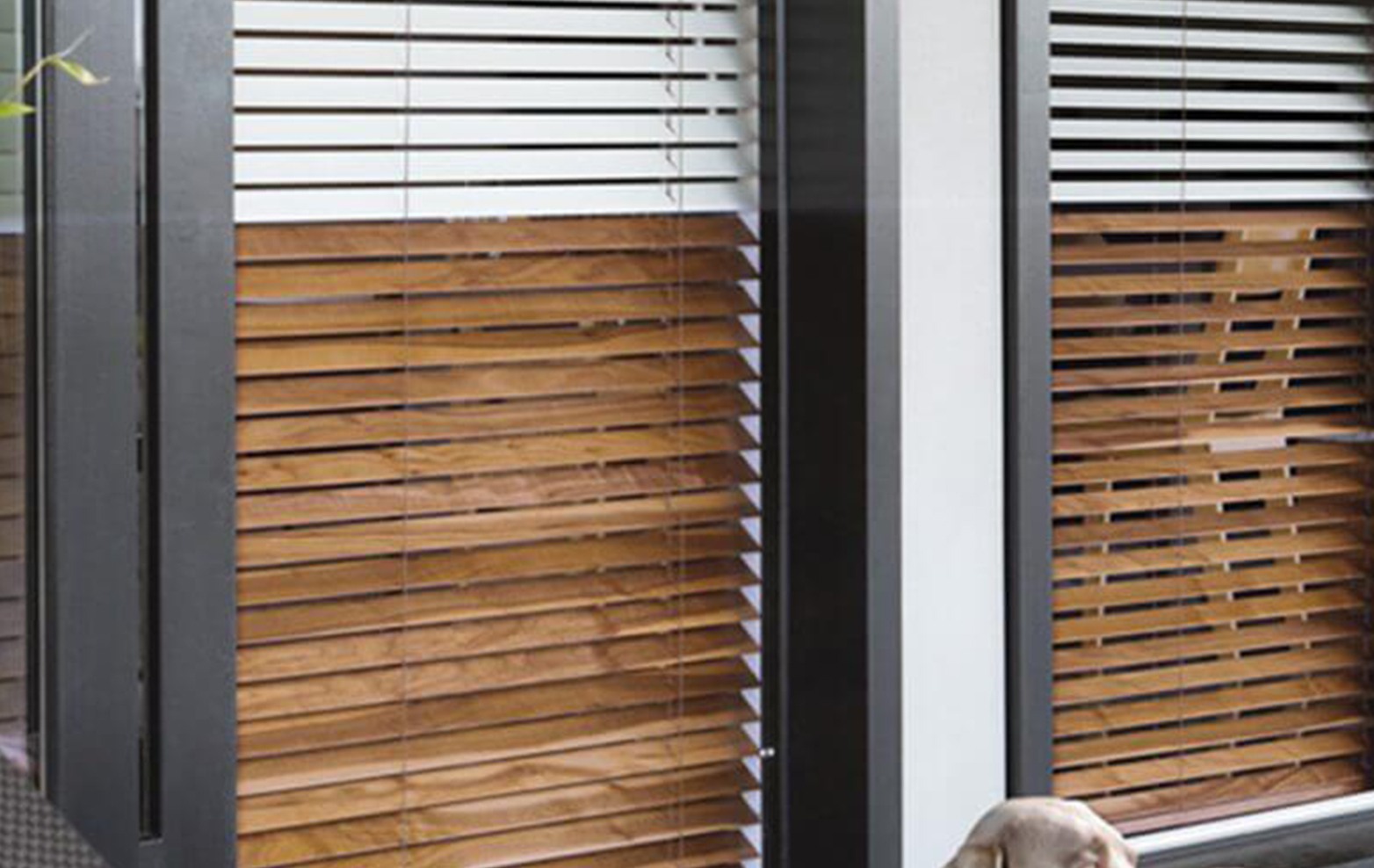 Blackout window blinds, vertical vs horizontal
When it comes to choosing blackout blinds, both vertical and horizontal blinds have their pros and cons. And if we're honest – they're pretty similar!
Both types of blind are commonly made of robust materials, like vinyl or aluminium. If you decide on a venetin style, you can even get wooden blinds. Because these are thicker, they are better at blocking out the light.
It also means they offer a higher level of insulation too.
But the issue with both vertical and horizontal blackout blinds, is that it's very easy for light to creep in both around the edges of the blind, and between the slats themselves.
So blackout vertical blinds or blackout horizontal blinds are a bit of a misnomer, as even when the blind area itself provides total blackout covering, you're highly unlikely to escape those cracks of light around the edges.
Vertical or horizontal blinds for privacy
Both horizontal and vertical blinds are great options if you are looking for privacy.
By controlling the angle of the individual louvres, you can prevent people from being able to look through your windows whilst still letting in the light.
White horizontal blinds can do this just as well as vertical blinds, there is a vertical blind option that takes privacy to the next level – net vertical blinds.
Because horizontal blinds need to be robust enough to keep their shape, they're often made of more structural materials, such as aluminium or wood.
But vertical blinds are secured along the top and bottom of each of the slats, which means they can be made of lighter materials, including voile.
Net or voile vertical blinds are perfect for privacy, because even if the louvres are fully closed they will still let some light through.
Vertical allusion blinds are made of a beautifully soft translucent material, making them ideal for privacy.

Vertical blinds vs horizontal blinds: the verdict
So, what's the final word on whether you should choose horizontal or vertical blinds?
If you've got big wide windows, like patio windows or french doors, we recommend going for a vertical blind style.
If you've got narrow windows, then horizontal might be your best bet.
But if your windows are a fairly standard size, another good way to work out what the best option is for you could be to look at the directionality of your windows.
By that I mean, which way do they open?
Ideally you want blinds that open the same way your windows do.
The reason for that is simple – it makes it much easier to combine open windows and closed blinds if they're both working in the same direction.
Then your blinds and windows or doors move in different directions, it can be really awkward if you want some fresh air but to keep the sunlight out, or to maintain your privacy.
So, what's your verdict on the winner of vertical vs horizontal blinds? And if you're still not sure, feel free to have a chat with our expert team – we'll be happy to help you work out what blind is best for you!
Enquire online
You can get in touch by phone, email or by filling out the contact form. We're with you every step of the way, and a member of our friendly team will make sure to get back to you as soon as possible.
"*" indicates required fields