Louvre blinds – everything you need to know
Louvre blinds are a blind style you've definitely come across before – although you may not know it! 
Louvre, or louver blinds are in fact some of the most well known blind styles available, and are a popular choice for homes and businesses across the UK.
What are louvre blinds?
Louvre blinds are simply blinds with slats. These slats are most commonly horizontal, but also can be vertical and they come in a huge variety of different materials and styles.
That means that all vertical and venetian blinds are in fact, louvre blinds.
You can also get louvre shutters – in fact almost all window shutters are louvred, as slatted window shutters are the most popular style.
This style of blinds and shutters have always retained their popularity. While louvres aren't always the best way to achieve a total blackout at your windows, they do offer much greater versatility for light control and ventilation.
That's because most louvres can be tilted or turned to allow for better airflow or to angle the direction of the light.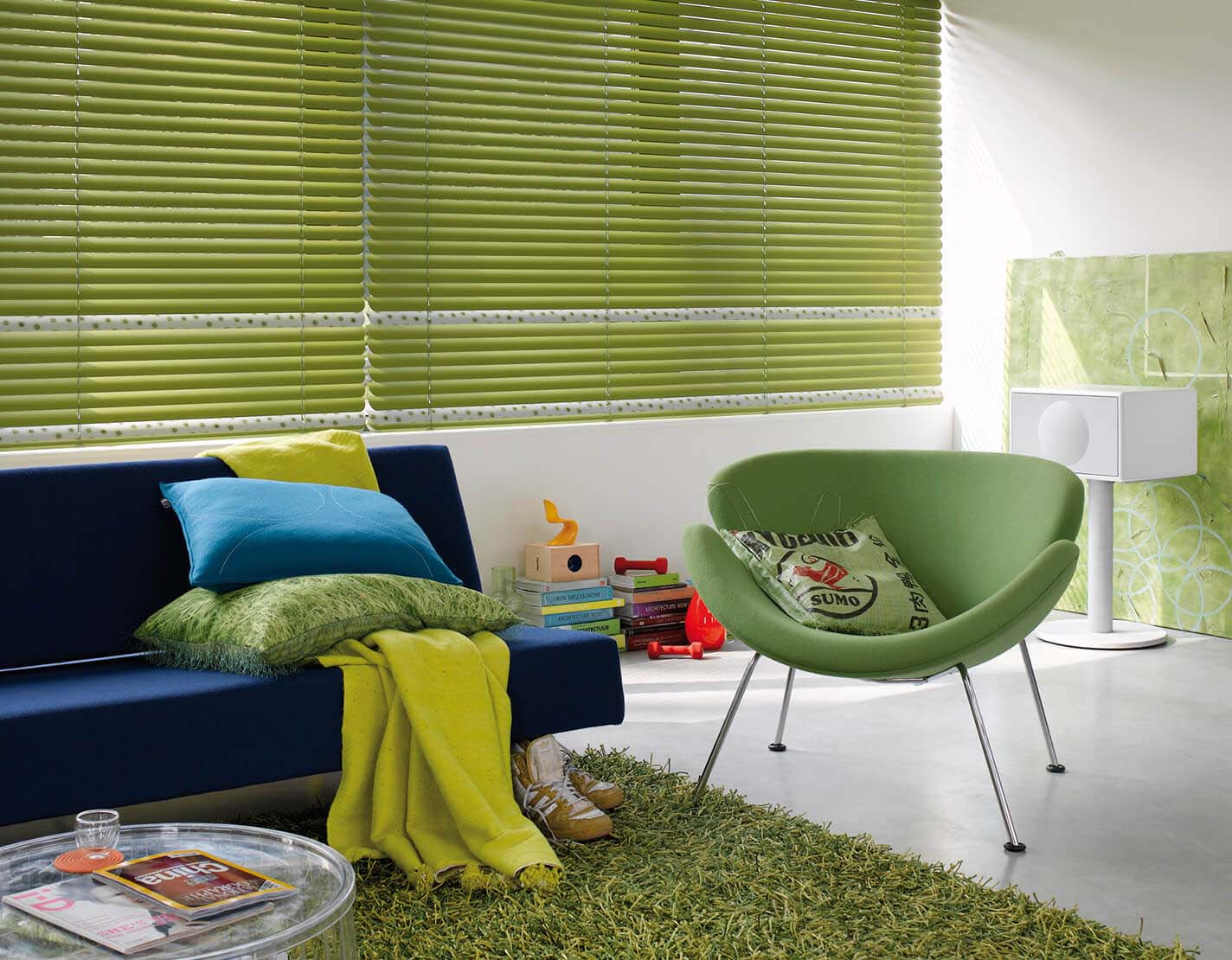 Louvre or louver blinds?
In America the correct spelling is louver, but in the UK we spell it as louvre. 
What are the different types of louvre window blinds?
Louvred window blinds generally come in two varieties, horizontal and vertical, with louvred shutters making up the third type of louvred window shades.
Vertical louvre blinds
All vertical blinds are louvred, usually with wide slats that can be angled for different levels of light and air control. 
Vertical louvred blinds are particularly popular for larger windows, as well as being a popular style for patio or french door blinds. Because the vertical slats open in the same direction as the doors, it means you can easily place your blinds where they can partially cover the window using only one track.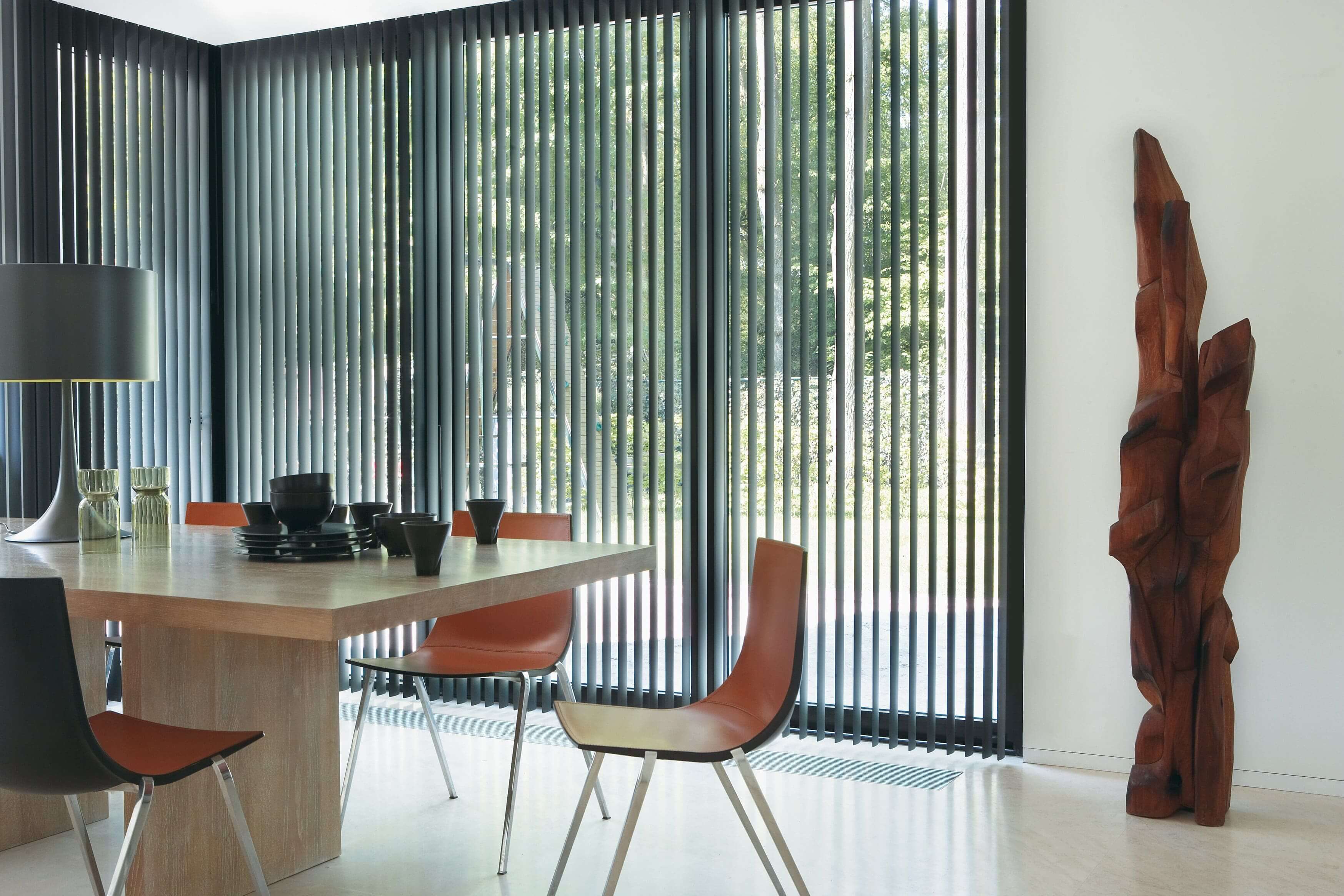 Horizontal louvre blinds
Horizontal louvred blinds are more commonly known as venetian blinds. These blinds have horizontal slats that are raised up and down by a chain, cord or sometimes with a motor.
Venetian, or horizontal louvred blinds are one of the most popular styles of blind, mainly because they are durable, easy to clean and give you excellent privacy and light control.
You can tilt the angle of the louvres in your venetian blinds, enabling you to change the amount of light entering your room. 
Louvre shutters
Most shutter styles, including plantation shutters include louvred sections which use slats instead of a solid panel.
Most louvred shutters enable you to twist or turn those louvres, to allow more or less light into the room. 
This style of shutter has become hugely popular over recent years, as more people are opting for shutters instead of blinds in their home.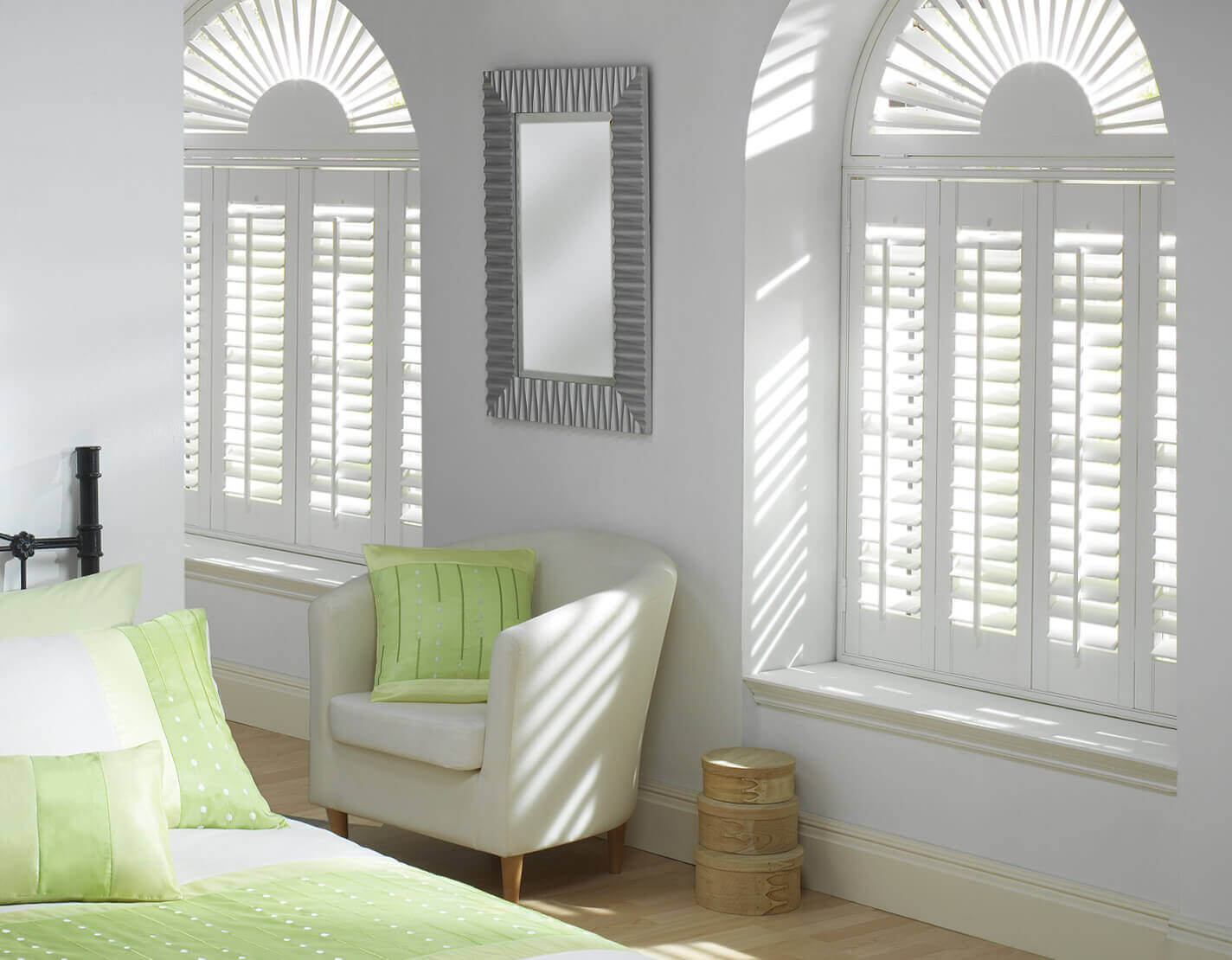 External louvre blinds
Louvre blinds are also an excellent choice for outdoor blinds. If you are enhancing your garden with an outdoor living space or entertainment area, louvred blinds can give you the most flexibility.
The adjustable slats can give you sunlight in the spring, shade in the summer, and keep the outdoor entertainment going even in the rain.
What materials are good for louvre blinds?
Because louvre shutters and blinds come in such a range of styles, different types of blind and shutter are better suited to different types of material.
Blackout louvre blinds
If you're looking to achieve a blackout finish, this can be difficult from louvred blinds. Because they're made up of slats, there's always a chance that you'll be letting light in between them.
Your best option to try and get as close to blackout as you can, is to go for blackout vertical blinds with a wide slat and a large crossover, and a thick material like wood, pvc or vinyl.
Vertical blind slats tend to have a larger crossover area than horizontal blinds do, so that makes them a slightly better prospect if you're looking for a more effective blackout option.
Lace louvred blinds
Lace or net louvre blinds are fantastic if your main concern is privacy. These slats are very airy and don't block out too much light,  making them the ideal choice for windows that are at street level or rooms that are overlooked.
The most popular style for this type of blind is the vertical lace louvre, as that is best suited to such a delicate fabric. Horizontal louvre blinds work best when the louvres are more robust and can hold their shape.
Wooden louvre shutters and blinds
Wooden louvred blinds are usually in the horizontal or venetian style. These are surging in popularity at the moment as more people look for similar styles to wood shutters, without the additional expense.
Wooden venetian blinds can be left with a real wood effect, or painted for a unique style and colour to match your room.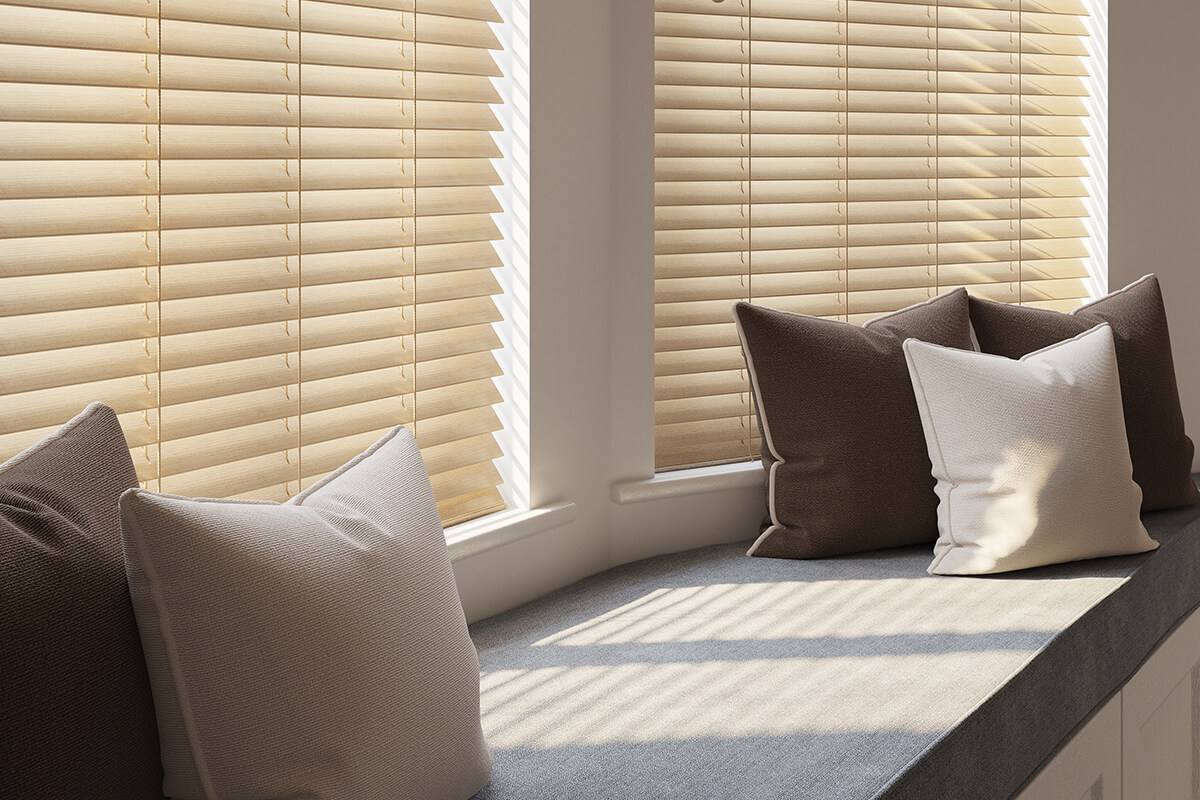 Plastic louvre shutters and blinds
Plastic or PVC louvre blinds are one of the very best options if you're looking for something durable and easy to clean. The most common plastic slatted blinds are horizontal, or venetian blinds. 
If you're looking for cheap louvre blinds, plastic or PVC venetian blinds or shutters can be a fabulous and cost effective alternative to real wood. 
These are more commonly known as faux wood blinds and are a really popular choice for people looking for the plantation shutter effect, but who don't want the expense or upkeep of real wooden blinds. 
Why choose louvre blinds?
Whether you're looking for vertical blackout blinds for your bedroom, faux wood venetian blinds for your office, or plantation shutters for your living room, they're all different styles of louvre.
So if you are looking for the right louvre blinds and shutters for your home or business, have a chat with the experts at Leamington Blinds to find out more.
18th January 2021