How to choose the best blackout blinds
Picking the right blackout blinds for your home can be a difficult choice. There are so many different options to choose from, and so many different styles to consider.
This guide will help you understand all the different types of blackout blinds, how effective they are, and what other benefits there might be to having blackout shades in your home.
We're going to talk about:
What are blackout blinds?

Why do I need blackout blinds?

How effective are blackout blinds?

Which blinds are best for blackout?

Blackout blinds and curtains

Blackout shutter blinds

Are blackout blinds eco friendly?

What blackout blinds are right for me?
In each section we'll take you through everything you need to know about blackout shades, and help you decide what option is going to be best for you.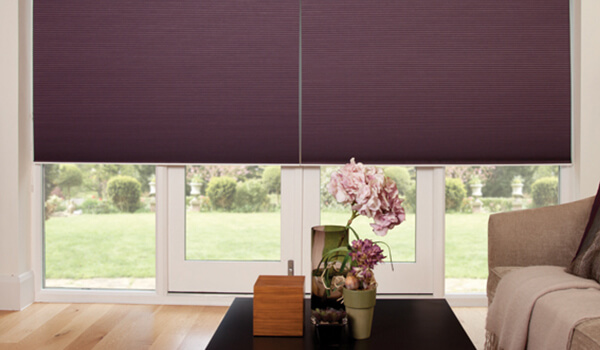 What are blackout blinds?
Blackout blinds or curtains are window shades that block out light. They can also be referred to as room darkening blinds, as some types of blind don't quite achieve a total blackout. 
Blackout blinds are generally made either from a thick material that already blocks out light, or with an additional blackout lining.
The most effective types of blackout blinds also fit snugly into or across your window, preventing light from coming into your room from the top or sides of the blinds.
Why do I need blackout blinds?
You don't always need blackout blinds in every situation, but there are a lot of good reasons to consider them as an option.
Blackout blinds for the bedroom are a particularly popular choice. Lots of people (myself included!) struggle to sleep without total blackout blinds keeping out all the light. 
That's particularly true if you live in an area where there are lots of lights, whether that's streetlamps, shop signs or neighbours with security lights.
They're also really popular for nurseries, and parents often choose blackout blinds for kids' bedrooms to help their little ones get off to sleep easier.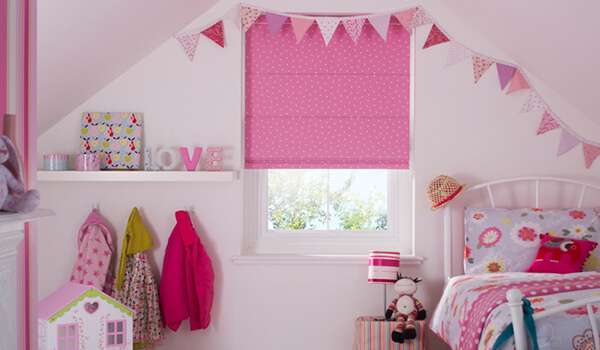 How effective are blackout blinds?
The effectiveness of your blackout blinds is going to depend on a few different things, mainly the type of blind you get, and the way that it's installed.
For a complete blackout blind, you'll need something that completely covers your window area, without big gaps at the sides or top.
That means that some blinds are going to be better than others if you're trying to keep your room dark.
Which blinds are best for blackout?
So, if not all blackout blinds are equal, which are actually the best? 
Blackout roller blinds
Roller blinds are generally one of the most popular types of blinds, and if you want blinds that completely block out light, they could be a good choice for you.
Roller blinds often come in blackout fabrics, or are easy to convert to blackout by having a blackout lining included, which will keep out the light behind the blind.
However, this style of blind usually lets light in over the top of the roller, which can be an issue if you're looking for total blackout roller blinds.
This can usually be fixed if you have cassette blackout blinds. The cassette covers the roller section, blocking out that strip of light across the top and keeping your room nice and dark.

Roman blackout blinds
Roman blinds are another popular choice, and just like roller blinds they're easy to convert with a blackout lining.
Blackout roman blinds can be hung a little higher than rollers, so they don't have the same issues with letting in light at the top of your window.
Venetian blackout blinds
Venetian blinds are often made from material that naturally blocks out light. Aluminium and wooden venetian blinds are obviously more solid than fabric blinds, so you don't need to think about getting extra blackout material for them.
However, because these blinds are slatted, it's very common for light to break through the slats and into the room. That's why total blackout venetian blinds are pretty hard to come by. 
Honeycomb blackout blinds
Also known as duette blackout blinds or concertina blackout blinds, honeycomb blinds are a good option if you're looking to keep the light out.
Most honeycomb blinds are blackout by default, due to the doubled material that creates their unique shape. That means you don't need to add a blackout lining to them.
They also tend to fit a window snugly (so long as they're properly installed!), so you're not left with big gaps at the top or down the sides where light can creep in.
Blackout vertical blinds
If you're looking for a blackout window solution, vertical blinds are probably not going to be your first choice. In a similar way to venetian blinds, vertical blinds are made up of slats, which can often let light slip through.
The do tend to have a larger overlap than venetian blinds, which can be slightly more effective, but they're also not made from blackout material by default. So if you're looking for vertical blackout blinds, you'll need to be careful about the material you choose.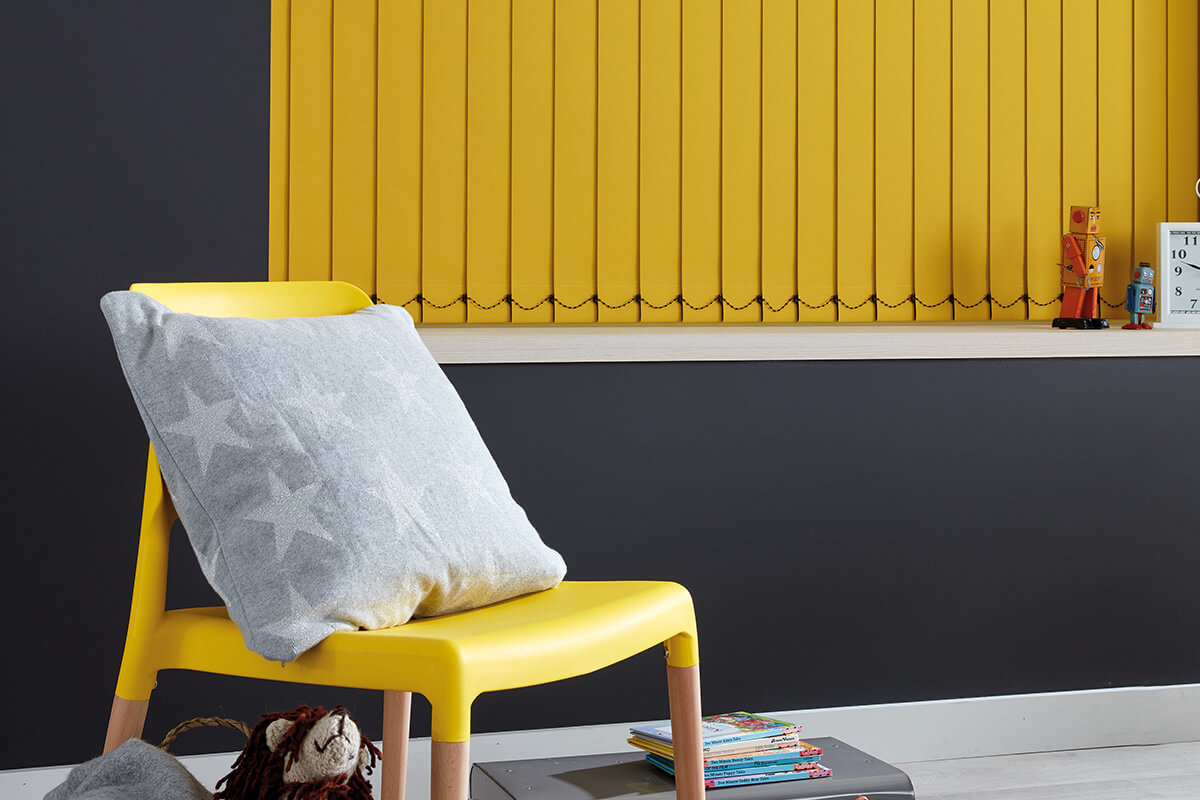 Blackout pleated blinds
Pleated blinds might not be an obvious choice for blackout, but they can actually be quite effective as well as stylish.
If you decide to go for pleated blinds, you will need to ensure they are made from a suitable blackout fabric or material. Adding a blackout lining isn't really an option for these blinds as you need to preserve the pleated edge, so make sure they are blackout before you order. 
Perfect fit blackout blind
Probably the best way to achieve total blackout conditions in your room, is to opt for blackout perfect fit blinds.
Perfect fit does exactly what it says – fits perfectly! So if you choose a perfect fit blind in a blackout material, you're ensuring that your window is completely covered. 
Perfect fit blinds are probably the best option for blackout blinds, because they fit within the window frame itself, making it nice and snug with very little room for gaps around the edge that can let the light through.
External blackout blinds
If you're looking for a luxury blackout blind option, an upcoming trend is external shading. This is a really modern option, and means that you have electric blackout blinds that you can control by remote or even your phone.
Having blinds on the outside of your windows is a great way to get a total blackout effect. Because the blinds are over the windows and not inside them, there is absolutely no space around the outside where light can creep in. 
This is a really popular option if you're interested in smart home solutions, or just want a really high end finish to your house.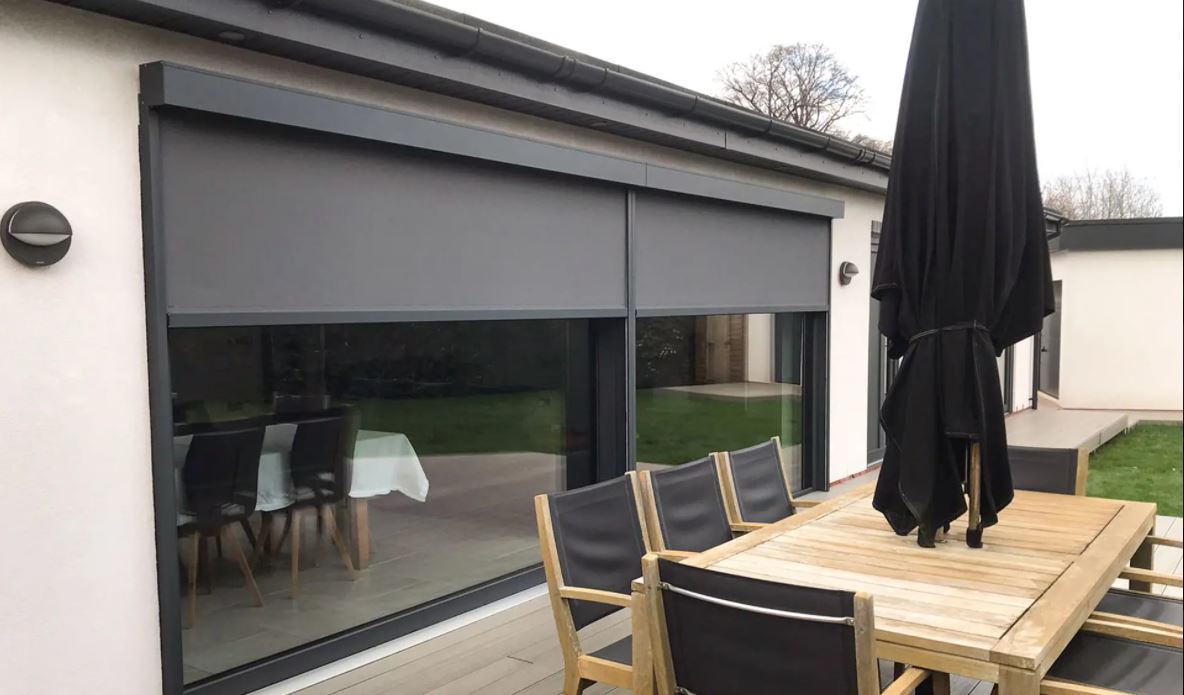 Blackout blinds and curtains
Another popular blackout option is doubling up your window shading by combining blackout blinds and curtains.
By having both shade types at your window, you don't need to worry so much about small strips of light coming through at the edges of your blinds. You can cover these with your curtains for complete blackout coverage.
Blackout shutter blinds
One thing that people are always on the lookout for is a balance between light control and style, and that's why so many of them are interested in blackout shutters.
Can you get blackout shutters?
Shutters are made from sturdy materials like wood, PVC, faux-wood or vinyl. Obviously these materials naturally keep out the light, but because they're not one solid piece there's a fairly high possibility that light will come in between the slats.
So, strictly speaking, there's no such thing as blackout shutters, but there are ways you can alter your shutters to make them better at keeping out the light.
How much light do shutters block?
A good set of plantations shutters that have been properly measured and installed should keep out quite a lot of light. 
It's unlikely you'll ever achieve total blackout, but the higher the quality of the shutters and the installation, the more likely you are to get close.
Can you put blackout blinds behind shutters?
This is actually a great way to achieve the look you want and still have the blackout option you need. Perfect fit blackout blinds are a great choice to have behind your shutters, to provide the light-blocking effect without getting in the way. 
Because they fit into the frame of your window, perfect fit blinds enable you to have plantation shutters as well, giving you the best of both worlds.

Are blackout blinds eco friendly?
One of the additional benefits of blackout blinds, is that they are more of a green option than many other types of blind. That's because they help prevent you losing heat through your windows, and on the flip side, keep the sunshine at bay when it's hot.
Are blackout blinds thermal?
While they're technically not thermal, blackout blinds still keep in a lot more heat than standard blinds because of the extra level of insulation from the blackout lining.
The extra lining is als great for keeping the sunshine off your windows, so you can use blackout blinds to keep your room cool in the summer, and warm in the winter. 
That means that blackout blinds are energy saving too, and prevents you from losing heat through your windows when it's cold.
What's the most eco friendly blackout blind?
If you're really concerned about your carbon footprint, or if you simply live in a house that gets quite chilly, one of the best options for you is the duette blackout blind.
These blinds insulate your windows with a double layer of fabric, with a pocket of air in between, giving them their honeycomb shape.
This air pocket provides an extra level of insulation in the same way as in a double glazed window. It's incredibly simple and surprisingly effective at keeping the heat in your room and not losing it through the windows.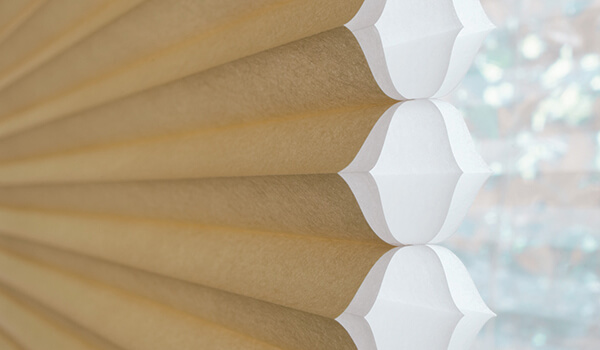 What blackout blinds are right for me?
When you're making a choice about the best blackout blinds for you, you need to balance out the level of blackout you want, and the finished look you're trying to achieve.
Our favourite options to get a great look and a blackout finish are:
External blackout blinds – nothing looks quite as stylish as these blinds, they're incredibly easy to use and they give you a total blackout effect

Plantation shutters and blackout blinds – this combination gives you a classic, elegant look, with the blinds behind providing the blackout solution

Perfect fit blackout blinds – affordable, easy to install, a huge range of designs, and fit so perfectly to your window frame that it blocks out all the light
At Leamington Blinds we supply and install almost every type of blackout blind you can imagine! So get in touch for a quote, and we'll help you decide what the best option is for your home.
Get a quote for Blackout Blinds
To receive your quote for installed, made to measure Blackout Blinds, fill out the form below.
21st December 2020