Having an energy efficient or green home is becoming a big factor in people's choices about their interior decor and design.
So when it comes to window coverings, energy efficiency and sustainability is a big trend for blinds and curtains in 2023.
So how can your window shades help you reduce your carbon footprint? And what are the best options if you want to make the eco friendly choice?
How to choose eco friendly blinds
There are few different considerations when you're looking to stay green with your choice of window covering.
One option is to look for energy efficiency.
Heat that's wasted through your windows is a huge source of energy loss in your home. According to Energy.gov, you can lose up to 30% of heat through your windows.
So being able to dampen that effect and keep the warmth in means that you don't need the heating on so high or so long. It saves energy, but helps you keep your heating bills down too – a win-win!
The flip side of that is the house getting too warm when it's sunny outside. There are a range of blinds and shades that can reduce the sun's glare on your windows, meaning it's easier to keep cool. Something that can be particularly helpful if you've got a conservatory.
Another thing to consider is sustainability.
Choosing a sustainable option such as real wood shutters, or roller blinds made from natural materials can also be a good way to stay green when choosing blinds.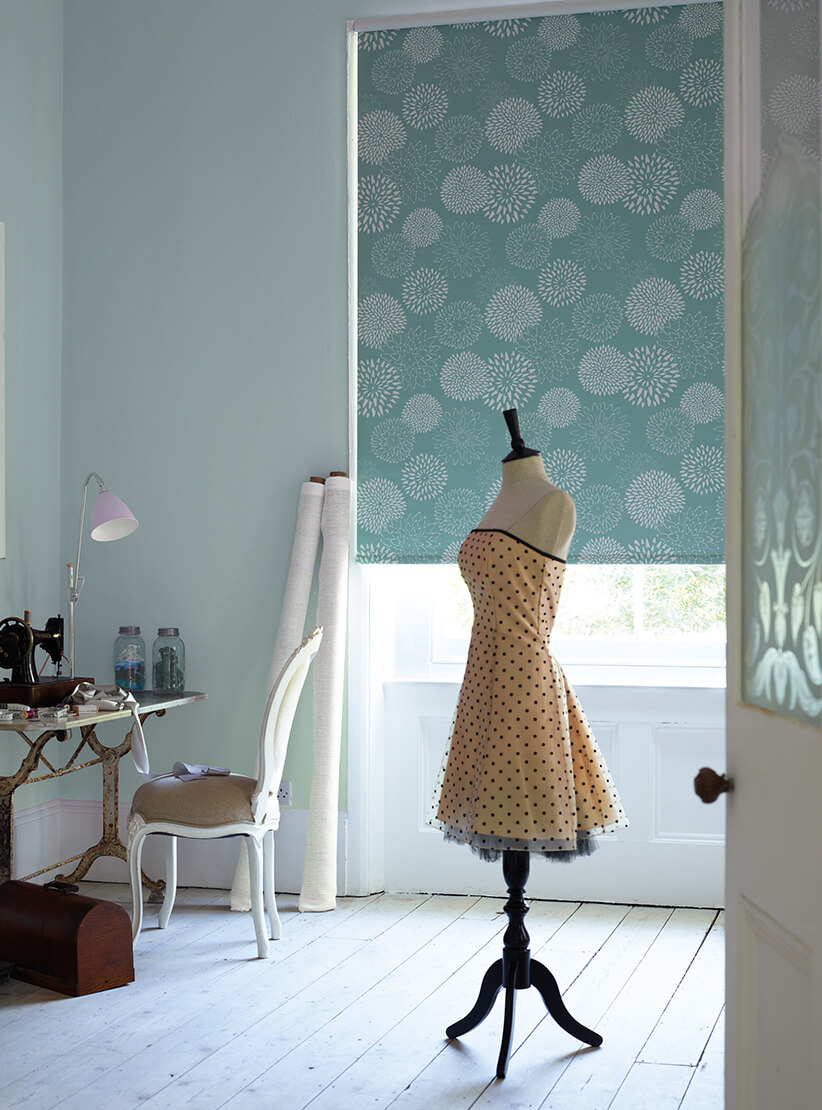 The best insulating blinds
Finding blinds that will help keep the heat in your home isn't too big a challenge – after all, any type of window covering is better than nothing at all!
But some of the best blinds for insulation include blackout blinds, honeycomb or duette blinds.
Insulating blackout blinds
Blackout blinds are a good choice if you're looking for energy saving qualities. That's because they tend to be made of thicker materials, and often come with thermal lining.
There's also a great choice of different blackout blind styles, so whether you're after insulated roller blinds, roman or pleated blind options, this is one of the most versatile blind features.
Insulated shutters
Shutters can be a difficult choice if you're looking for an insulating window shade. Shutters are usually made of a thick, sturdy material like real wood or PVC, which can provide a more dense barrier at the window.
However, the louvred slats in your shutters are highly likely to have gaps between them that can let cold air in. That really reduces any energy saving qualities they might have.
Energy efficient venetian and vertical blinds
Much like shutters, both venetian and vertical blinds have the same problems when it comes to providing a good level of insulation at your windows.
That's because they are also made up of slats, which can easily let air flow between them. You can mitigate that by using a blackout material for vertical blinds, or choosing a more robust material like faux wood for your venetian blinds.
But they're still not the best choice if energy efficiency is a big factor for you.
The best blinds for thermal insulation – honeycomb blinds
Honeycomb or duette blinds are brilliant for saving energy, in fact that's exactly what they're made for.
The honeycomb structure of these cellular blinds creates pockets of air that provide an extra level of insulation at the window.
This barrier is great for keeping the heat in your room when it's cold, but also to block the heat from outdoors in the summer.
That makes duette our favourite choice for insulated window blinds.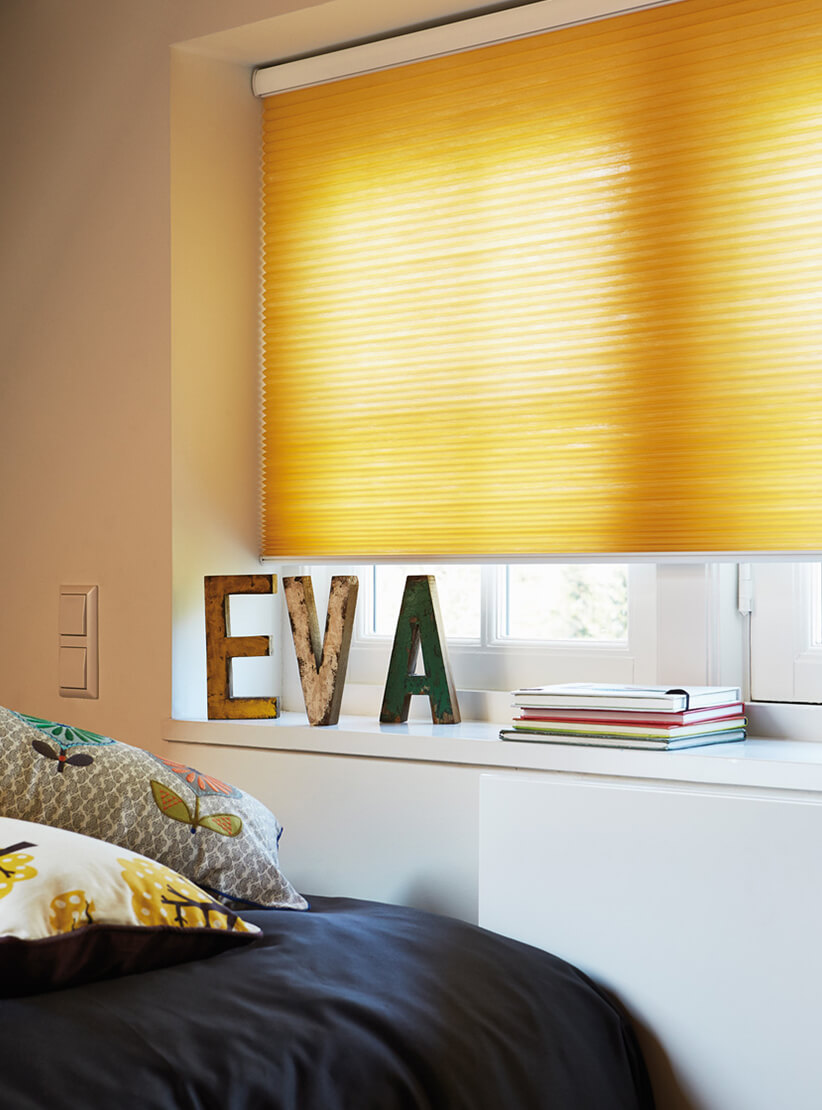 Blinds that prevent glare
An overlooked factor in looking for energy efficient or eco friendly blinds, is the energy coming in through your windows when the sun's out.
That means you're expending energy to cool your rooms, whether you're lucky enough to have air conditioning, or even if you're just running a fan.
So if you want to reduce your energy bill, or want to have a greener home, it's also important to think about how you protect your windows from the sun.
Energy saving blackout blinds
We've already talked about how blackout blinds keep the warmth in. But they're also very good at keeping the sunshine out.
By blocking out more light, blackout blinds prevent heat building up in your room, so they are a good option – particularly for velux and conservatory window blinds, or blinds for french doors, where you're likely to have a lot of light coming through.
Perfect fit blackout blinds are a great choice for these types of windows and doors, as you can have the material coming right up to the edge of the window for the best coverage.
Day and night blinds
Another good option for controlling the light levels in your room, are day and night, or vision blinds.
The great thing about day and night blinds, is that they can give you a lot more control over the light levels in your room.
Because the different materials let in different levels of light, you can create the perfect balance between keeping the main glare of the sun out of the room, but still accessing some natural light.
Exterior blinds
If you're really serious about keeping the glare off your windows, then by far the best blinds for you are going to be external blinds.
By having the blinds on the outside of your windows, you're stopping the sunshine before it even touches the glass.
This can keep your room up to ten degrees cooler!
Exterior blinds are very versatile, coming in a wide range of colours and styles, and they can even be fitted with monitors to automatically adjust to the light and heat levels in your home.
When it comes to protecting your rooms from the glare of the sun, they are by far the most effective option.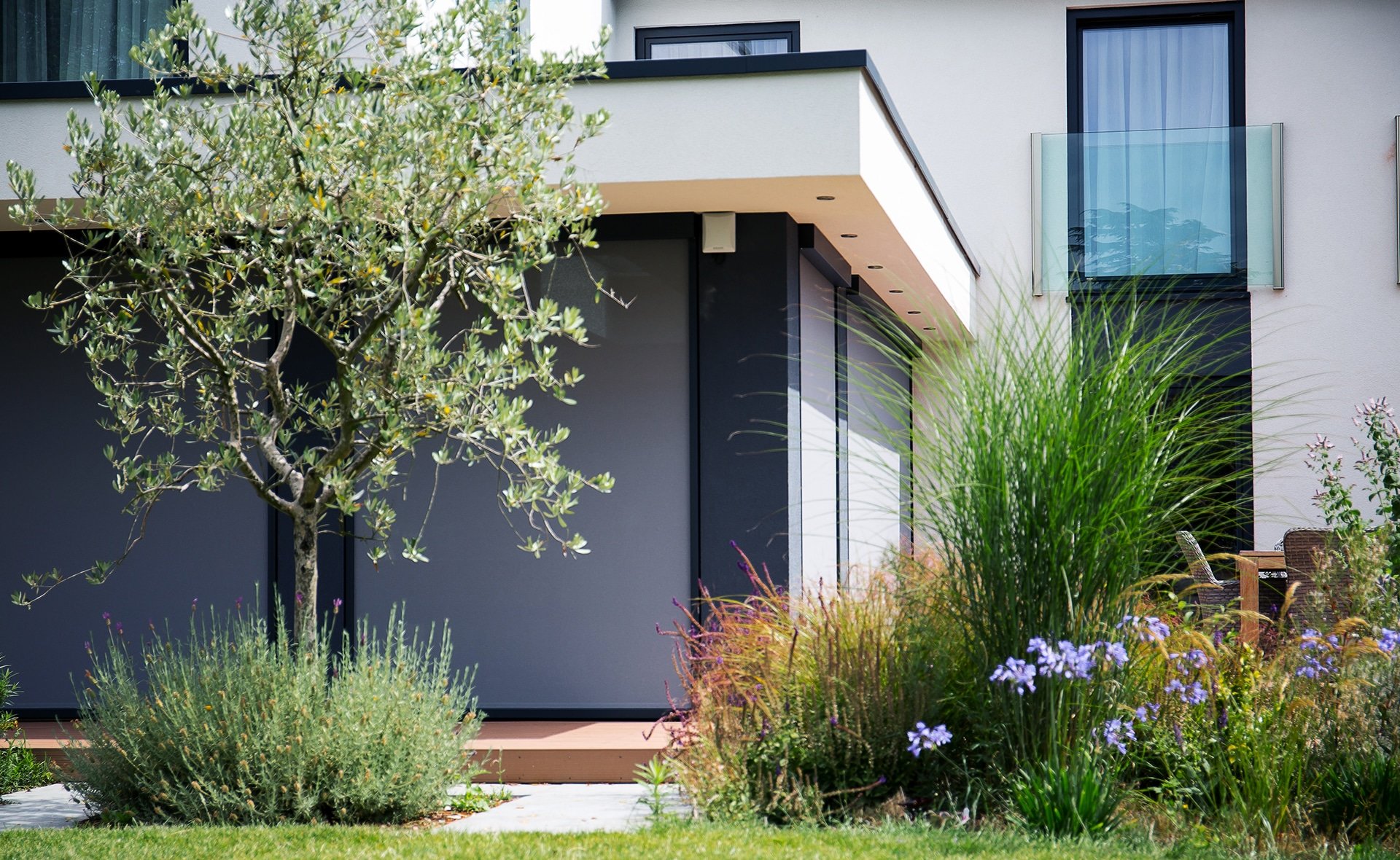 Sustainable blinds
Energy efficiency isn't the only thing to consider when looking for eco friendly blinds and shutter. You also need to consider what your window coverings are made from, and whether they can be recycled.
Sustainable wooden blinds and shutters
When you're looking at sustainability, natural wood blinds and shutters can be a really good option. For many people, it's the deciding factor when choosing between real and faux wood shutters.
Of course, not all wood is responsibly sourced, so if you're considering hardwood blinds or shutters to be environmentally friendly, you should ask your supplier where the materials have come from.
Natural material blinds
Another option if you're looking for sustainably sourced blinds, is to pick blinds made from natural materials.
Think about cotton or linen blind options, which can come in a variety of styles from your classic roller, to pleated or roman blinds.
These materials are natural, not synthetic, so can be a good option if you're looking for sustainability.
The best energy saving window blinds
When you're choosing environmentally friendly window shades, our suggestions are to choose cellular blinds for the best insulation, external roller blinds if you're concerned with glare, and classic cotton roller blinds if you want to stay sustainable.
But with so many different options and considerations when you're looking to stay green, you can choose the perfect style for you.
---
Enquire online
If you're looking for a little more advice, Leamington Blinds are here to help! Just fill out the form and we can help you decide what blinds or shutters will be best for your home.
"*" indicates required fields