What are electric blinds? Electric blinds are simply blinds which are operated by an electric motor rather than by hand. Also referred to as power or motorised blinds, the great advantage is that you don't have to open and close them manually. This can be incredibly helpful if your blinds are in an awkward place where you have to stretch to reach the operating cord, or if you have mobility or sight problems.
Electric or motorised blinds are now one of the UK's most popular types of blind. Nevertheless, many people still dismiss them as an option, thinking they might be too expensive to buy, or too complicated to install and operate.
In truth, electric window blinds can be a highly practical addition to your home, not just for the luxury and convenience, but surprisingly because they can actually be an incredibly good energy efficient window covering solution.
Terms like electric, electronic, automatic, motorised and smart blinds are often used interchangeably, but in fact, they do have slightly different meanings. That's why our experts here at Leamington Blinds have created this helpful electric blinds buying guide that explains the differences between the several types of motorised blinds, the pros and cons of each and our list of the 5 top electric blinds benefits.
We will talk about:
Electric & Motorised Blinds
Automatic Blinds
Remote Control Blinds
Smart Blinds
Different Types of Electric Blinds – from Roller to Roman
And if you need any additional information, or want some help deciding if electric blinds are right for you, Get in Touch with our friendly team for some free advice.
All About Electric & Motorised Blinds
While automatic and smart blinds are also electric, we typically refer to electric or motorised blinds as the simplest style of power blinds. That means they use an electric powered motor to close and open.
Electric blinds are normally controlled by a switch on the wall, or by a remote control, making them really easy to install and operate.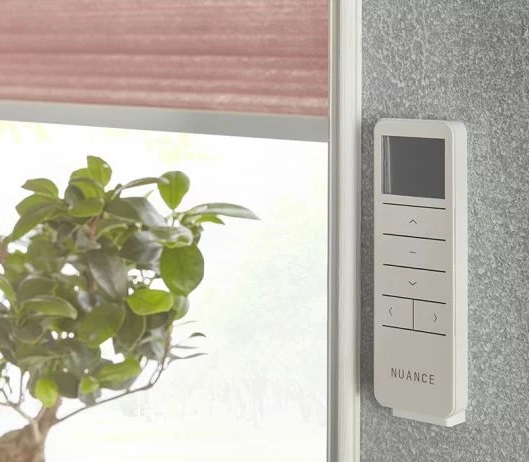 Do electric blinds use a lot of electricity?
Electric powered blinds are extremely energy efficient and use very little power to operate. They can be powered in several different ways, but generally they are operated by disposable or rechargeable batteries, or wired to run on mains electricity.
External blinds may even use solar powered controls, but internal blinds typically use mains or battery power.
Electric blinds installation cost
For Warwickshire based customers who buy any type of electric blinds from Leamington Blinds the price you pay will include our expert advice, our onsite measuring service and free installation, as well as a minimum of 3 years warranty on all products and workmanship.
The electric blinds cost includes any electrical installations for your motorised blinds, making them a surprisingly affordable option.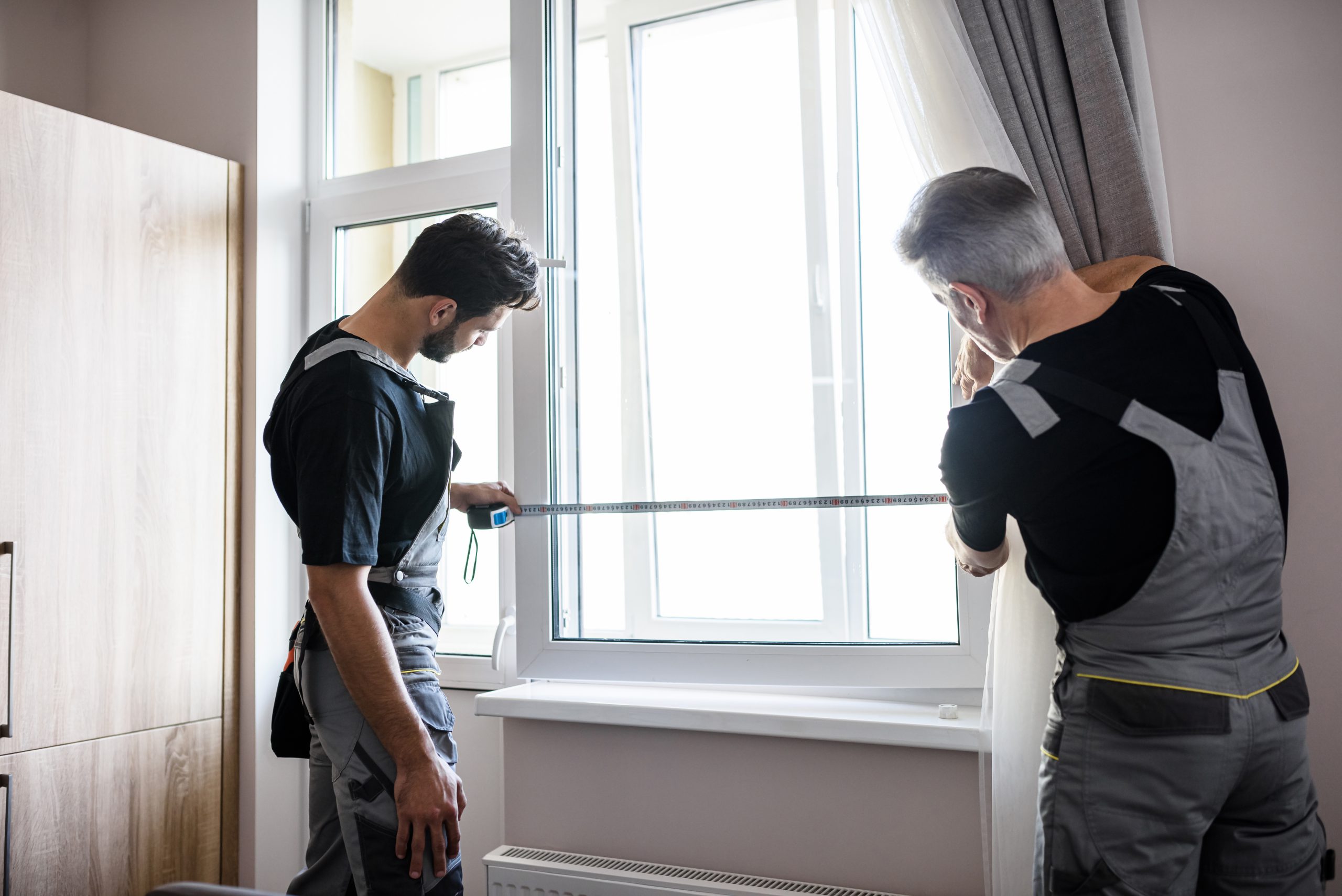 What are automatic blinds?
As with an electric blind, automatic window blinds are driven by electric powered motors, but the difference is they can be programmed to operate automatically.
You can program them to open and close at specific times, even while you're away from home, allowing you to match the window coverings to your specific needs for security, privacy, natural light and temperature control.
Are automatic blinds worth it?
Besides the obvious convenience benefits, automatic blinds can actually save you money by automatically adjusting your blinds with rising or falling temperatures.
By giving you the ability to regulate the temperature in your home by blocking the sun at certain times of the day, or letting sunlight in at other times helps reduce the amount of heating or air conditioning you might need – thereby increasing your home's energy efficiency.
Remote control blinds
How do remote control blinds work? Remote control blinds are electric blinds that are operated by a hand held remote control, as opposed to a wall switch or push button. You can raise or lower your blinds from anywhere within range of the sensor.
This function is really helpful if you have roof lantern blinds, skylight blinds, conservatory roof blinds, high level Velux window blinds – or just windows that are particularly hard to reach.
Remote control blinds are also fantastic for older people or those with disabilities, mobility issues or visual impairments, as you don't need to find or reach for cords in order to adjust your blinds.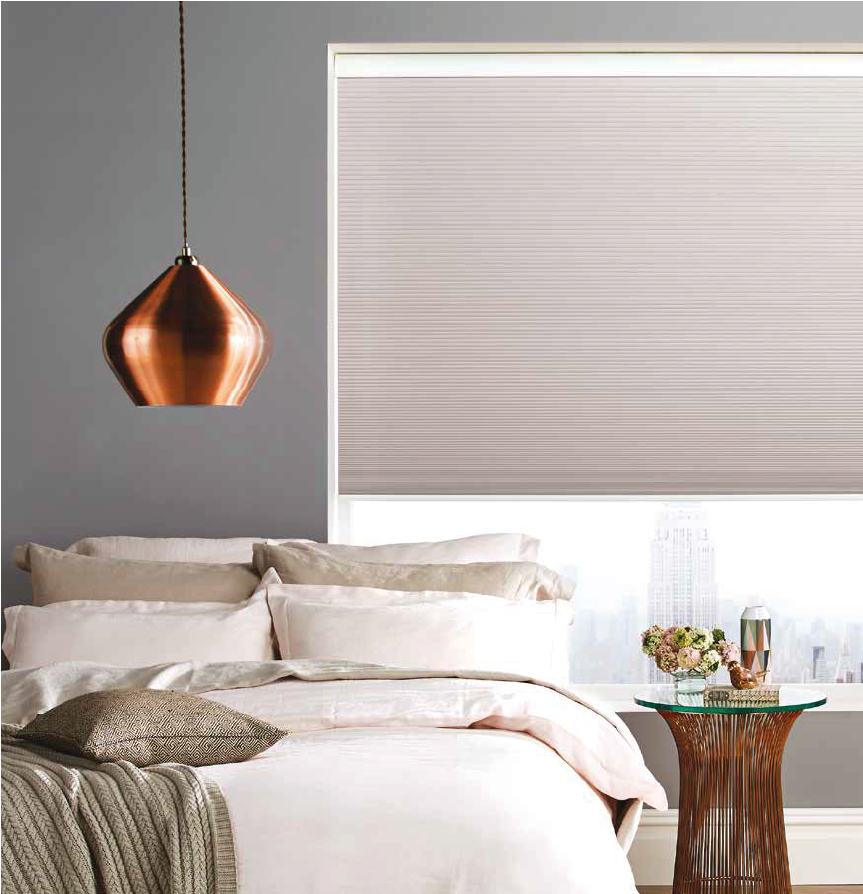 Smart Blinds
Smart blinds operate on a similar principle, but unlike standard remote blinds, you don't need to keep yet another remote control next to your sofa!
Smart blinds are linked to the internet and you simply operate them through your phone via an app. Guess what, that means you can open and close your shades when still at work, or even if you're on holiday halfway around the world!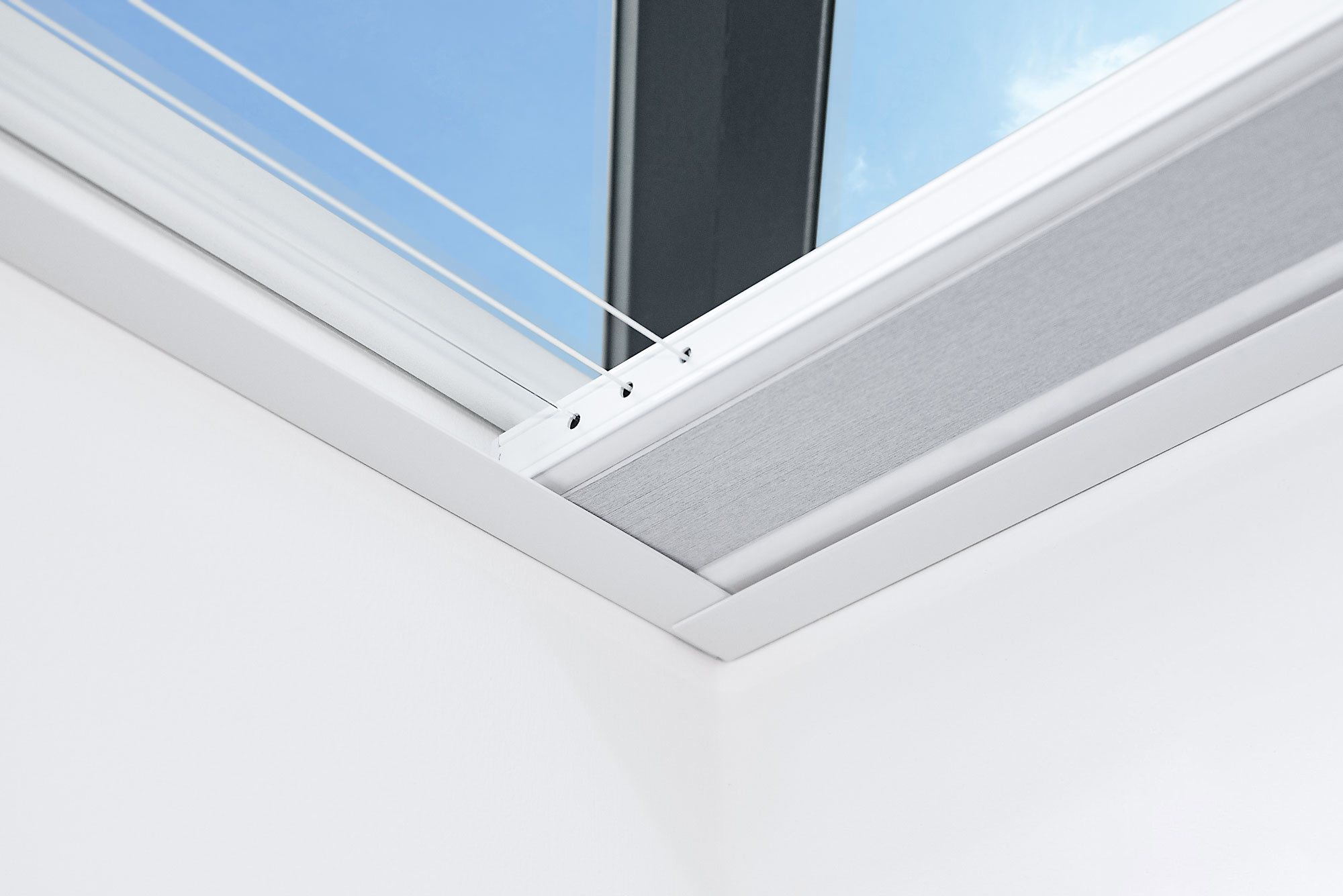 How do smart blinds work?
Remote control blinds have been popular for quite a few years now, but smart blinds are absolutely taking motorised blinds to the next level, and we expect them to become even more popular over the next few years as homes become smarter.
You can choose to operate your motorised blinds by a wall switch, a push button or by using a remote control. But if you really want cutting-edge luxury electric blinds – and the ultimate in convenience – the latest technology lets you operate smart blinds by an app, or even voice control.
As with all types of electric blinds, smart blinds have a concealed motor in the roller or headrail connected to a power source. Smart blind technology through a phone app is simply the method with which you control them.
Once you use the blinds app you will instantly appreciate the convenience of automated control for your blinds as the app offers endless possibilities to operate everything quickly and easily via your smartphone, tablet or even with a voice assistant or smart home hub. Even programming and automating them is easy, so the opening of your window coverings are perfectly aligned to your needs or desires.
"As smart homes become more and more integrated with everyday appliances, we predict that smart blinds will too become an essential part of modern luxury home furnishings."
What are the benefits of electric blinds?
Are electric blinds worth it? There are plenty of reasons why electric blinds could be the right option for you, including:
Convenience – Probably the most lauded benefit of electric blinds is the ultimate convenience they offer as operation just couldn't be any easier. This is of particular benefit if you have windows which are hard to reach or are particularly large, making manual operation more laborious.
Thermal control – Electric blinds help you achieve complete control over the optimal temperature in your home as windows are a major source of heat gain and loss. Your blinds will provide an extra layer of insulation when used with a well thought out schedule for opening and closing.
Energy efficiency – Many styles of motorised blind are available in energy efficient styles such as Duette cellular blinds or blackout-lined roller blinds. The improved thermal control created with automatic programming will aid energy efficiency in your home, reducing the need for heating, cooling fans or air con.
Security – The scheduling of opening and closing for automatic electric blinds can also improve home security by giving the appearance that someone is home.
Safety – The use of cordless operation for remote controlled or smart blinds make them a safer option if you have young children or pets. Additionally, older or less physically able people will greatly appreciate the painless operation that motorised blinds offer.
Types of electric blinds
Leamington Blinds offer a huge range of electric window blinds and electric blinds for bifold doors in many different styles and designs – almost any style of blinds can be turned into a motorised blind, here are some of our most popular options:
Perfect fit electric blinds are a fantastic and versatile choice which is very popular for windows, conservatories and even doors too. With no need to screw them in, these no-drill blinds are quick and easy to install as well as being great to look at!
One of the most popular styles, electric roller blinds come in a fantastic range of materials and designs. The best thing about roller blinds is that there's so much choice – from waterproof roller blinds for your kitchen or bathroom, to funky designs for kids' bedrooms, there's sure to be a style to suit everyone and every room!
When you're looking for a quality look and luxurious finish, you can't go wrong with roman electric blinds as they offer a beautiful finish to every room – but we think they are particularly stunning on large or sash windows. We always have a wonderful range of roman blind styles available, with rich colours and patterns to complement any design style.
Venetian electric blinds give you incredible control over privacy and light. They're just ideal for offices, bedrooms, living rooms, kitchens and more besides. They also come in a variety of colours, materials and finishes including aluminium, real natural wood or faux wood for the perfect finish.
Whether you call them Pleated, Duette, Cellular or Honeycomb Blinds, one thing for sure is that these are a brilliant option for electric blinds. Combining energy efficient Duette blinds with smart controls means you can effortlessly keep your home insulated all year round.
Vertical electric blinds are an incredibly popular choice for commercial settings, offices and homes alike – and come in a great range of colours and styles, but the wonderful thing is their versatility. They're a superb choice if you have French doors, patio doors or tall windows and want more privacy or light control – and with automatic electric vertical blinds you can even set a timer for maximum efficiency!
Electric blinds are not just designed for indoors, external blinds are a fantastic way to keep your home insulated, protected from solar heat and looking absolutely fantastic too. We have a superb range of motorised outdoor blinds that will simply transform your home. External blinds are always motorised and are therefore a popular choice for smart homes where the blinds, together with lighting, heating and even music can be controlled by a single app on a phone.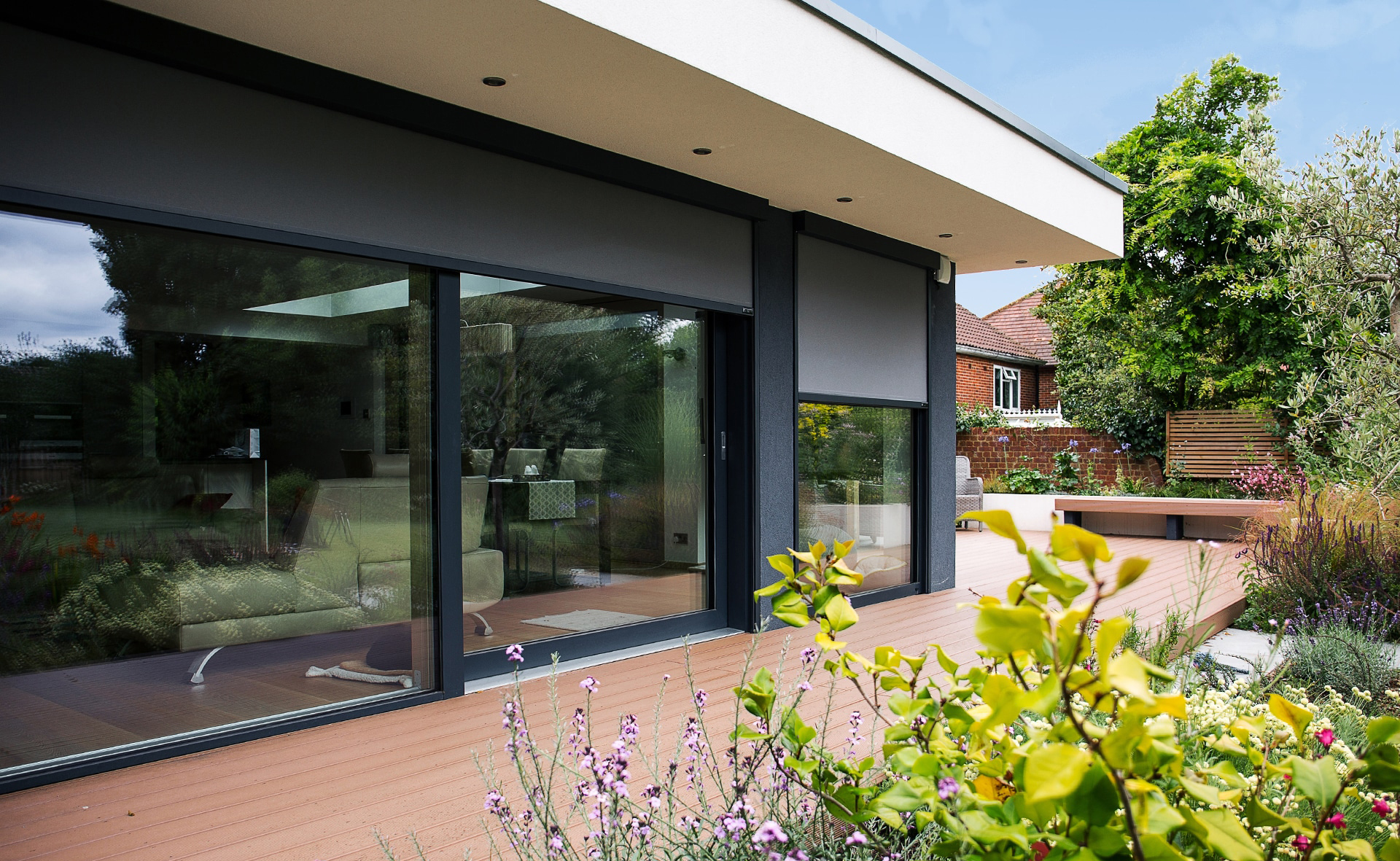 Triangular and gable windows are always a stunning feature for any home – which means you also need stunning blinds to match! We have a beautiful range of electric blinds for triangular windows, custom made to fit perfectly. Also known as apex window electric blinds or gable end electric blinds, these gorgeous blinds come in a range of colours & designs with a choice of control options – including smart controls which you can use through Google Nest or Amazon Alexa by voice commands or with an app.
Roof lantern electric blinds are ideal for skylights, orangeries & roof windows and are a beautiful touch to any feature or space. Having electric roof lantern blinds means you can manage your privacy and the light effortlessly by remote control or even with your phone.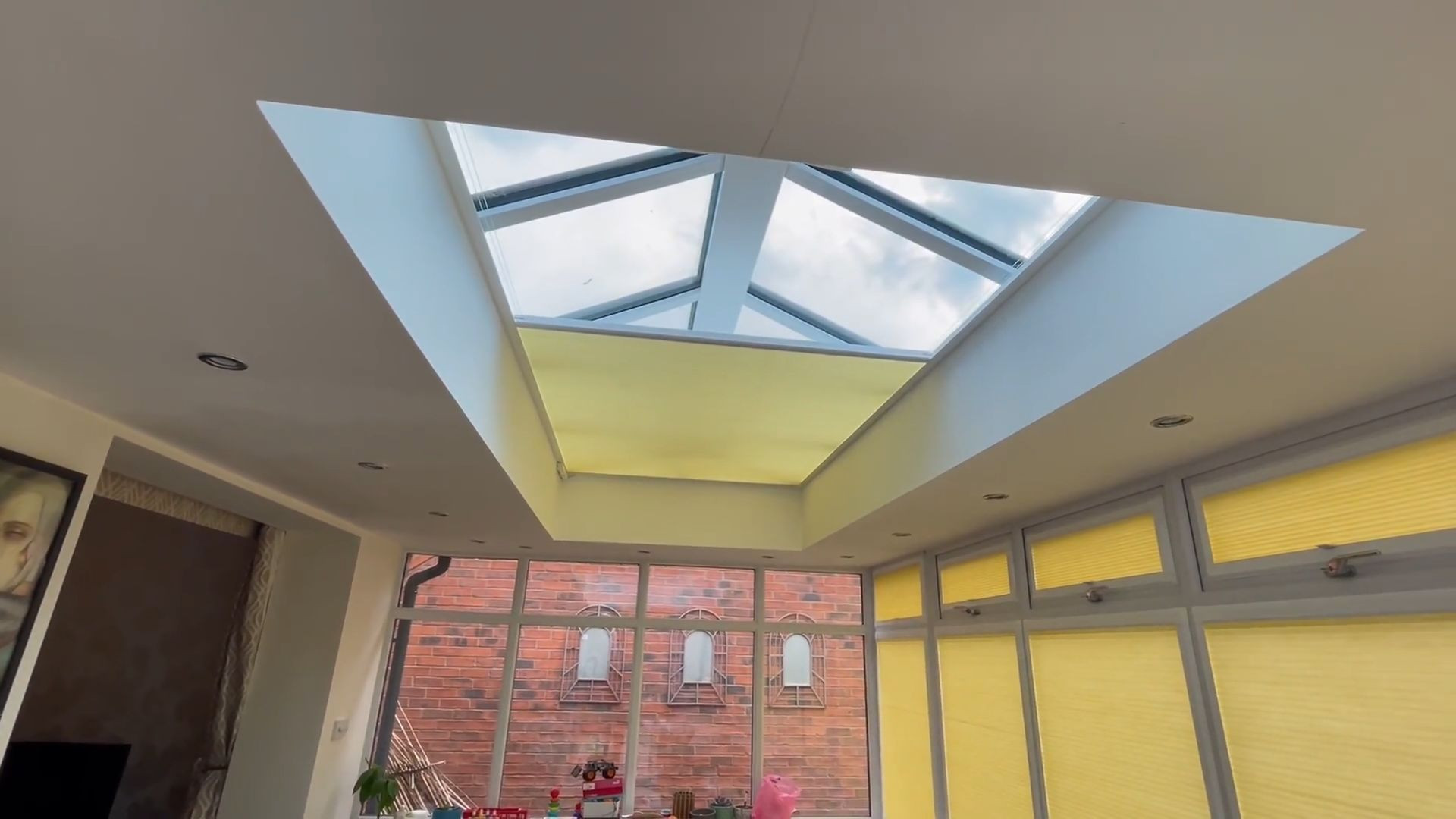 Velux electric blinds
VELUX windows are now a prerequisite in most loft spaces and extensions and much of the time they are located in high roof spaces that are difficult to reach. In these situations Velux electric blinds make it easy to control your indoor climate and ensure a healthy indoor environment.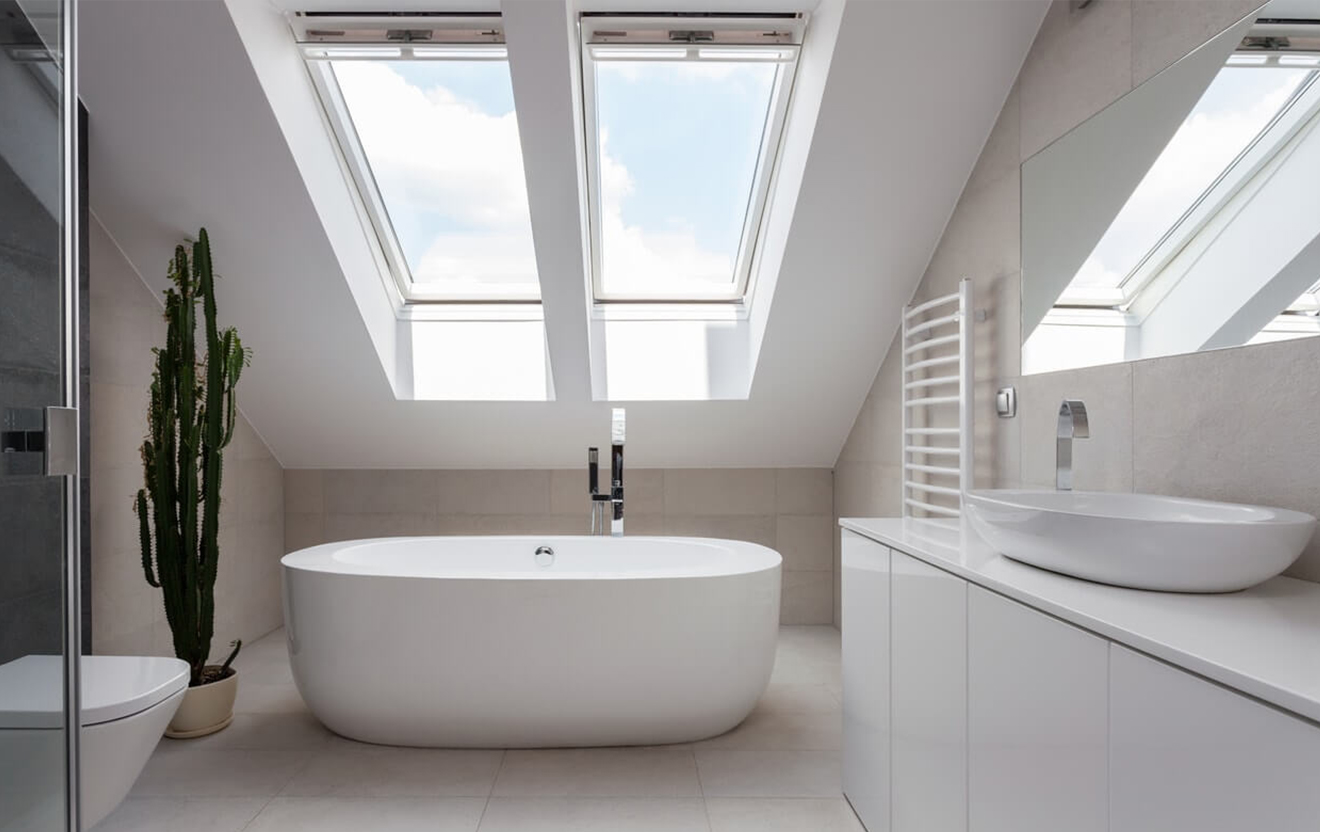 Why should you choose electric blinds?
Looking for "blinds for luxury homes"? For effortless fingertip control, choose from our innovative range of motorised blinds and discover how electric blinds for windows of all types can not only transform the look and feel of your home, but your lifestyle too.
If you're not sure what style or type of electric blind will be best for you, just Get in Touch with our friendly team for some advice. Leamington Blinds are expert automated blinds installers and can help you find exactly what you need.