How do you choose between normal roller blinds and zero deflection blinds? We'll show you all the key differences between the two, including side by side pictures so you can compare them.
We'll talk about:
What does zero deflection mean?

Roller blinds vs zero deflection blinds for wide windows

Difference in tube size

Easy automation

How to choose between zero deflection and standard roller blinds
Choosing the right roller blinds will be easy once you know all the key facts about zero deflection technology.
What does zero deflection mean?
When it comes to blinds, zero deflection simply means blinds that don't sag in the middle. 
The longer the tube on a standard roller blind, the more likely that it will dip in the middle – at the furthest point from where it's anchored.
This dip means that your lovely blind material isn't being held at the same height all the way across your window. And this difference makes a ripple effect across the fabric, instead of a nice, smooth finish.
But a zero deflection blind has a reinforced roller that doesn't dip in the middle, meaning you can get wider blinds with no dipping, sagging or ripples.
Roller blinds vs zero deflection blinds for wide windows
When you are looking for stylish blinds for sliding glass doors, french doors or patio windows, zero deflection blinds are the perfect choice.
Standard roller blinds often require you to have multiple rollers, leaving a gap between them where light can come in. Or, if you opt for a single standard roller blind, it may well dip in the middle, putting unsightly creases through your blind instead of a beautiful smooth finish.
But a zero deflection blind with Zoomtech technology eliminates both these issues, with a slimline reinforced tube that can span your entire window with no dips, sagging or deflection!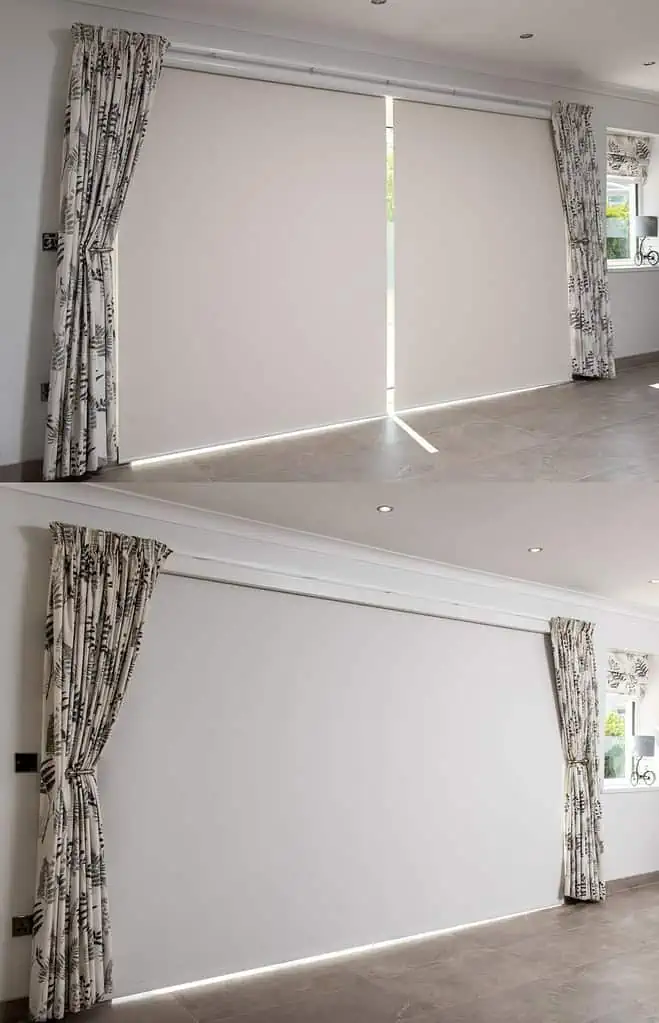 Difference in tube size
You may not think about tube size when it comes to roller blinds, but it can make a huge difference to the finished look of your windows.
A tube with a wider radius takes up much more room at the top of your window, leaving you needing a wide cassette or concealment box. 
If you choose to go for an exposed roller it can be even more overt, leaving a big gap at the top of your window when the roller is down, letting in light and looking a little unfinished.
But the Evolve Zero blind has only a 44mm tube, compared to a standard roller's 65mm. That's more than 2cm less roller!
The slimline roller for Umbra's zero deflection blinds means that you get a more stylish, modern and discrete finish to your windows, needing only a small concealment space.
Easy automation
Not only does the smaller tube make your blinds more elegant, it also makes automation even simpler.
With a smaller tube, you need a smaller motor to get your blinds moving, meaning it's quieter, and can be battery powered rather than hardwired if needed.
Mains-powered controls are still the best way to automate your blinds, but a quiet, subtle battery-powered motor can be a great alternative if hardwiring is not an option for you.
However your blind motor is powered, automation means that you can raise and lower your blinds easily from wall controls, a remote, an app or even through a smart home hub.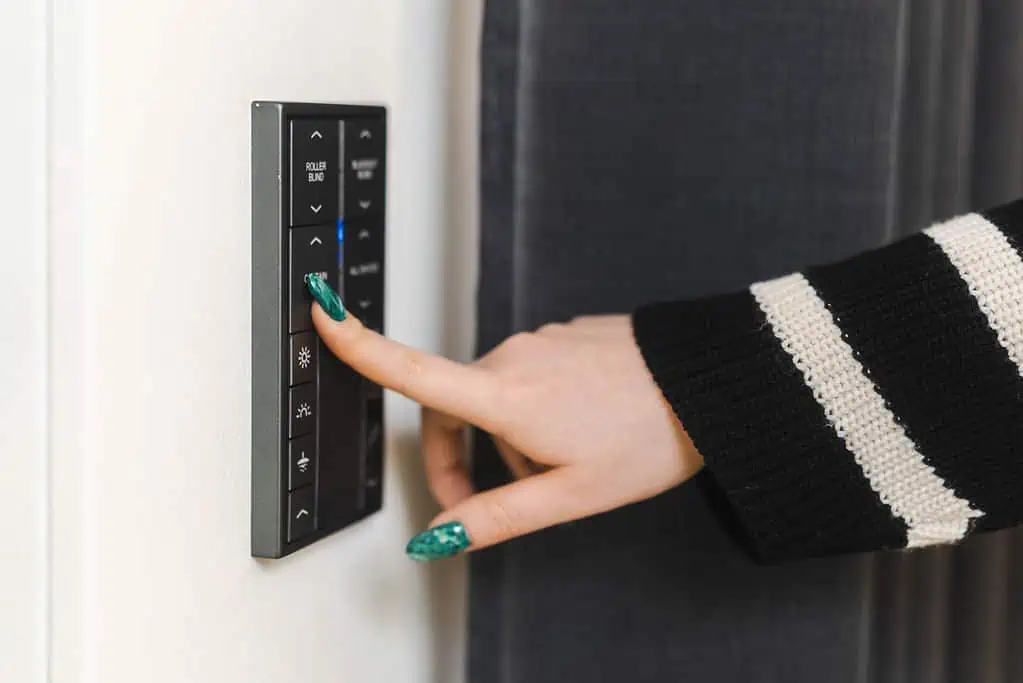 How to choose between zero deflection and standard roller blinds
Still not sure whether zero deflection blinds are right for you? Here's a few quick questions to see if they're what you need:
Are you looking for blinds for a long, wide window or patio doors over 2m long?

Do you want to ensure a perfect fit with no dipping or sagging?

Do you want a single blind to cover your windows, rather than several?

Do you want automation as standard?

Do you want a smaller, more discrete roller?
If you've answered "yes" to most of these questions, then zero deflection could be the perfect choice for you!
Why choose Umbra Evolve Zero blinds?
If you know you need zero deflection blinds, then the Umbra Evolve Zero range is quite simply the best product available.
Only the Umbra Evolve Zero blind comes with Zoomtech technology, our ultra-slim tube, and a fantastic range of modern fabrics, colours and designs for a perfect finish for your home.
Ready to get your own made-to-measure zero deflection blinds? Contact Leamington Blinds today to get your quote!