Bifold and french doors are becoming increasingly popular in many homes, but many people struggle to know what to dress them with. You want to choose blinds that complement your home and remain durable over many years. With so many different types of blinds available, it can be hard to know which best suit your needs. In this article, we've compiled a list of the best blinds for your bifold and french doors to help make your choice that little bit easier.
The Best Blinds For BiFold Doors/French Doors:
1. Roman Blinds
Roman blinds are an obvious choice for many people due to the variety of fabrics available. The virtually limitless design options give you total autonomy and means these blinds will suit any decor. Roman blinds have been around for centuries, ever since the Romans wanted to keep their buildings dust free after construction.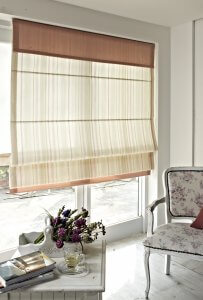 The style and design are so likeable that they have remained one of the most popular blind styles, due to being reminiscent of how curtains look, but can be pulled completely out the way without giving a bulky appearance. Roman blinds will complement your bifold and French doors by offering dimension to your windows without making it hard for you to open your doors.
2. Venetian Blinds
Venetian blinds are a classic go-to for many homeowners. They're easy to operate and simple to clean – it's easy to see why many people opt for this style. Versatile and useful for any window size, Venetian blinds are low maintenance, so are a good choice for busy households.
The horizontal slats can be opened or closed to any extent desired, offering complete control over light filtration. It's important to get blinds that can adapt to different light levels, especially as the British weather can be wildly unpredictable at times! We recommend using PVC Venetian blinds or faux wooden Venetian blinds for easier installation and operation.
3. Perfect Fit Blinds
We highly recommend having bespoke blinds fitted into the window recess. They lack the need for screws or nails, making them easy to install and offering a seamless aesthetic. Perfect Fit blinds are ideal for a minimalistic decor and you won't have to move them out the way when opening or closing the doors.
A popular choice with our customers, the Perfect Fit blinds offer extra protection from the sunlight, preserving items in the room which may be damaged by harsh sunlight – such as fabrics and wallpaper.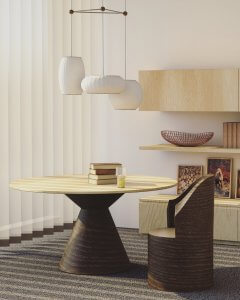 4. Vertical Blinds
A classic blind for a contemporary style, vertical blinds are a popular choice for many people. They are often a cost-effective solution to any large windows and can be pulled back so they don't obstruct the view – although vertical blinds can only be placed one door which will open outwards, so they won't damage the fitting.
You can get vertical blinds in a variety of colours, as well as the option to get blackout vertical blinds, which helps you control the light even better.
5. Motorised Blinds
Automatic blinds are a great feature to implement in any home and are bound to impress your guests every time! With options to connect your Alexa to your blinds, operating the blinds become even easier, as wherever you are in the home you can change the height of the blinds for the optimum light control at your convenience.
We highly recommend these blinds for homes with children or elderly residents, as they are easier for people with limited mobility. This is also true for hard to reach windows that are high up or behind furniture. By having them installed in the bifold or French doors, it makes for easier operation, as larger windows require more work when changing their level manually. To sit back and relax in the comfort of your own home – get motorised blinds installed!
Leamington Blinds are committed to ensuring you receive only the best quality blinds that will last for years to come. Our experienced team are there to help you find the perfect blinds for your bifold and French doors. For more information, please don't hesitate to get in touch!