When you're trying to find the perfect shades for your home, blinds and shutters are two of the most popular types of window treatment you can find.
But which one is right for you?
In this guide, we'll talk about the benefits of window shutters and blinds as well as the negatives, looking at all the key details that might matter to you, including:
Shutters vs blinds: the basics
Cost of shutters vs blinds
Are blinds or shutters better for blackout?
Are shutters or blinds easier to install?
Blinds or shutters for shaped windows?
Best rooms for shutters and blinds
Wooden blinds: the best of blinds and shutters
Shutters or blinds – what's best for you?
So, by the end of this article you should have all the information you need to make the right choice about whether blinds or shutters are going to be the perfect choice for your home.
Shutters vs blinds: the basics
When you're looking for shades for your doors or windows, blinds and shutters are popular choices.
There are lots of different types of shutters, including plantation shutters and cafe style shutters. They also come in a range of different finishes and materials, including wooden or faux-wood, vinyl or pvc.
Shutters are a solid structure that you fit to the inside of your window frames. They have louvered slats which can be tilted for more or less light exposure, and they can be folded back from the windows completely when you want to allow lots of light in the room.
Blinds can be made of lots of different materials and come in a huge range of different styles. The most common types you'll see are material blinds like roller or roman blinds, but you'll also find venetian blinds which come in aluminium and wood.
Blinds can be fixed within the window frame or the window recess and can be raised and lowered, or moved to the side when you want to let more light in.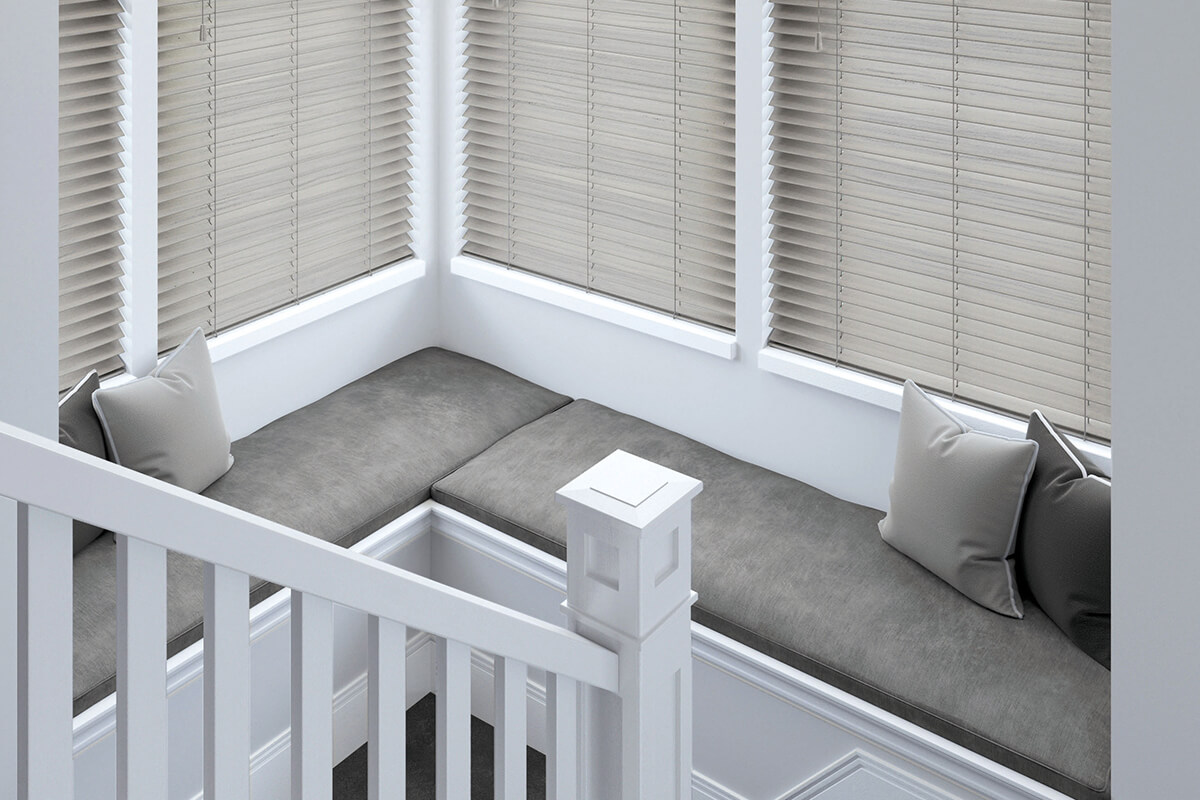 Cost of shutters vs blinds
The first big question about whether blinds or shutters are right for you is cost. How much does it cost to install shutters as opposed to blinds? And what is the average cost of the shutters themselves?
Shutter prices do vary quite a bit depending on the material. PVC or MDF shutters tend to be more affordable than real wood options.
Generally speaking, wooden shutters are more expensive than most blinds, and shutter installation usually costs more too.
Shutters are also pretty difficult to buy off the shelf. In order to get ones that perfectly fit, you're much better off getting an expert in to measure up and fit them for you. Then you can get shutters built to your exact requirements, whatever the shape and size of your windows.
But despite the additional cost, plantation shutters do often add value to a house. They're a popular feature that can make your house more attractive inside and out.
But blinds can get pricey too, especially if you're booking for unique blinds to fit in a difficult space, or want to have smart or motorised blinds.
So, in short: the average cost of wooden shutters is more expensive than most blinds, especially when you include install costs, but with shutters you might recoup some of that cost in added house value if you decide to sell.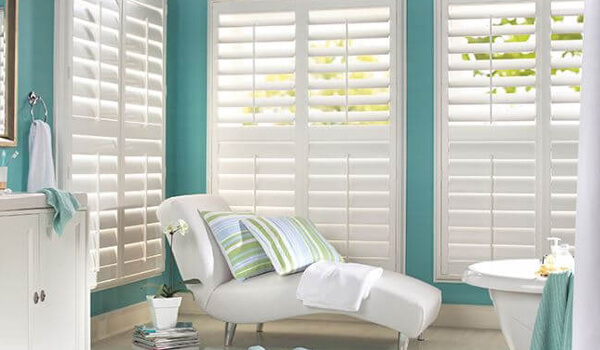 Are blinds or shutters better for blackout?
Having blackout window coverings is a really popular trend, but are shutters or blinds really best for blackout?
Annoyingly, the answer really depends on the type of blinds or shutters you get, and how they're fitted.
Blackout blinds are pretty easy to get hold of, and come in a wide range of different styles and fabrics. But one of the common issues is that light can creep in around the edges.
As shutters are sturdy and made of wood, pvc or vinyl, they can completely block out the light, but occasionally you might find light coming in between the slats.
Both of these issues can be avoided by getting an expert to find and fit your window coverings, so if you want blackout shutters or blinds, it might be best to have a chat with an expert to see what will work best for you.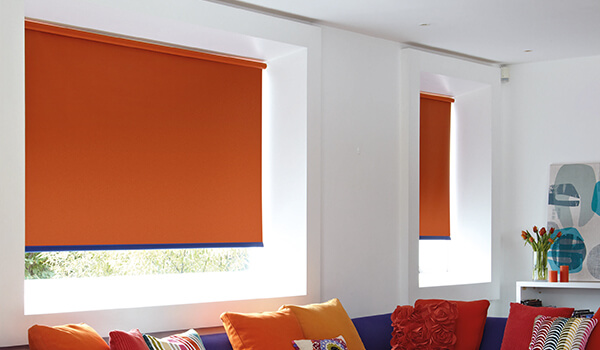 Are shutters or blinds easier to install?
For both shutters and blinds we always advise to get an expert fitter. That's because it is really easy to get your measurements slightly wrong, and end up with blinds that don't fit perfectly.
But this is especially true with shutters, as you don't just need to think about the width of your windows, but the length as well. If you have unusually shaped windows, shutters can be a great solution, but you'll need to have them measured, made and fit by an expert.
Blind installation is a little simpler, but ensuring you're buying the right size blind and fitting it perfectly still takes some experience – we've heard far too many stories of wonky installations or blinds just barely too long or short to fit.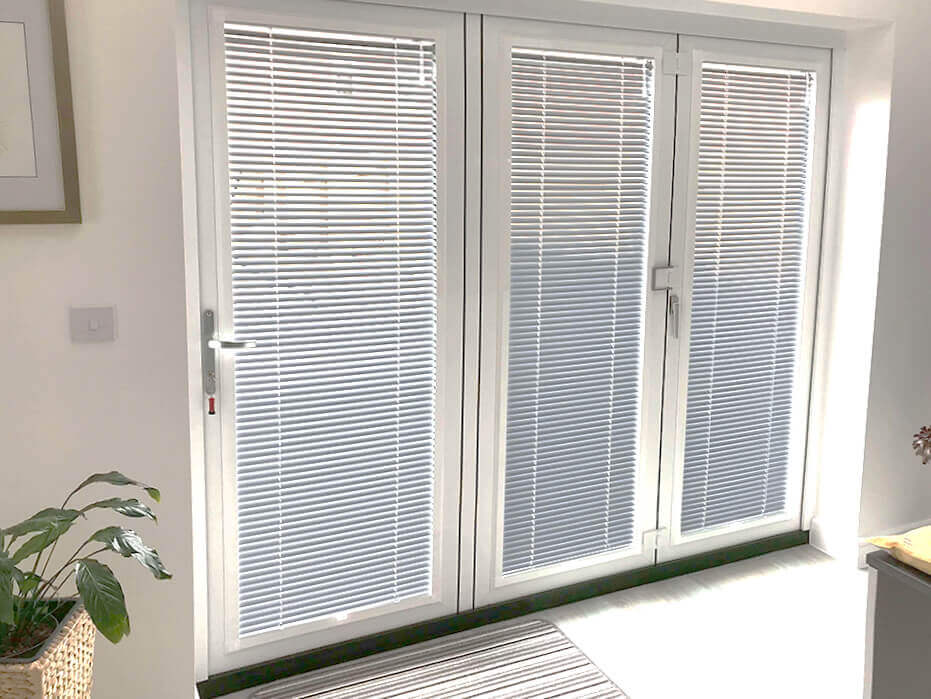 Blinds or shutters for shaped windows?
If you need unique blinds or shutters to fit bay, arched or unusual windows, there are a few different options to consider.
Generally, if you are looking for a window covering that fits with the shape of your window, plantation shutters are a good idea. They can be made and fitted to perfectly match your window shape.
Blinds are less versatile for arched windows, as they usually need to be hung straight, but they are a great option for bay windows, bifold or french doors and patio windows.
One of the best blinds for bifold doors and patios is perfect fit blinds. They hang within the frame of your window so they're easy to install and always fit perfectly! This is also a great choice of blind for angled windows and skylights.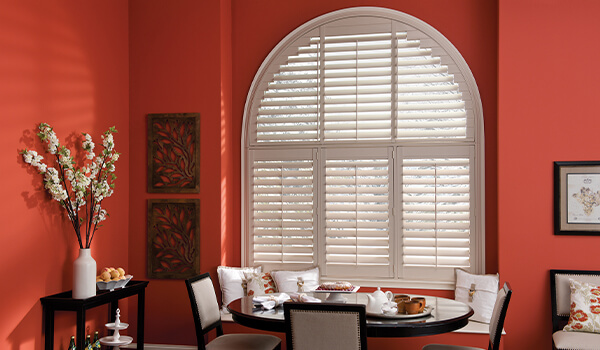 Best rooms for shutters and blinds
Deciding whether to have blinds or shutters will also depend on the room you're decorating. Plantation shutters are a really popular choice for living rooms – but you have to make sure that there's enough space to make them practical.
Blinds are often more popular for bedrooms and kitchens, but there's a rising trend in wood shutters for bedroom windows. This is due to a combination of things, such as the desire for sustainable products, a well as the blackout qualities of shutters.
Bathroom shutters are also a great option, especially if you choose a vinyl, pvc or faux wood style. Real wood shutters and material blinds can be difficult in bathrooms, as they tend to absorb condensation and steam. This can make them get dirty much faster, or even warp them out of shape.
But vinyl or PVC shutters are perfectly water resistant, so they're perfect for bathrooms, kitchens or any rooms that suffer from damp or condensation.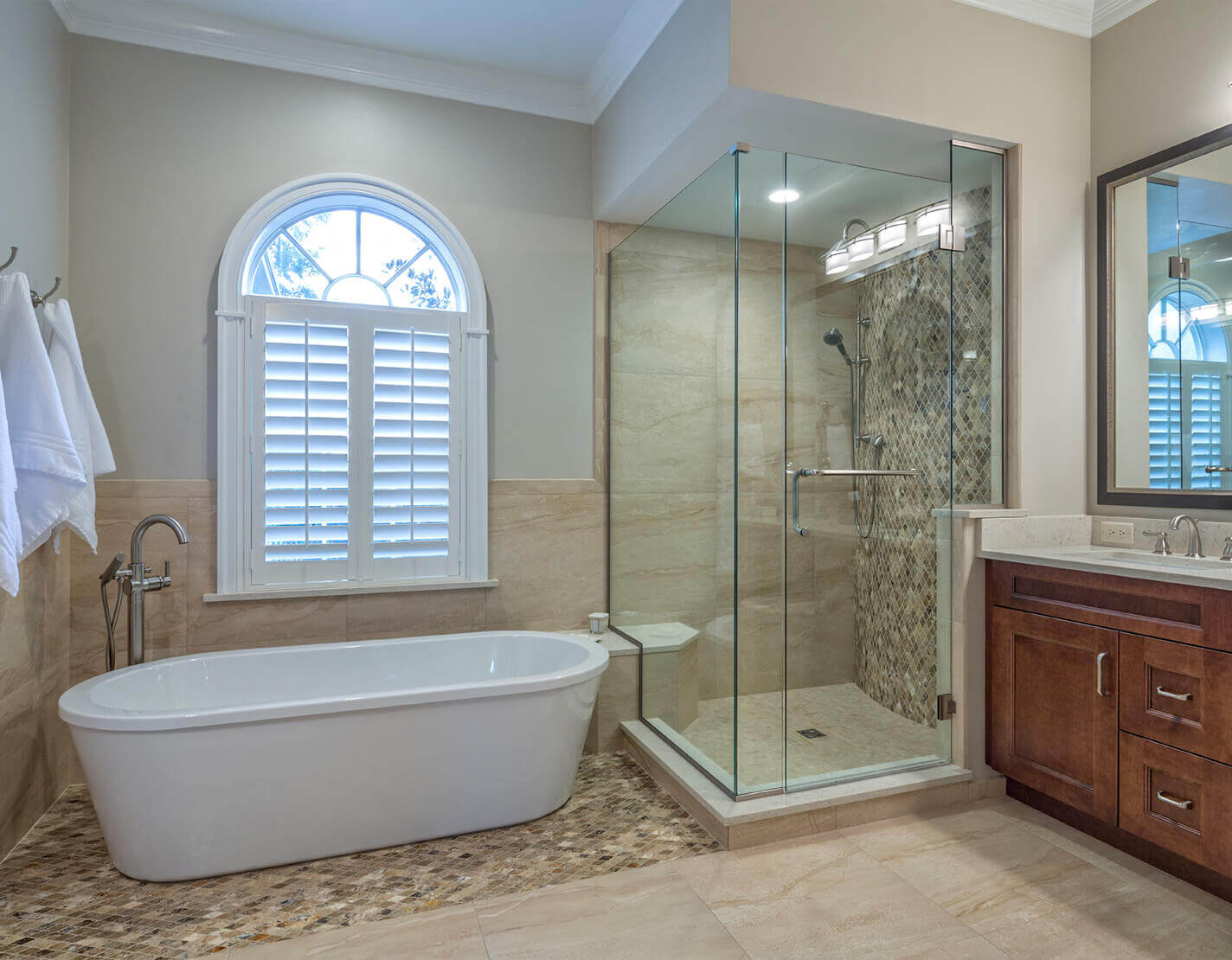 Wooden blinds: the best of blinds and shutters
There are so many different pros and cons to blinds and shutters, but there is a product that is often considered the best of both worlds – wooden venetian blinds.
When considering shutters vs venetian blinds, the wooden style provides a similar look to plantation shutters, but are more affordable, are easier to install and don't take up as much room. They're often considered to be the inexpensive plantation shutter solution.
Wooden venetian blinds provide the benefits of plantation shutters in terms of the finished look, the sustainable material and the durable product, but they don't have the disadvantages of shutters, like the additional cost and space they need.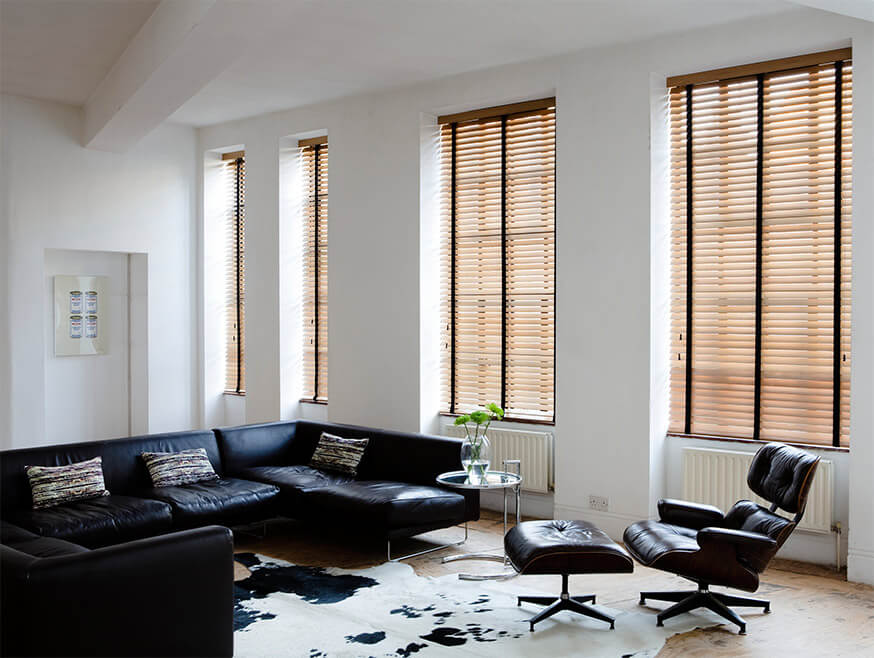 Shutters or blinds: What's best for you?
We've gone through all the pros and cons for blinds versus shutters, so now the final choice is down to you! Are you after the versatility, affordability and simplicity of blinds, or do you want the elegance, durability and style of shutters?
It all depends on what matters to you. And if you can't decide, or want some advice on what would be best for your home, fill out the form or talk to our friendly team today.
Enquire online
You can get in touch by phone, email or by filling out the contact form. We're with you every step of the way, and a member of our friendly team will make sure to get back to you as soon as possible.
"*" indicates required fields