Window shutters are a brilliant addition to your home, and come in a huge range of styles, designs, materials and finishes.
But with so many different types out there, how can you be sure you're getting the style you really want?
In this guide we'll give you a run-down of all the most popular shutters, so you know exactly what style is right for you.
What types of shutters are there?
Let's start with the basics – what are the different types of shutter? We've broken our guide down into the most popular styles:
Plantation
Solid
Café
Full height
Tier on tier
Bi-fold shutters
Sliding shutters
Arched
We'll explain the unique features of each one, give you the pros and cons, and help you choose the perfect shutters for your windows.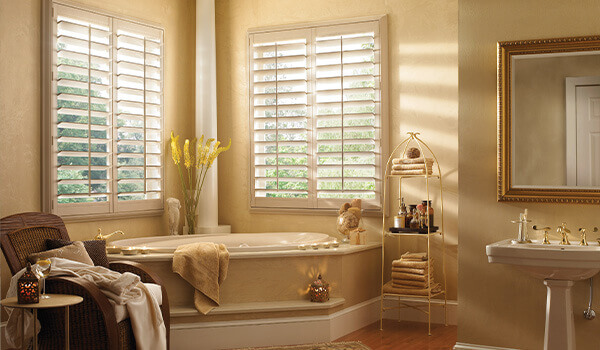 Plantation shutters
Plantation shutters get their name from the large Plantation homes of the American South, where the expansive windows were shaded and insulated by large wooden shutters.
They also have tiltable slats or louvres that can be adjusted to give you just the right level of light.
The other big feature of plantation shutters is that they can be opened out like doors. This is why they're such a popular choice for large or long windows, but means that you do need a good amount of space around your window for them to be a good option.
If you've not got a decent level of space around your window, then plantation shutters may not be a great choice. After all, you don't want to damage your shutters (or your furniture) by bashing them on something every time they're opened.
Solid shutters
If you're looking for a sturdy shutter that blocks out almost all light, then solid panel shutters could be the perfect choice for you.
Unlike louvre window shutters which have slats that let you manage how much light can come through the window, these shutters come as a single, solid piece.
Solid window shutters are very popular for older, period houses, as they're in perfect keeping with the style. They're also a popular choice for outdoor as well as indoor window shutters, giving a little extra security and insulation.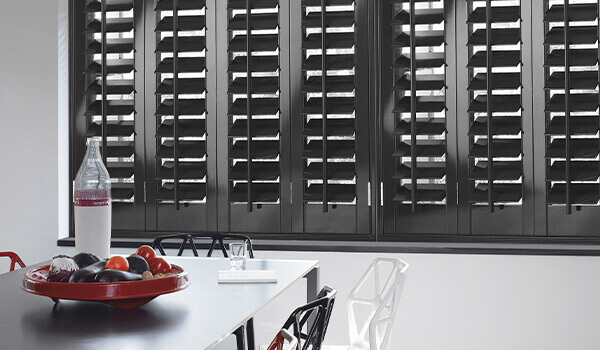 Café shutters
Café-style shutters are a fantastic option if your biggest issue is privacy. Café shutters only cover the lower portion of a window, leaving the top part open.
They're often used in combination with blinds or curtains, and are incredibly popular for older properties – particularly those with sash windows. Because sash windows have a clearly defined upper and lower portion of the window, café shutters look absolutely perfect across the lower portion of the window.
The actual design of the shutter itself can come in lots of different styles, from louvered window shutters to solid panels.
Café shutters can also be a good option for arched windows. That's because they can cover the base of the window (which is a regular shape), and you don't need to have the top of the shutter specially designed to fit the curve of your arch.
Full height shutters
This is the opposite of café-style, full height shutters cover your whole window top to bottom. This can look very impressive if you have large, high windows, but to some it can give a bit of an imposing look.
Full height is a common choice if you have smaller windows, or if you don't need to have too much flexibility. They also come in a range of styles, so whether you're after solid or louvre shutters, you're likely to find a full height option that's right for you.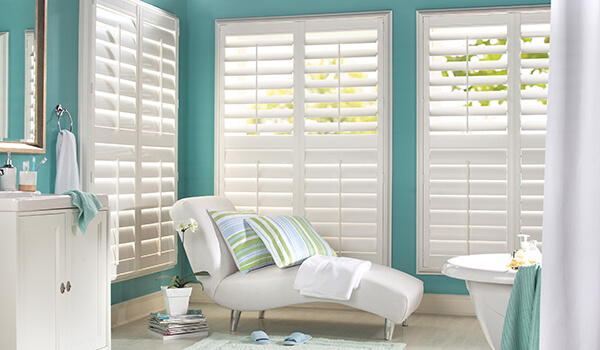 Tier on Tier shutters
Tier on Tier shutters are the mid point between café and full height shutters. With this style you have multiple tiers of shutter which are stacked on each other.
This gives you a huge level of flexibility, as you can independently manage the tiers to give you different levels of light control and privacy. So you can have the upper tier open and the lower tier closed, or vice versa. Or you can have the entire window shaded or open.
If you're after a really flexible shutter, tier on tier shutters may be the best option for you.
Bi-fold shutters
This style of shutter is a great way to get shutters that are easy to open and close, without taking up lots of room around your window.
Each panel of the shutter folds in the middle, meaning you can move them to the side without them needing lots of space for a big single panel.
This is a really popular option if you're looking for patio or french door shutters, as you can have multiple panels which fold up like a concertina.
Bi-fold shutters can either be tracked shutters, meaning that they run off a track at the base and top of your window, or free standing, which means that the panels are simply fixed at the far ends.
Tracked bifold shutters are perfect for long windows where you need multiple shutter panels. But freestanding can often be a great option too, for example if you need bay window shutters.
Freestanding bifold shutters can manage the flexibility needed for a bay window, as they can cope with the different angles between each panel. Of course if your bay window is pretty big, you may still need the security of tracks, so it's always best to ask an expert fitter before making your decision about the right shutters for your bay window.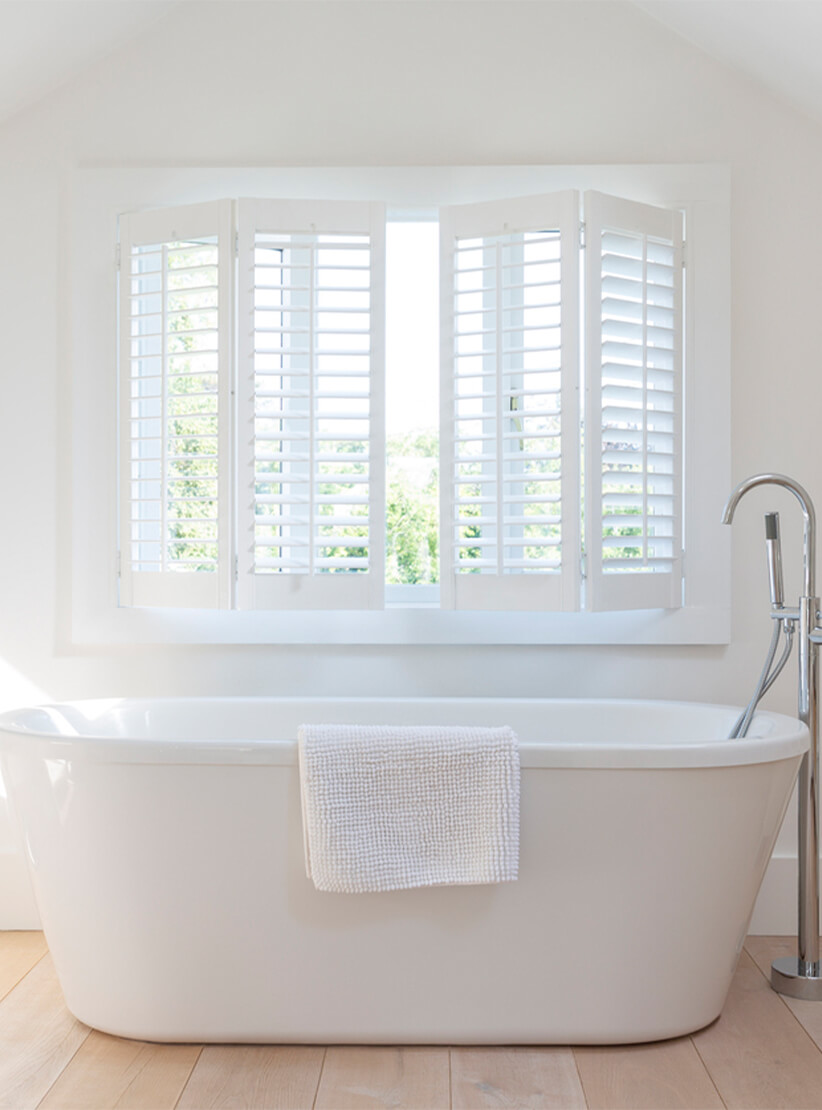 Sliding shutters
Another space-saving alternative to bi-fold shutters are sliding window shutters. These are another style of tracked shutter, but here the tracks continue past the window, so that the shutter panel can be pushed back either into a wall cavity, or against the wall.
While this can save a lot of space in front of the window, naturally you need enough space to the side of the window to store the shutter panel. So think carefully about your space before deciding this is the right option for you.
Arched window shutters
Shaped shutters are needed if your windows aren't a standard rectangular shape, and the most common form of shaped windows are arches.
If you're after special shapes or arched shutters, it's always best to get an expert out to have a look at them before making any decisions.
That's because first and foremost, you'll need your shutters specially made so they perfectly fit the shape of your window.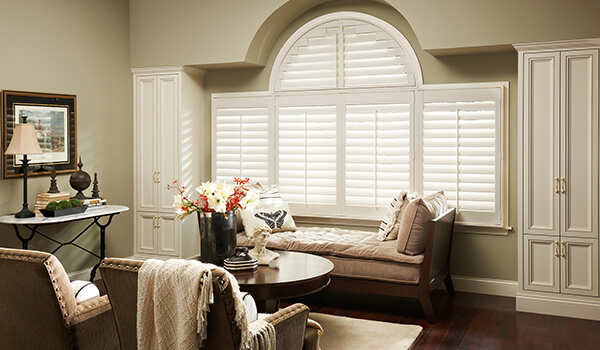 How to choose your perfect window shutters
Now you know about all the different styles of interior window shutters, it's time to think about the finishing touches.
Firstly, you'll need to decide what sort of material you want your shutters to be made from.
There's classic choices like hardwood, or cheaper alternatives like MDF. You could also consider faux wood shutters in vinyl or uPVC, which can have a wood-style finish, but keep the hard wearing, moisture resistance of plastic. You can even use our helpful guide to take you through the pros and cons of real and faux wood shutters.
And on top of that, there's colours and finishes to choose. Probably the most popular shutter finish is bright white, a classic colour that also keeps the shutters from looking too imposing.
But if you go for a real wood shutter, you might choose a natural finish to show them off.
Or you can even go for a more modern style with bright colours to match your room and make your windows a real focal point.
---
Get a Quote for Shutters
There are so many options that you can choose! And if you need a little help picking the right option for you, the experts at Leamington Blinds are here to help, so get in touch with us today.
"*" indicates required fields