The bathroom is a place we all like a little privacy! But finding great bathroom blinds can be tricky, as there's much more to consider than just style and colour.
This is especially true if you've got a room that gets particularly steamy, or if you have windows within your shower unit where they're likely to get splashed.
Luckily, we've got some great bathroom blinds ideas for you, with different styles and materials too.
So read on to find your perfect bathroom and shower blinds!
What blinds are best for bathrooms?
When you're thinking about the right blinds for your bathroom, the first place to start is with the right material.
Bath and shower rooms are always going to get damp – no matter how good your extractor fan! So it's a great idea to think about materials that are water resistant and easy to clean.
Great materials for bathroom blinds include vinyl, pvc and plastic, and it's also worth considering aluminium or faux wood blinds, as these can be ideal blinds for a shower window or bathroom.

Modern bathroom blind ideas
Now you're familiar with the best materials to look for in your bathroom blinds, let's talk about the different styles you might want to consider.
Water resistant roller blinds for bathrooms
Always a popular blind option, roller blinds are inexpensive, simple to install and come in a huge range of designs.
The great thing about roller blinds is that they are also really versatile when it comes to material. There are plenty of options for mould and water resistant fabric blinds, or you could opt for something completely waterproof like vinyl.
Roller blinds are also great if you have a particular look, or colour in mind. Maybe you're after patterned bathroom blinds, or something with a nautical theme – if so, roller blinds are your best bet to find the design that's perfect for you.
No drill bathroom blinds
This type of window shade is also called a perfect fit blind, as they fit perfectly into your window frame, with no need to drill holes or screw in fittings. This is particularly useful if you have a smaller bathroom.
Perfect fit is a great choice for small bathroom window blinds because by fitting within the window frame itself, you don't cover the entire window recess, or even take up any valuable window sill space.
Beyond the fitting, no drill blinds can be in a venetian style, or just normal roller blinds, offering a similarly wide range of materials and design styles.
So whatever style, pattern or colour you're after, whether it's grey bathroom roller blinds or aluminium venetian blinds, perfect fit could be the best option for you.
Velux bathroom blinds
When you have velux or angled windows in your bathroom, finding the right window treatment can seem more difficult.
But in fact, perfect fit blinds are actually a great option here as well. They are the ideal choice for velux bathroom windows because they fit directly into the frame, and can be secured at the bottom.
When you choose a perfect fit option for your skylight bathroom blinds, you also get to choose from the wide variety of styles, whether that's roller blinds, venetian or even pleated.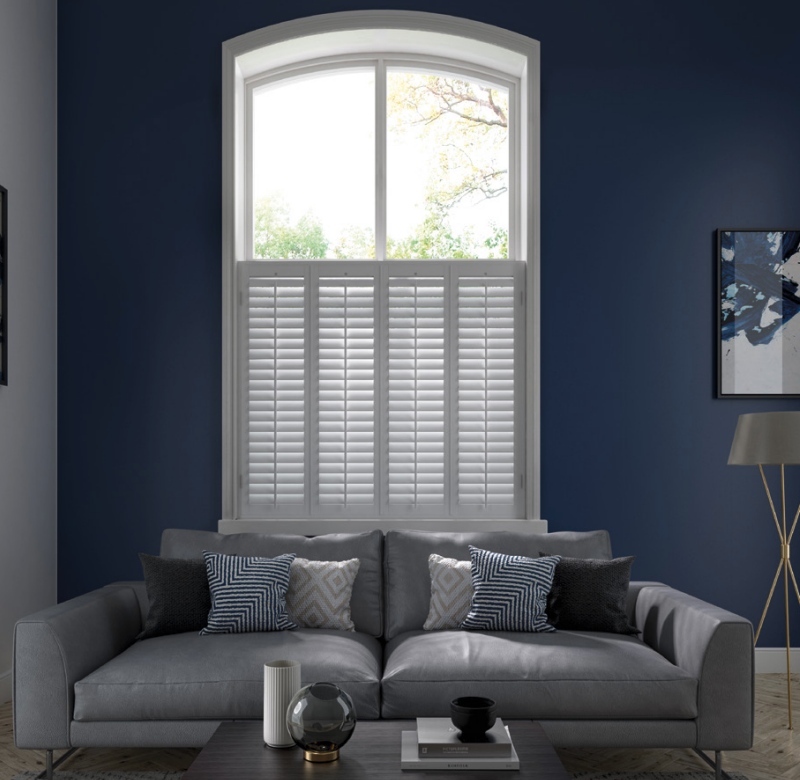 Waterproof vertical blinds
Vertical blinds might not be the most obvious choice for your bathroom, but actually they're one of the best options – particularly if you're looking for blinds for large windows with a long drop.
Vertical blinds are generally made of more sturdy materials than a standard roller blind, and these are often water and mould resistant – not to mention easy to clean.
And durability isn't the only thing that vertical blinds can offer, they also provide really flexible privacy and light control due to their angled louvres.
These can be tilted to be more open or closed, and can even enable you to control the direction of the light coming through your windows.
Bathroom roman blinds
Now roman blinds probably don't immediately come to mind when you're thinking about water resistant blinds for a shower window. But actually there are some great roman blind options that can work really well in your bathroom.
One of the common misconceptions is that roman blinds are made from heavy fabrics like velvet, but in fact one of the most common materials for a roman blind is vinyl or pvc.
These plastic roman blinds are ideal for a bathroom window, as they're mould and moisture resistant as well as being incredibly easy to clean.
However if you're looking for small bathroom bathroom blinds, the roman style probably isn't your best option, as they do take up much more space within your window. Because of their large folds, roman blinds block out a larger portion of your window even when they're completely open.
That's fine if you have a large or long window shape, but it's not ideal for a smaller space, as you'll be blocking out most of the light most of the time.
Waterproof venetian blinds
Another really popular option for bath and shower rooms are waterproof venetian blinds – particularly in aluminium or upvc.
The venetian style is also really popular with people who are looking for waterproof wooden bathroom blinds – but it's important to recognise the problems when choosing wood for a room like this.
If you're asking yourself "are wooden blinds suitable for bathrooms", the answer, usually, is no. Because wood absorbs water, trying to install wooden blinds in a room that's likely to get damp and steamy isn't a great plan.
Wood not only expands in this sort of environment, spoiling the look of your blinds, it's also really susceptible to mould. That means your wooden blinds aren't likely to last long, and are going to need a lot of regular maintenance and cleaning too.
But there is an alternative!
Faux wooden blinds are a fantastic option if you want the look of wooden venetian blinds, but also want those blinds to last and continue to look great for years to come.
These blinds are generally made of upvc, but are styled to look like wood, complete with textured grain. A good faux wood venetian blind is almost impossible to tell from real wood until you touch it.
But as they're made from plastic, faux wood blinds are hard wearing, easy to clean and both water and mould resistant.

Bathroom blinds ideas
In this article we've talked about lots of different ideas for your bathroom blinds, from styles like venetian, vertical and roller blinds, to the range of different materials you can have those blinds made in.
Each one has its own unique pros and cons that can help you decide what's going to be the best option for your room. But if you want a little extra guidance or advice, the friendly team at Leamington Blinds is happy to help.
Fill out the form or contact us today to find your perfect bathroom blinds.
Enquire online
You can get in touch by phone, email or by filling out the contact form. We're with you every step of the way, and a member of our friendly team will make sure to get back to you as soon as possible.
"*" indicates required fields