Which Blinds Are Best For Each Room?
The home has different rooms for a reason, as they are all used for different functionalities and during different times of the day. They all serve an important use, which is why they need to be decorated accordingly. Blinds come in a variety of styles and designs for this very reason, as different blinds offer qualities that suit various rooms. So, which type of blinds work best for each room?
What Are The Best Blinds For A Bathroom?
The bathroom obviously needs blinds that are resistant to water, as well as privacy from the outside world whilst you are washing or relaxing. PVC Shutters are a great option for the bathroom as not only do they offer a modern, minimalistic look, they also are extremely resistant to heat and moisture. Unlike wood, PVC shutters won't warp from the moisture or discolour, which is the exact functionality you want from your bathroom blinds.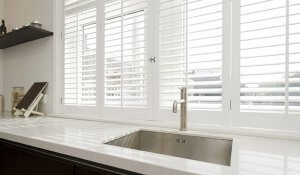 What Are The Best Blinds For A Kitchen?
Depending on where the sink sits in relation to the window, you may need to think about whether water resistant blinds are a good choice for your kitchen. The kitchen can also get dirty and messy very quickly, so you'll need blinds that can be cleaned easily. Aluminium Venetian blinds are highly desirable for the kitchen, as they are easy to wipe down and are resistant to water or humidity. Faux wood Venetian blinds are also waterproof and won't warp from humidity, unlike wooden Venetian blinds. We wouldn't recommend Roman blinds as they have a habit of absorbing smells easily and are a handful to clean and iron properly. 
What Are The Best Blinds For A Living Room?
The living room may be one of the most used spaces in the home, meaning you'll need adaptable blinds for this room. We highly recommend Venetian blinds, as you can easily adjust the light levels in the room by either altering the slats or fully pulling up the blinds so you can let natural sunlight in. If you have larger windows in your living room, we recommend vertical blinds as they can be pulled completely out of the way to the side of the window. The slats also offer adaptability to different light levels and privacy in your home.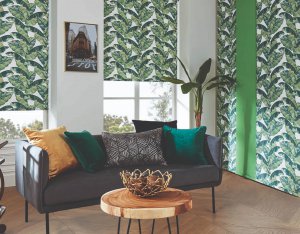 What Are The Best Blinds For A Bedroom?
For the bedroom, it's important that the light levels and privacy are easy to control. It varies from person to person, but generally, most people prefer to sleep in a completely dark room. Blackout roller blinds that are installed on the outer area of window edge will be the most effective at blocking light, giving you better quality sleep and creating a relaxing space that fits all your needs. Roman blinds are also a great option for the bedroom, as the soft fabric blocks the light exceptionally whilst still retaining a tranquil feel in the room. 
Here at Leamington Blinds, we pride ourselves on supplying a wide range of blinds and shutters for both domestic and commercial clients. Our team will help you find the perfect blinds for your needs as our specialists have the right experience to advise you. For more information on our products and services, please get in touch with us today.
28th June 2019