How To Clean Window Shutters
If you want your window shutters to remain sparkling clean, you'll need to tend to them regularly. Luckily, window shutters are easy to maintain; a simple cleaning routine will keep them looking good as new. This article is going to provide all the advice you need to ensure your shutters continue to look good for years to come.
How To Clean Wooden Shutters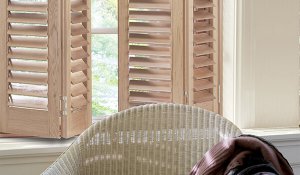 For real wood or faux wooden shutters, use the following tips:
1. Tilt down all the slats and dust away using a downward stroke.
2. For the best possible results, use a duster made of lambswool or ostrich feather. These work on all types of shutters and are particularly proficient at removing dust quickly without scratching the surface.  If lambswool or ostrich feather isn't available, use a feather or microfibre duster.
3. Rub the slats down with a clean, dry cloth. Avoid using polish or other chemicals as this can damage the wood.
4. Once dusted, use a vacuum cleaner to remove the excess dust that has fallen onto the floor below.
How To Clean Plastic Shutters
For plastic shutters, follow these tips:
1. Dampen a cloth with warm water and wipe down each individual slat — top and bottom.

2. Once damp, use a dry cleaning cloth to remove excess moisture.

3. Never leave the wet shutters to dry on their own. This may leave watermarks.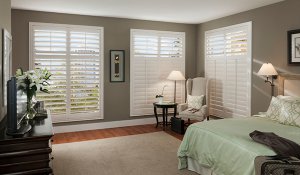 4. Once clean, use a vacuum to remove any excess dust that has fallen onto the floor below.
Alternative Methods
– For slats that are particularly high up and difficult to reach, use the brush attachment on your vacuum cleaner and brush in between slats.
– To get narrow areas, use a toothbrush or paintbrush. These enable you to scrub away at particularly dirty spots without using chemicals that could potentially damage the material.
– If you need to clean the slats immediately, put a sock on each hand and run your hands across the top and bottom of the slats simultaneously. Ensure you use a vacuum cleaner to clean up excess dust on the floor once you're done. You may also want to wash your socks!
Here at Leamington Blinds, we offer window slats, in addition to a range of quality-fitted blinds, to every customer in Leamington Spa and the surrounding areas. All of our products are made from high-quality materials and can be cleaned regularly without damage. We reinforce this claim by offering a 3-year guarantee on all our products, ensuring your blinds or window shutters stay in top condition for years to come. If you wish for more advice about how to clean your shutters or blinds, feel free to get in touch with our team. To enquire about any of our products and services, contact us today and we'll be more than happy to help.
26th July 2019