Deciding whether to get roller or roman blinds for your home or office requires some careful thought.
While both styles of blind work in a similar way, there are some big and small differences that could be the key to picking the right style for you.
So let's find out more about whether roman blinds or roller blinds are going to be the best choice for you!
What are roman blinds?
Roman blinds have been around for hundreds of years, and are recognisable by the classic pleats that they form when raised. They're one of the most popular styles of blind, and are often seen in houses with wide, sash windows, or classic decor.
How do roman blinds work?
Roman blinds are made of a single sheet of fabric, with rods (known as dowel rods) inserted at several points. Pulling the cord lifts the rods in sequence, gathering the blind into symmetrical pleats, and creating an elegant look.
By using a folded, single stretch of material instead of separate louvres or slats, it means that roman blinds let in very little light when closed.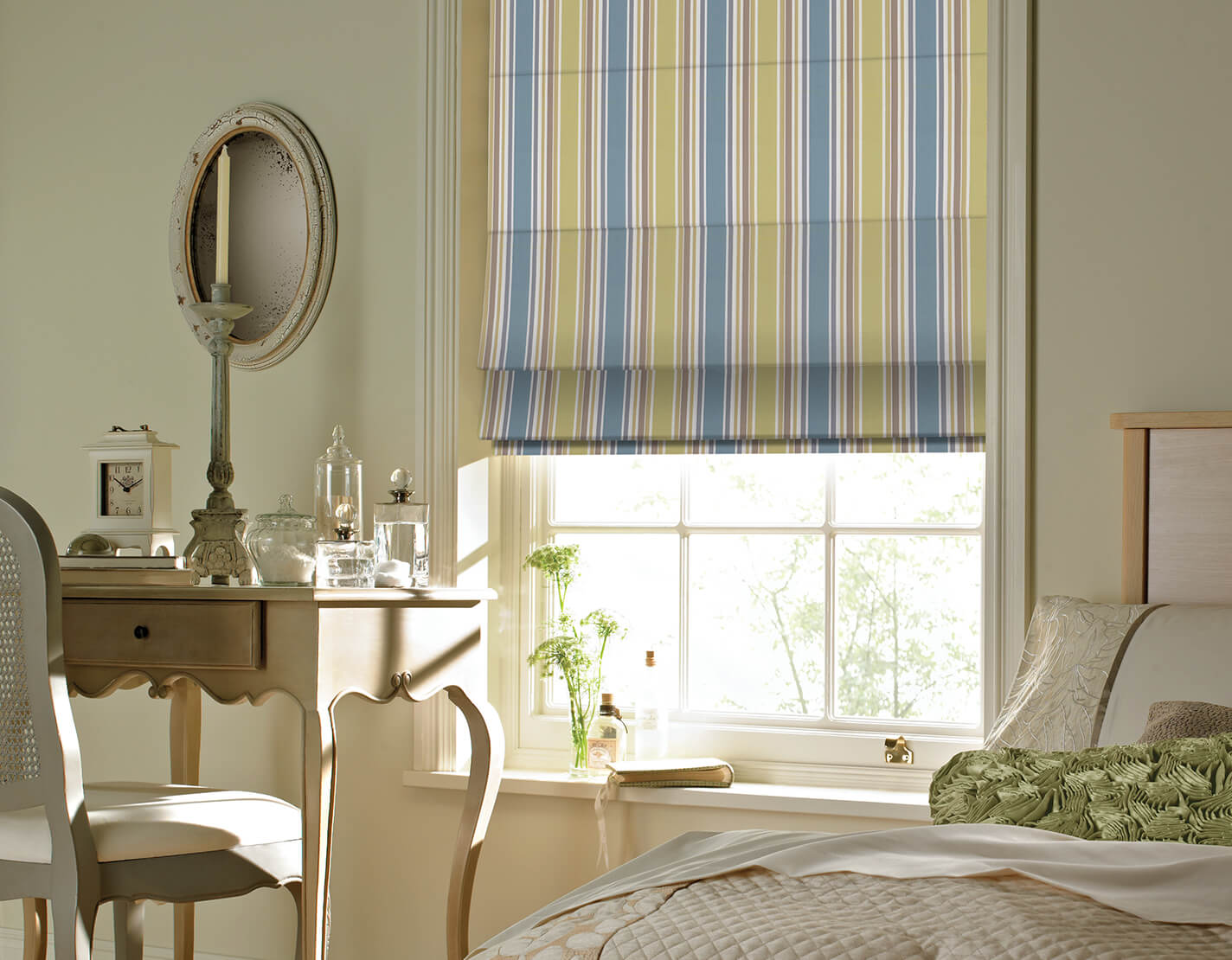 What's the difference between roman and roller blinds?
Both are types of roll down blind, but while roller blinds operate simply by rolling the blind material up and down, roman shades are more complex.
As well as the differences in how they work, roller and roman blinds are often made from different materials, provide different levels of light control and are often quite different in terms of cost.
Roman blinds are also a bit more versatile in terms of positioning. While roller blinds tend to be better suited within the window frame, roman blinds are often positioned over a recess. That's because roman blinds, when raised, still take up quite a bit of space.
If that space is above the window recess, it won't block out any light, and also it will still make an attractive feature even when the blinds are open.
Roman blinds pros and cons
The biggest pro for a roman blind has to be the look. It's such a classic style, one that's remained popular for literally hundreds of years.
Roman blinds usually come with a sturdy lining to secure the dowel rods, which also makes them a great option if you're looking for thermal or blackout blinds that will block out the light and keep heat in. See roman blackout blinds for more details.
When you're considering material for roman blinds, popular options are silks, linen, cotton and even velvet. Because of the natural thickness of the blind, it's often best to avoid really thick materials, as they may look quite chunky when the blind is raised.
But the classic elegance of roman blinds lends itself to natural and high quality materials, and to decorative patterns too.
In fact, because roman blinds are visible even when raised, people like to make the most of that feature and choose a bright colour, a striking pattern or sometimes both, to turn their blinds into a feature for both day and night.
On the negative side, roman blinds do tend to be more expensive, and cleaning them can be a hassle too, as dust and dirt can gather on the folds in the fabric.
Roller blinds pros and cons
Roller blinds on the other hand, tend to be a more affordable option, and are often more versatile too.
For example, you can find a much wider range of blind fabrics for roller blinds, including vinyl or pvc which are much better for kitchens and bathrooms as they're easy to clean and moisture resistant.
Roller blinds are also less intrusive when rolled up, with very little of the blinds showing or blocking out sunlight so you can male the most of your window space.
Roller blinds also have a much more modern look to them than roman blinds, which can be perfect for a new build, but might be less suitable for a period home. Although that would depend as much on the interior decor as on the style of the window.
The relative cost of roller blinds can be a bit of a double edged sword though. While for some people it will mean a slightly less expensive blind alternative, for others it may result in cheaper looking, or thinner, unlined blinds.
So with roller blinds it's very important that you know exactly what sort of fabric and lining you're getting. We recommend purchasing from a company who can provide you with samples, so there aren't any nasty surprises when you discover just why they were so cheap!
Roman vs roller blinds
In the end, the biggest element of your decision to choose roman shades or roller shades, is the look you're trying to achieve, and to an extent, how much you're looking to spend.
Of course you also have to factor in measuring and fitting too, unless you're looking for a blind supplier who can provide that for you for free!
If you are looking for some advice on whether roller or roman blinds are going to be the best option for you, feel free to get in touch with the friendly team at Leamington Blinds, and we can help you find the perfect style for your home.
Enquire online
You can get in touch by phone, email or by filling out the contact form. We're with you every step of the way, and a member of our friendly team will make sure to get back to you as soon as possible.
"*" indicates required fields