The 2021 guide to outdoor blinds and awnings
Over the last year, we've all been looking to make more of our outdoor space. Whether that's in the garden, on the patio or kerbside, having a place to mingle outside has never been so important.
But when you're meeting up with family in the garden, or having a safe outdoor meal with a friend, it's always better when you have the protection and shelter of outdoor shading, in the form of awnings, canopies or even a full outdoor living pod.
These are the items that allow us to make our outdoor space accessible and comfortable, whatever the weather.
It's no surprise that they're some of the most popular blind and shading options. So what are the best options for outdoor shading – and how do you decide what's going to work best for your home or business?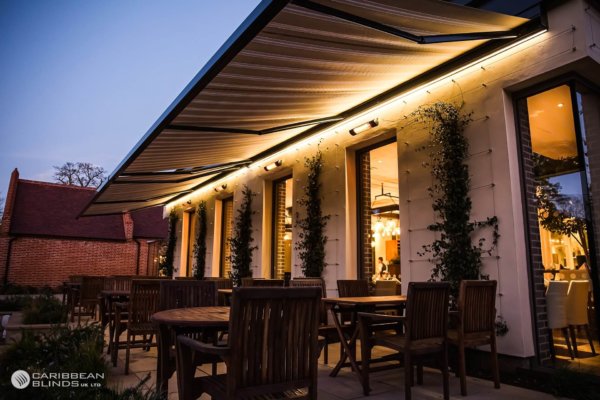 Outdoor living blinds
Our outside space has never been so important. With all the impact of the pandemic, outdoors has often been the only place we can safely enjoy with family and friends.
So it's no surprise that outdoor living blinds have been in big demand.
Our favourite option is the Outdoor Living Pod. This product creates shade and shelter, making it perfect when the sun is shining, or when it's chilly and damp.
The hard wearing louvred blinds can be automatically adjusted to give you the perfect conditions, whatever the weather. Their versatility almost creates a new room in your garden, one that is still open and accessible, but gives you protection from the elements.
Outdoor living pods are also becoming popular with pubs, bars and restaurants who want to give their customers a safe space to enjoy their food and drinks even if the weather isn't fantastic.
By having a safely covered outdoor area, the beer garden or outdoor terrace can be popular all year round.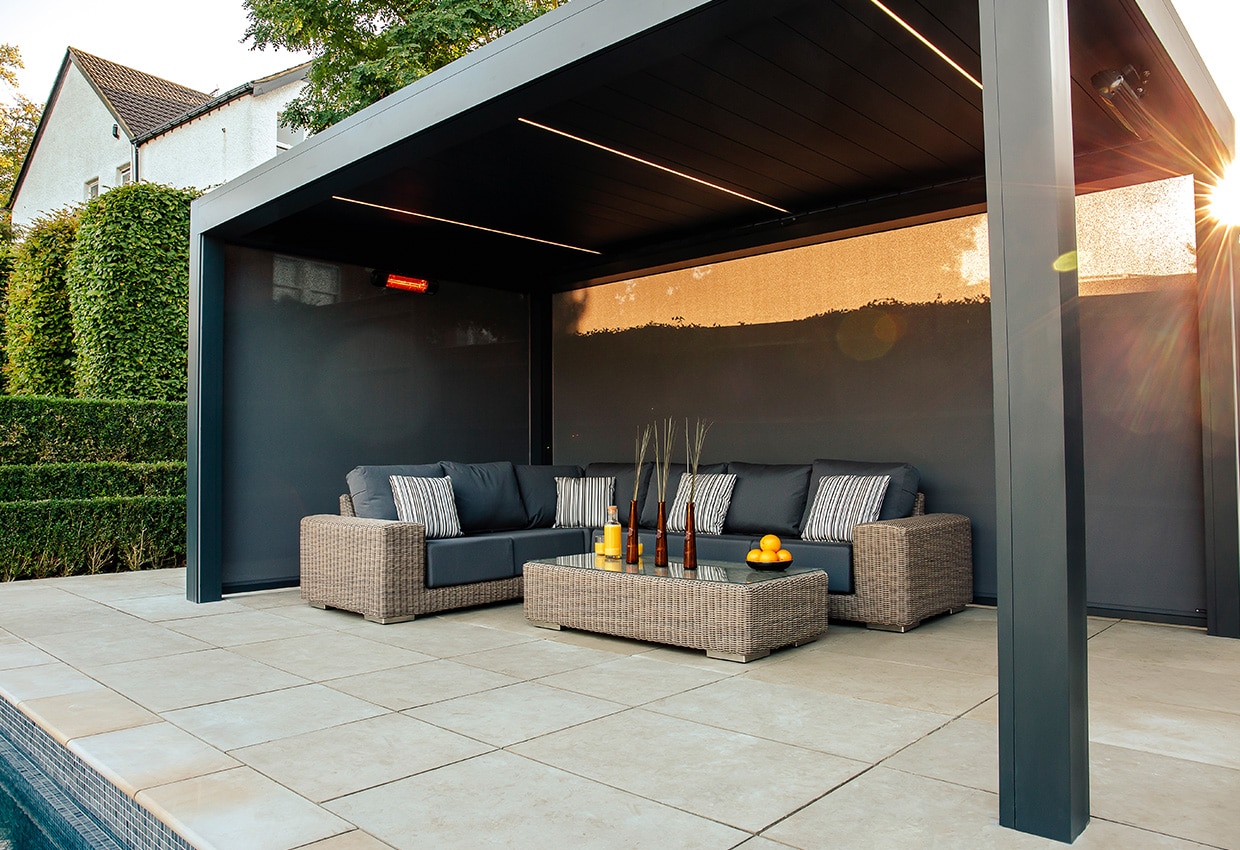 Made to measure awnings
If you're looking for an outdoor shading solution that's a little simpler, then awnings can be a fantastic option.
Awnings are typically fixed to an external wall, and can be pulled out to provide shelter and shade. They're most commonly used over a patio area, so you can sit outside and enjoy your garden without being exposed to the sun.
Although there are some traditional awnings styles, today there's a huge range of colours and patterns you can choose.
It's easy to forget that overhanging roofs, porches or even doorways can get in the way of your awning, so measuring up is really important. Before you contact an awning supplier, make sure your measurements are exact.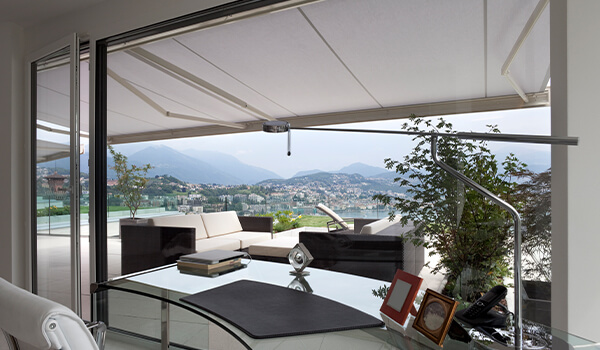 Commercial awnings
Shop awnings and canopies are also a really popular shading solutions for businesses, from cafés with kerbside tables, to shops that want to keep the glare off their beautiful window displays.
In the last few months we're also getting more companies looking for awnings to keep their customers sheltered when they're queuing – something that didn't used to be quite so big an issue!
Traditional shop awnings have always provided a classic look, but today awnings don't have to be the standard stripes and colours. Now awnings can be perfectly tailored to your business, with styles and colours that will appeal to your customers and better reflect your branding.
Pub awnings and restaurant awnings are also becoming more popular as businesses look to make more of their outside space.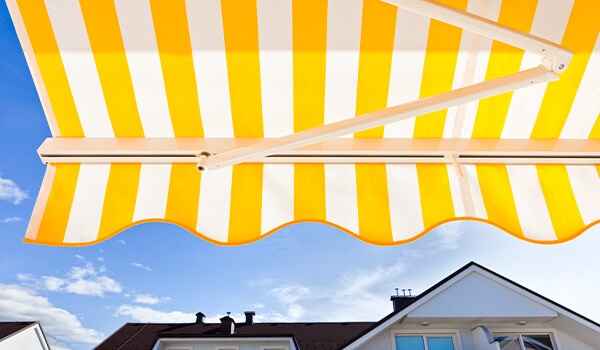 External roller blinds for indoor living
One of the most popular exterior blind products is the external roller blind. But be aware, this type of blind isn't for creating shade or shelter in outdoor spaces, they're actually an alternative to indoor blinds and shutters.
External blinds are smart, stylish, eco friendly blinds that protect your windows from sunlight.
If you have a lot of large windows in your home, the heat that builds up during the day just from the sunlight on the glass can be incredibly uncomfortable.
But exterior blinds block out that light before it ever hits your windows, keeping your room infinitely cooler. You can even program them on a timer, or to react to the temperature or light within your rooms.
That's why they're a really popular choice for modern, smart homes – but aren't the right option for you if you're looking to create an entertaining space in your garden.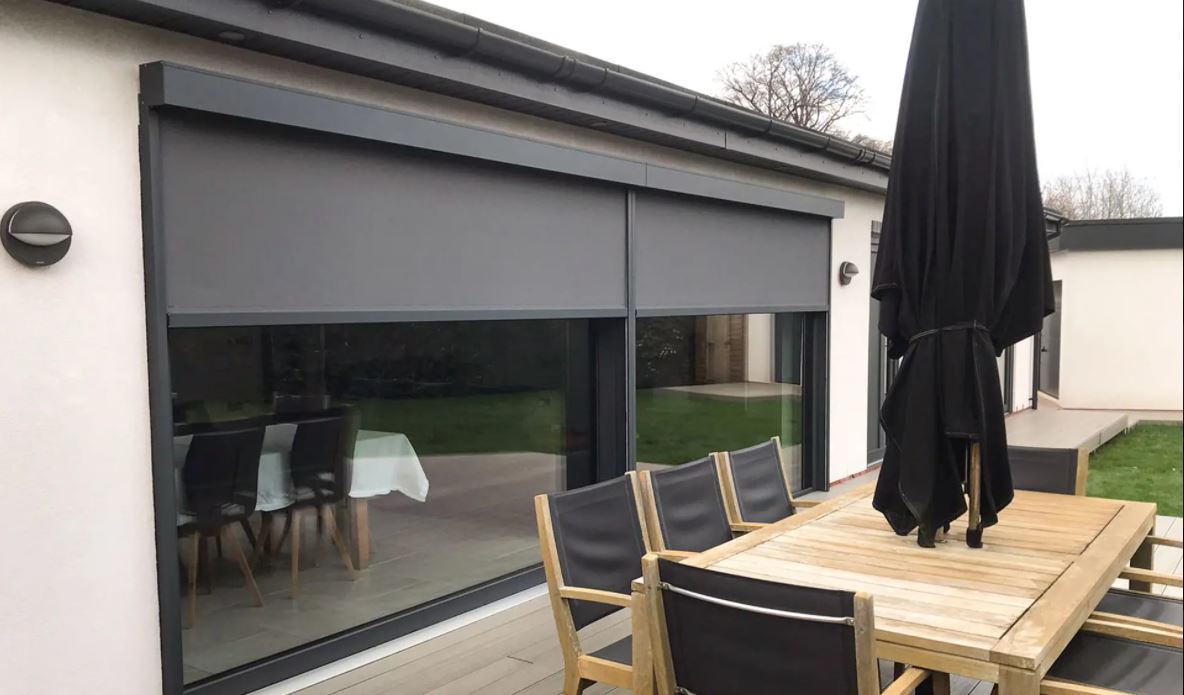 What are the best outdoor blinds?
Outdoor living pods, external blinds and awnings are all great ways to bring your internal and outdoor living areas together. But the best choice really depends on what you hope to get out of your outdoor shading solution. 
If you're looking for a simple way to provide shade and shelter on your patio or outside your shop, then awnings may be the perfect choice.
If you're looking to create an entertaining space, like a whole new room, then outdoor living pods are simply fantastic.
If you want smart blinds that protect your windows from the sun's glare, then exterior roller blinds are the best option for you.
But whatever you decide, Leamington Blinds can measure up, supply and install the perfect outdoor shading system for your home or business. 
To get a quote, or if you just want some friendly advice from our expert team, get in touch today.
22nd March 2021