How To Match Your Blinds To Your Interior Design
Whether you've just moved into a new house or you want to spruce up your current home, decorating is a fun opportunity to express your style. There are countless interior design styles, all of which can be presented differently to reflect individual tastes and which will create a different ambience in your home.
Although you may think that blinds are first and foremost a practicality, they can be used to enhance your room's style as much as any other fixture or furniture. Blinds come in many different types, designs and fabrics, and so finding one to complement your interiors couldn't be easier.
Let's take a look at some popular interior design styles and which blinds would pair well with these.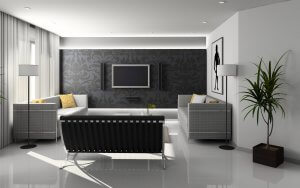 Scandi
The Scandi style has gained traction across the globe but takes inspiration from the light, minimalist, airy style from Scandinavian countries. This is a pared-back look with a pale colour palette which is combined with the use of natural materials such as wood, linen, metal and furs. To maintain the fuss-free, well-designed Scandi style, the clean look of perfect fit blinds is ideal.
Country Chic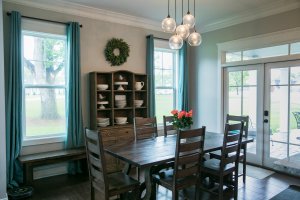 Transform your home into a quaint, rustic and homely haven with the country chic style. This comfortable design is open to interpretation so whether you like the floral chintz and charm of English cottages or the breezy lace and whitewash in French farmhouses, this look will work for you. Simple backgrounds are dressed up with natural materials, pastel tones, ornate touches and plenty of prints. From plaid and gingham to florals and Toile de Jouy, prints elevate this look and can look great on Roman and roller blinds.
Mid-Century Modern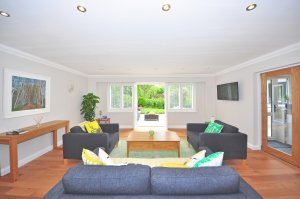 Mid-century modern rooms look sophisticated, laidback and tasteful. This style is inspired by the design revolution in the 50s and 60s where traditional designs were shirked in favour of simplistic, robust furniture, clean lines and curves. The colour palette tends to involve lots of neutral tones and wood with accents of deep, saturated colour. Slick Venetian blinds or modern electric blinds – in a block colour or introducing a geometric print – would work well.

Industrial
Currently very in vogue, the industrial look is rugged and mature with a focus on exposed, raw, industrial materials such as brick, metal and stone. Sturdy furnishings and a dark, neutral colour palette typify this look. Metallic or dark wood Venetians are the perfect window dressing for this style.
Bohemian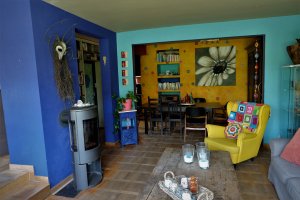 For an interior style which is fun and vibrant, the hippie bohemian look is fantastic. This is an eclectic and carefree style which can incorporate any number of ethnic prints and rich colours – reds, purples and blues all work particularly well. Printed textiles – for example, in rugs, cushions and throws – tend to play a large part in these interiors and so bold roller blinds can be a striking choice. To ensure you don't overwhelm the space, airy and natural creams tend to form a backdrop and light pleated blinds can help achieve this.
Leamington Blinds have an excellent selection of blinds, covering many kinds, designs and materials. No matter what your interior style, we will be able to provide and install a beautifully tailored, high-quality blind which is to your tastes. Our skilled and experienced operatives are on hand to offer help and advice to customers in Leamington Spa and beyond. Simply get in touch with any enquiries.
23rd May 2018